You have heard of press on nails for your fingers – but what about for your toenails? They are definite game changers for always having polished-looking feet. Whether you want cute toenails to show off on a summer vacation, or just want to feel put together, press on toenails will save you time and money. Stay tuned for the best press-on toenails to buy.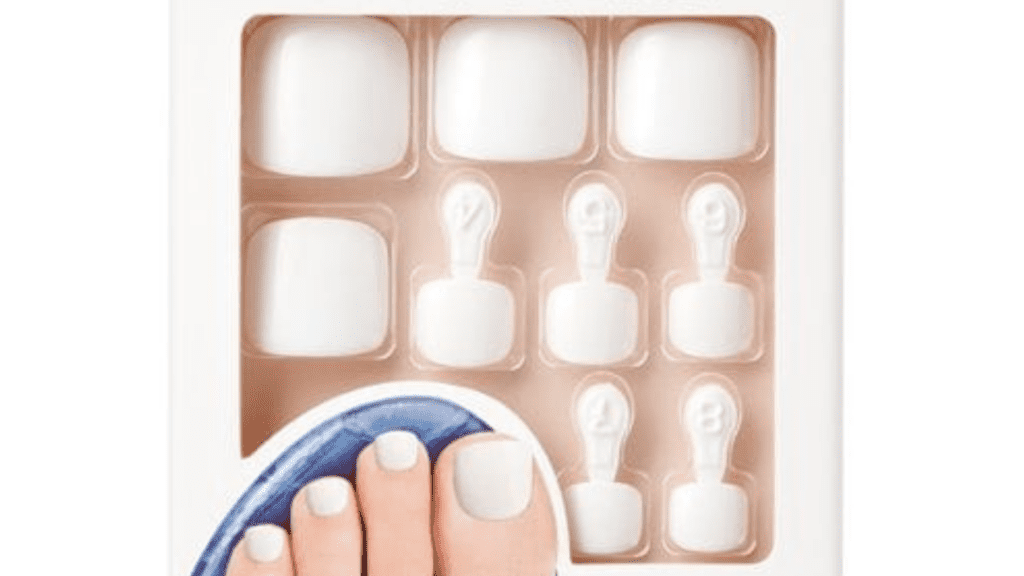 What Are Press On Toenails?
So, you might be wondering, is there even any press on nails for toenails? Yes! You can put fake toenails on, and it might be your best new secret. If constantly painting and repainting your toes becomes a chore, let press on nails do the work for you. There are many options to consider, and you can easily pick them up at the drugstore or order online.
Some use glue to apply, and others can be easily pressed on. Just like with fingernail press ons, they can also be shaped to become the perfect fit for your toes.
Choose from classic french tip, bold hues, sparkles – you name it! This guide will help you choose the cutest options that are out there now.
The Best Press On Toenails Styles
Click on the pictures for the link!
1. Classic French Tip Press On Toenails

2. Bold Pink

These are awesome! They are like stickers for your nails, and are so easy to stick on. They are a bit less bulky than acrylic.
3. Geometric

4. Crisp White
Impress Press On Toenails

5. Beach Vacation
Dashing Diva Gloss

These are a great option to wear on a beach vacation. The style holds up a bit more against sand and ocean waves. The nails are no glue press on toenails options.
6. Do It Yourself

If you have a favorite nail polish color, but want a better nail shape, use these press on toenails that you can customize!
How Long Do Press On Toenails Last?
According to Loreal Paris:
"Press-on toenails can last up to three weeks when applied correctly. They can last just as long or even longer than traditional pedicures as long as you take proper care of them."
Can You Wear Press On Toenails In The Shower?
And the pool, the beach? The answer is yes. But, repeated exposure to water, especially hot, can loosen them. If they do loosen, take the glue it came with and reapply. Make sure your real nailbed is dry first! They will probably last for a vacation, but keep in mind the instructions do say that most will last a few weeks – and that's just with normal use.
If you are needing more nail inspiration, check out these posts here:
Best, Mia
This content is for informational purposes only, and what has worked for me personally based on my own opinions. I am not a professional/medical doctor, and you should always consult your doctor or dermatologist on what will work best for you. The information presented here is not legitimate, official advice from a professional. If you choose to rely on any information from this blog, you do so at your own risk. Please refer to the "Blog Disclaimer" tab in the menu bar to read more information and the official disclaimer statement.