As a Christian struggling with acne, I recently wondered about this. Why did God create pimples? Weirdly, I never wondered about this when I grew up with cystic acne. Back then though, I didn't have the understanding of the Bible like I do now.
So here are my educated guesses on why God created pimples.
Humans Are Not Perfect
Well, this is pretty self-explanatory. After the fall in Genesis 3, sin entered the world. Did you realize that we as humans were once perfect and were able to directly approach God? After the fall, our perfect relationship with God was broken. 1 Timothy 6:16 says that Who [God] alone has immortality, dwelling in unapproachable light, whom no man has seen or can see.
Evil has overtaken the world, and everything is slowly degrading into chaos. I truly believe that how sickness, trouble, etc. resulted from the Fall of man, acne is part of it as well. It is abnormal and results from the fact that we are not perfect anymore.
I see it as a reminder that we are not the flawless being that we used to be.
Acne Kept Me Humble
Another realization is that growing up with acne sure kept me humble. 😂 I am actually glad that I went through suffering with acne because it made me more compassionate. I knew how bad it felt to get made fun of, so I would never want to make someone feel bad for anything, let alone their appearance.
It is also funny that acne first appears during puberty. This is a key time in young people's lives when they are trying to fit in and be accepted. You begin to see how children who were once friends start to form cliques and be hurtful. If you have acne, could this be a way to see who truly is compassionate to others in the way Christ is?
Appearances don't matter and we need to remember 1 Peter 3:3-4.
3 Your beauty should not come from outward adornment, such as elaborate hairstyles and the wearing of gold jewelry or fine clothes.
4 Rather, it should be that of your inner self, the unfading beauty of a gentle and quiet spirit, which is of great worth in God's sight.
Also, 1 Samuel 16:7: But the LORD said to Samuel, "Do not consider his appearance or his height, for I have rejected him. The LORD does not look at the things people look at. People look at the outward appearance, but the LORD looks at the heart."
Why Doesn't God Answer My Prayers?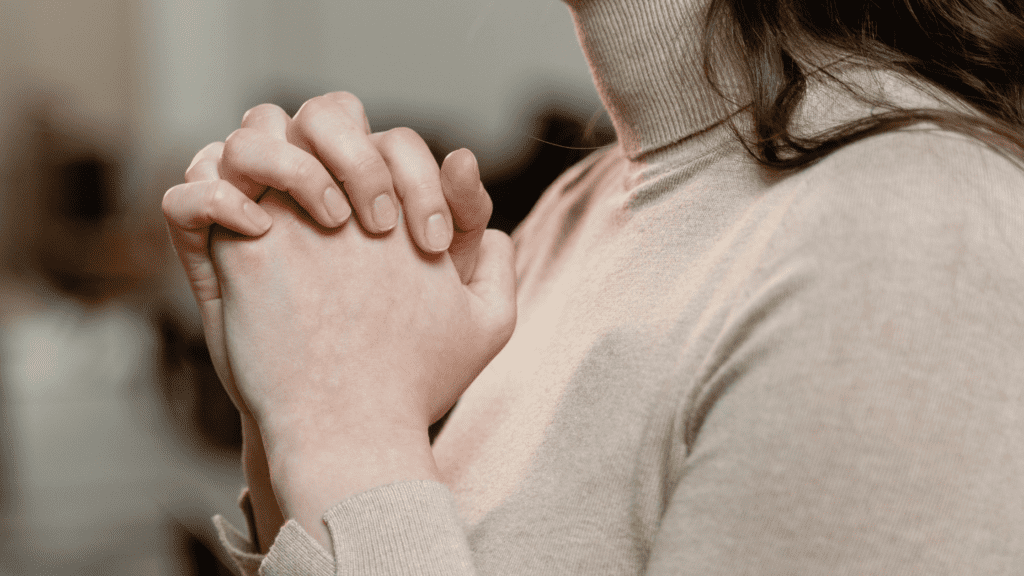 As I said in the beginning, I never prayed to God about taking away my acne. But maybe I should have! I only specifically remember thinking to myself how I wish I looked different. All I could focus on was wanting to be beautiful for others to accept me and think highly of me.
You might realize that praying to God for things like vanity isn't going to happen. If what we want doesn't align with God then that could be why God isn't answering your prayers to take away acne. You might be more focused on wanting man's approval rather than living your life in a way that pleases God.
Sometimes, God doesn't always give you the things you pray for because He knows why you need to go through something or to learn a lesson. I believe I went through acne and knew the pain of it so I could help others in the future.
And remember, There are six things the Lord hates, seven that are detestable to him: haughty eyes, a lying tongue, hands that shed innocent blood, a heart that devises wicked schemes, feet that are quick to rush into evil, a false witness who pours out lies and a person who stirs up conflict in the community.
– Proverbs 6
Haughty eyes mean you are full of pride, and look down on others.
What does the Bible say about skin picking?
Your body belongs to God, so you need to treat it best. But still, the outward appearances of our bodies actually doesn't matter – they are vessels for the Holy Spirit.
We shouldn't pick or mess with our skin because we need to pamper it like the holy temple it is: I appeal to you therefore, brothers, by the mercies of God, to present your bodies as a living sacrifice, holy and acceptable to God, which is your spiritual worship. Do not be conformed to this world, but be transformed by the renewal of your mind, that by testing you may discern what is the will of God, what is good and acceptable and perfect. Romans 12:1-2
I hope that this helps you. Please know that God always works in your favor when you follow Him. Trust that he will provide you with all that you need to help you in your battle with acne once you completely trust in Him, and let it stop being the focus of your life. Your focus should be on the Lord.
You can still have a normal life – have relationships, get married, be happy – even with acne. I did and I know you will too!
Lastly, don't forget that in Heaven we will receive new, glorified, and perfect bodies where you will never have to worry about pimples again.
As always, I write articles to help get rid of acne. Please check out my acne archives to learn more about my journey with acne and how I overcame it. I also have product reviews and tips and tricks for you.
Best, Mia
This content is for informational purposes only, and what has worked for me personally based on my own opinions. I am not a professional/medical doctor, and you should always consult your doctor or dermatologist on what will work best for you. The information presented here is not legitimate, official advice from a professional. If you choose to rely on any information from this blog, you do so at your own risk. Please refer to the "Blog Disclaimer" tab in the menu bar to read more information and the official disclaimer statement.