There is nothing better than a maternity shoot to capture that amazing time in a woman's life! If you are needing the best maternity photoshoot ideas to choose from, this post is just for you!
I will break it down by aesthetics and some options you might consider when determining what vibe you want for your own maternity pictures!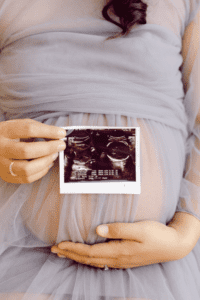 Outdoor Maternity Photoshoot
I start with this category since it is one of the most popular types of maternity photos to take. If you search outdoor maternity photos in Pinterest, you will come back with a lot of pictures. They typically look the same – either a gorgeous dress like this:
or something more boho like this:
This is always a classic, and easily accessible for most people. Just pick a pretty outdoor location and snap away! I have also seen outdoor maternity photoshoots in rivers, during the winter, and in forests. Is this your vibe?
Beach Maternity Photoshoot Ideas
Further expanding on outdoor maternity photoshoot categories, how pretty would it be to take maternity pictures at the beach! Here is some inspiration.
Here are some similar dress options you could wear now for outdoor maternity photoshoots.
Something I have also seen rise in popularity is the Studio Maternity Photoshoot.
Studio Maternity Photoshoot
These are soooo gorgeous! Taking your maternity shorts in a studio is a whole other level of glam. I feel like it started with celebrities doing black and white silhouettes like this:
But now has also opened up ideas for studio glam portraits with amazing, fluffy ballgowns! Like this:
Both are lovely ideas to do when pregnant, and while more expensive it is probably 100% worth it!
Funny Maternity Photoshoot
These are always a hoot. If your personality is more carefree and jokey, examples like this: are perfect for your maternity photoshoot.
Boudoir Maternity Photoshoot
Boudoir photoshoots are also something that is a new phenomenon. They consist of very personal, intimate pictures that can be done at home or at a studio.
Milk Bath Maternity Photoshoot
How creative is this idea? This is for the artsy woman: florals sounding you in a milk bath. So dreamy!
Couple Maternity Photoshoot Ideas
Family Maternity Photoshoot Ideas
I hope this helps you choose between all the different styles of maternity photoshoot ideas there are out there!
If you are currently pregnant and needing some skincare favorites to use for great skin for maternity photoshoots, check out my archive here!
Also, check out my pregnancy style tips board on Pinterest!
Have a blessed day, Mia