Are Hailey Bieber's "glazed donut" nails about to go down in the history books? TikTok and the rest of the world are going crazy over her signature nail look. Everyone is doing it! If you want to get your nails done like Hailey Bieber's, here is what products she uses, as well as some nail inspo!
Hailey Bieber Nails
Here is a picture of Hailey Bieber's trending nails:
https://www.pinterest.com/pin/312366924167468424/sent/?invite_code=ac3ec7ea13c74a2c90ab9a76baa0aad8&sender=584905207763432490&sfo=1
OPI Funny Bunny + Tin Man Can
Her nail artist, Zola Ganzorigt uses these colors. Mix OPI Funny Bunny with Gel Stay Shiny Top Coat. Then add Chrome Effects Tin Man Can over the nail to give it the finishing chrome look.
If you can find these products available, you can easily do it at home! Currently, they are sold out everywhere as you can imagine.
Here are some other TikTok creators takes on the Hailey Bieber nail trend!
If you can't access these colors, or a salon that will have these products, here are some Hailey Bieber Glazed Donut Nails dupes:
Speaking of nails, are your nails splitting or do you have toenails that split?
Check out my articles on how you can help out your nails!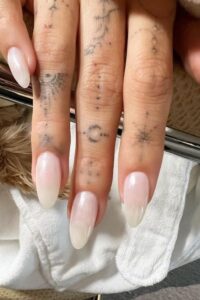 I hope you guys enjoy and let me know if you have any other dupe ideas below!
Best, Mia
This content is for informational purposes only, and what has worked for me personally based on my own opinions. I am not a professional/medical doctor, and you should always consult your doctor or dermatologist on what will work best for you. The information presented here is not legitimate, official advice from a professional. If you choose to rely on any information from this blog, you do so at your own risk. Please refer to the "Blog Disclaimer" tab in the menu bar to read more information and the official disclaimer statement.