Have you been curious about Atolla, "the skincare of the future"? This MIT-founded skincare company delivers uber-personalized results. If you're interested in how they are changing the skincare game, then my detailed Atolla skincare review is for you.
I've also included a 50% off discount code for you to take advantage of at the end of this article!
Plus, Atolla has lowered their subscription price which I let you know about below.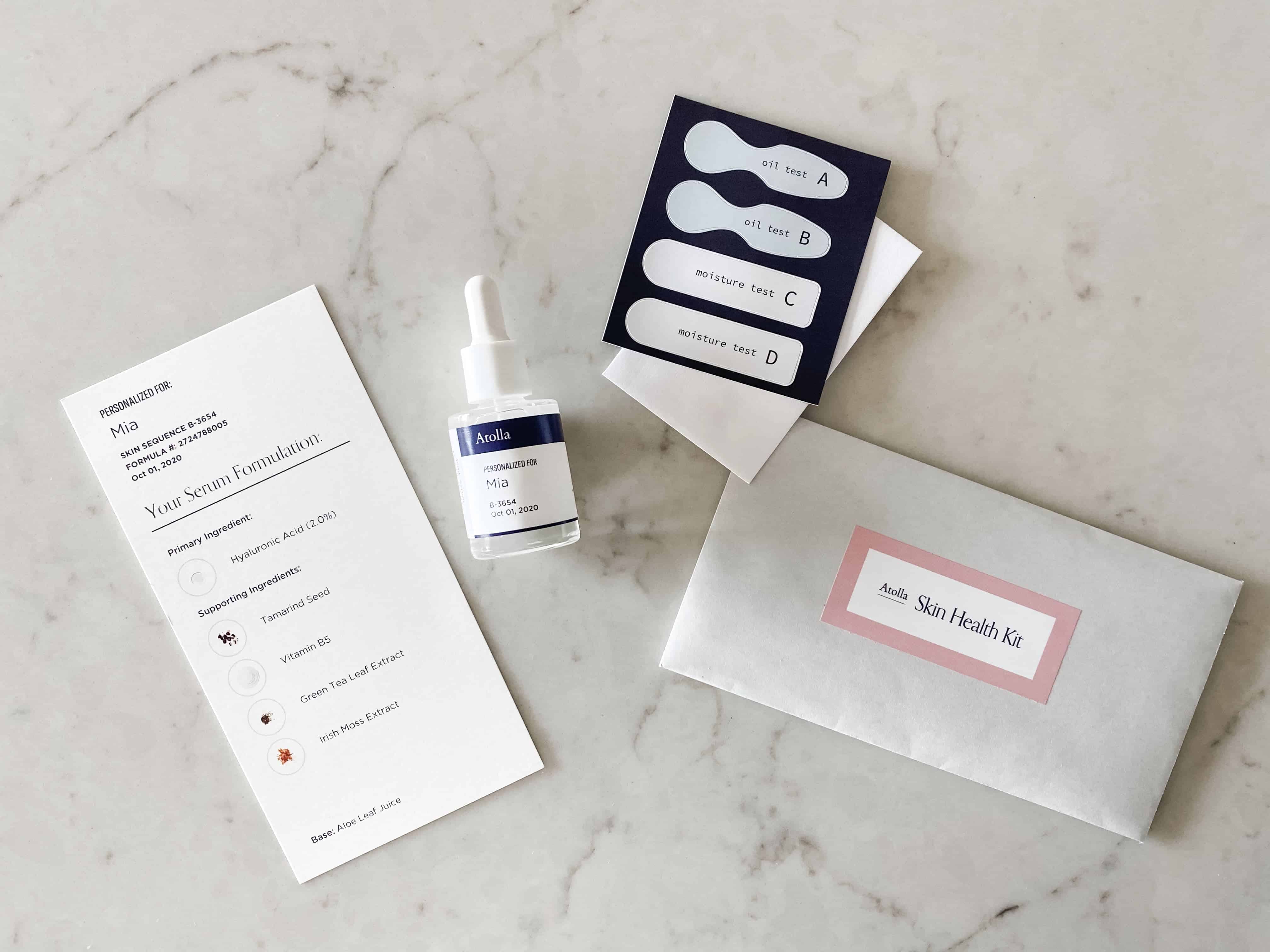 Atolla Skin Lab
First, I'll share a bit of Atolla's philosophy and what they offer.
Sometimes, skincare consumers can fall into a "buy more" mentality.
This is due to the broad range of products available to them.
Atolla's goal is to prevent that with a simpler approach to skincare. They want to be the "one-stop solution" for your needs.
We're on a mission to reinvent the mass skincare model.

https://atolla.com/company
This is also what sets Atolla apart:
They create serums only
Use patented MIT technology
Co-founded by a dermatologist
The serums are vegan, cruelty-free, sulfate-free, gluten-free and have no added fragrance
Use a need-based model
Eco-friendly packaging
Use an algorithm to create a formula exactly for you
Let's jump into how to get started with Atolla!
Setting Up and Ordering Your Personalized Atolla Skincare
This is where the fun begins!
With Atolla, from day one you feel like a scientist in a laboratory.
When you're ready to start your personalized skincare journey, go online to atolla.com.
Cost
UPDATE 2021:
A monthly subscription to Atolla was $45 a month.
They have recently rolled out with a lower price of $39 a month!
Don't forget that you can cancel, pause, or change your renewal date at any time.
But, stay tuned for my 50% off discount code at the end of this article!
Getting Started With Atolla Skincare
When you begin, you're asked a series of questions. Atolla wants to know how you're feeling about your skin today, and which two concerns you'd like to treat the most.
It also wants to know your top three skin goals, and various questions about your skin.
I also loved that it takes into account your
Diet/exercise
Stress
Sleep
Makeup routine
What products you're using
Screen time
to create a personalized serum that can be easily integrated INTO your routine to work WITH you.
You don't have to change what products you are already using. Plus, you there's no memorizing which skincare items can or can't work together.
Atolla makes it easy by avoiding that hassle!
You don't have to worry about product interactions or money wasted on skincare items you already have.
Once you have your information in, Atolla uses their patented algorithm to create a special serum just for you.
Then you just have to be patient for a few days while your serum is delivered!
What You Get
"We've built a predictive model based on continuous and diverse information on thousands of users' skin — including oil, moisture, and pH measurements over time — to generate an effective formula for your starter serum. Then we take the results from your Skin Health Kit to build upon that formula for a more refined, up-to-date serum every month."

–Atolla Website
---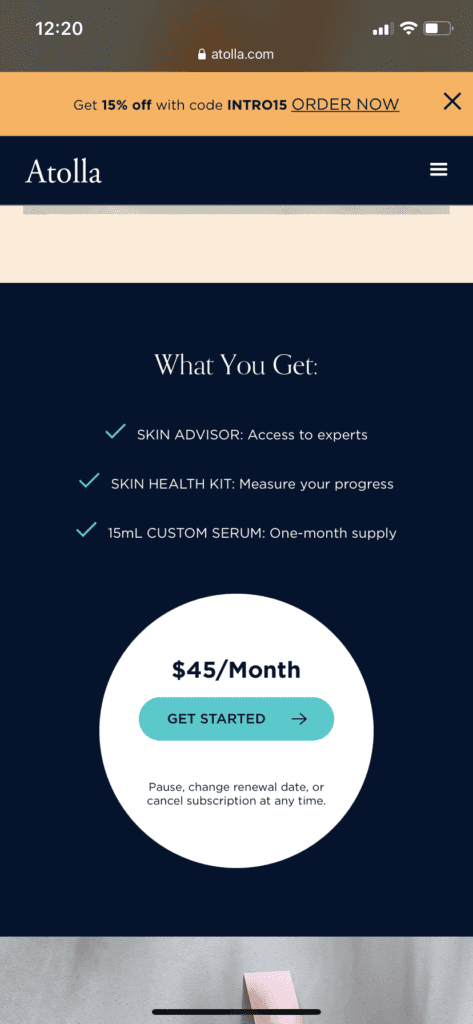 My Personalized Atolla Skincare Serum
As I mentioned, I am pregnant so I was delighted that Atolla could create a serum that is pregnancy safe.
My Principle Active is:
Hyaluronic Acid (2.0%)
My Supporting Actives are:
Irish Moss Extract
Green Tea Leaf Extract
Tamarind Seed
Vitamin B5
Application of Atolla Skincare
It is pretty simple!
Apply your Atolla skincare serum at night to a clean face.
They also mention you can apply it morning and night to speed up results.
I also recommend this because I noticed that the serum will last longer than a month if used once a day.
It might be wiser financially for you to space out your shipments, even if that means you see results over a longer period of time.
Assessing Your Skin
After your first month of using your serum, you will need to assess your skin.
You want to give feedback so the lab can determine if you should try a different serum next time.
I thought this was awesome, and is crucial to creating skincare that is exactly right for you.
Dashboard
After you log into Atolla.com you'll see your dashboard. This holds important information! It displays things such as products you are using and your skin concerns, for example.
It also houses your Skin Sequence, mentioned below.
Make sure to do the test kits given in each shipment. This is the information that powers your Skin Sequence.
Skin Sequence
"The Atolla Skin Sequence is a holistic view of your skin across 5 significant factors: top skin concern, moisture index, oil index, pH level, and sun sensitivity."
---
Skin Health Tests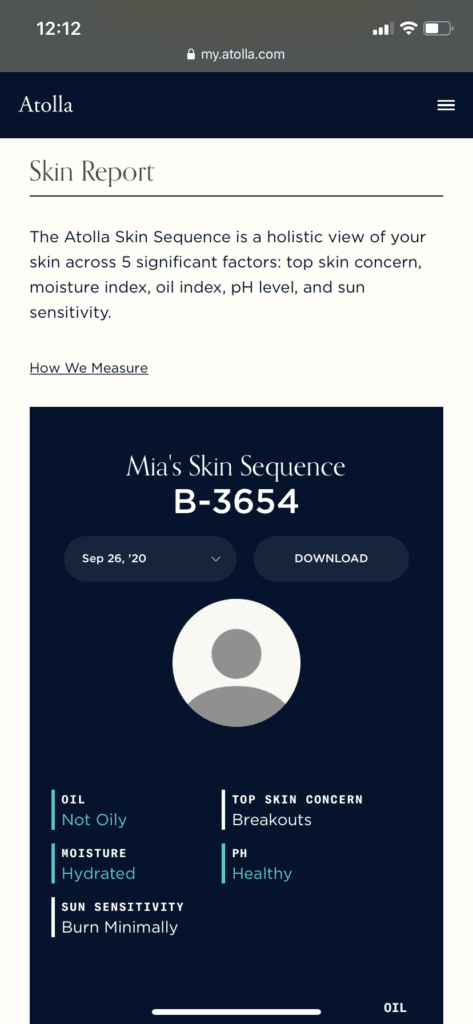 As shown above, two tests are given to assess your skin health. You'll do this in about 2-3 weeks after using the serum. Atolla will give you reminders on when to complete these too, so don't worry!
Oil/Moisture Test
You're given two sets of strips to test your oil and moisture in each shipment.
Peel them off the sheet by a specific end and press the tester spot on your forehead and cheek.
(Don't worry, Atolla provides videos to show you the exact process.
This needs to be done to make sure the ingredients in your serum are doing their part to maintain balanced levels of oil/moisture.
I loved doing this and feeling like I was a scientist playing a role in my own skincare.
It seems like a small step, this made my opinion of Atolla that much higher!
You see how they go above and beyond to make sure they can create the best serum for your skin.
This takes the guesswork out of deciding which ingredients will be best for my skin, and what exactly I need to target my specific concerns.
pH
Testing is the same as above!
You'll test your skin's pH level to see how healthy your skin barrier is, and how much help you'll need protecting against bacteria, allergens, and pollution.
All this information will go into your Skin Sequence in your dashboard where you'll be able to see it. It will also help determine how your serum should be adjusted for next time if needed.
My Skintype Background
Now on to my experience.
I've used the serums for three months so I feel really comfortable writing this Atolla skincare review.
Still, I would like to start by being honest. When starting this serum, I didn't have flawless skin, and I still don't.
To explain – I've suffered from cystic acne throughout my teenage years. I've been dealing with the aftermath of deep pitted acne scars ever since.
These scars pitted scars can't be erased topically/instantly for the most part.
Although my pitted acne scars are still there, they have improved significantly over time from other skincare procedures.
That's another story – but if you would like to know how you can also start improving your pitted acne scars, check out my Acne Scar Treatment archives!
I have pretty problematic skin – so have confidence that my Atolla skincare review will actually tell you it works or not.
(Side note: Don't you hate it when people with perfect skin review skincare/beauty products?)
So, you wouldn't think my skin is flawless if you saw it. But, Atolla definitely checked the boxes on improving my overall skin health and the other concerns I had signed up to treat.
*As of writing this, I am pregnant. You can use Atolla while pregnant. Of course, always check with your doctor before incorporating new skincare into your routine. Atolla will ask if you are pregnant/breastfeeding and then use safe ingredients in your serum. I love this because you can still get skincare that takes the guesswork out of safety/effectiveness.
Atolla Skincare Review – Overall Results
After using Atolla for 3 months, I say my all around opinion of it is very positive. It checks the marks for effectiveness, ease of use, innovation, and fun packaging.
When I signed up for Atolla, I personally wanted to target breakouts and dark spots. I also had goals of even skin tone and achieving a radiant glow.
In my opinion, Atolla is worth it over other items because of how personalized you can get with the results. You can target really specific concerns with their high quality formulation.
This takes the guess work out of ordering a bunch of different products from somewhere else, and hoping that they will work together to give you the skin you want.
They really do it all for you, which is worth the money!
Effectiveness
I believe that I saw a big improvement in my skin from using Atolla consistently. I didn't experience an adverse reaction, or a purging stage of breakouts.
Remember, we all will have different ingredients in our serums, and our skin might not react the same way.
But, that is the beauty of Atolla! If something wasn't right for you the first time, they will work with you to get to the root of the problem and create an even better serum for the future.
The quality of ingredients help make this serum effective and me prone to less breakouts, in my opinion. My serum had 5 main ingredients in the formulation, with 10 ingredients total.
Atolla keeps the ingredient list as minimal as possible. This helps get the job done without unnecessary fillers or things that tend to irritate the skin. You are getting what you pay for with Atolla!
Ease of Use/Innovation
Ease of use and innovation go hand in hand for me.
I had a really positive experience with Atolla and liked the science that went into personalizing my skincare.
It was easy to answer a few questions about my skin.
Ordering and then using the test kits are super easy and comes with lots of instructions.
I liked the dedication to get to know how your skin does with your serum. This feedback helps them improve your experience in any way they can.
Fun Packaging
The package that the serum arrives in is sleek and fun to open.
The serum is packaged safely in an insert and you will get your formulation list plus test kits in a neat envelope.
It is also eco-friendly which is important.
Breakouts
Before Atolla, I didn't have cystic acne, but 5-10 breakouts on my face at one time was common.
I am at the stage in life where acne is still an issue for me and is one of the things I need to control. I would also get breakouts all over the face.
Retinol/tretinoin was doing a pretty good job of that before going on Atolla, but I needed other pregnancy safe options.
After using Atolla for 3 months, my forehead is consistently clear of acne.
My jawline is another story – I still get flare ups around that area, but I believe it is due to pregnancy hormones. I don't believe this is Atolla's fault, just my body in a different mode right now.
Lightened Dark Spots
I also had a few dark spots around my eye, and I chose this as my second concern to treat. I wanted this because I believed it would treat those dark spots as well as lighten up the PIE acne scars.
Because serums won't get rid of my pitted acne scars for the most part, I wanted to lighten up the dark spots.
That will help draw the eye from the scars and diminish them.
The serum helped with that slightly I would say.
As for dark spots, they are still around my eyes. Lessened but not completely gone. Then again, I don't know that it would happen that fast. The same goes for the PIE on my acne scars.
Tone
Even toned skin was a big want for me, due to my acne scars.
If they have to be there for now, then I wanted the rest of my skin to be smooth and glowy.
I have noticed that the texture of my skin has improved, and seems less oily. Not to mention, my pore size looks smaller and the blackheads on my nose seemed to look less dark. Win!
Discount Code
I have recently become an Atolla Ambassador! This company is one that I definitely stand by because I believe their product is effective.
If you deal with acne/less than perfect skin, you'll do anything to get your skin and confidence back. I've been in your shoes, and I know the feeling.
Try out Atolla, and see what it can do for you! As with any skincare though, be sure to be consistent and give it some time to work.
I am excited to share this code MIA which will give you 50% off any first-time order, when applied at checkout.
Let me know in the comments if you decide to try Atolla, or your thoughts on it!
Best, Mia
This content is for informational purposes only, and what has worked for me personally based on my own opinions. I am not a professional/medical doctor, and you should always consult your doctor or dermatologist on what will work best for you. The information presented here is not legitimate, official advice from a professional. If you choose to rely on any information from this blog, you do so at your own risk. Please refer to the "Blog Disclaimer" tab in the menu bar to read more information and the official disclaimer statement.