As someone who is an acne sufferer and always on the lookout for products to improve my skin, the CeraVe Renewing SA Cleanser stood out to me. After using it in my routine and researching a bit more about it, does this specific cleanser need to be a staple in your beauty cabinet?
The short answer? Not really…especially if you have facial acne. I go into the why in this review, and as well as who *maybe* should try it.
Read my quick review below!
What Is CeraVe Renewing SA Cleanser?
In case you didn't know, here's what it this product looks like.

What Are The Ingredients In CeraVe SA Cleanser?
The highlighted ingredient in the cleanser is the SA, or Salicylic Acid.
"Salicylic acid (SA) is a beta hydroxy acid (BHA), an effective exfoliator that removes dead skin cells and promotes radiance. Salicylic acid acts as a chemical exfoliant that feels less harsh than physical ones like face scrubs."
This is a great exfoliating ingredient that gives the skin that "renewing" effect.
It also contains hyaluronic acid, niacinamide, and vitamin D to help cleanse, exfoliate, and hydrate skin without leaving a stripped & tight feeling.
According to the Target website, this cleanser is listed as providing skin relief to dry skin, sensitive skin, rough and bumpy skin, and all other skin types. Suitable for acne-prone, oily skin and even those with psoriasis.
This leads me into my next point.
Is CeraVe Renewing SA Cleanser Good For Acne?
So, if you are struggling with acne-prone skin, you might wonder if this cleanser would be a good choice for you. In all honesty, I believe it is not a necessity. Still, I don't think it would hurt to add it to your routine if you don't mind spending more on a facial cleanser.
I found that I like the regular CeraVe Foaming Facial Cleanser to get rid of dirt and makeup. For some reason, the SA cleanser takes a bit more to get everything off your face. It's also a smaller bottle yet is more expensive than the regular face wash.
And going back to those who are specifically dealing with acne, this cleanser won't be the magic product to help heal acne. There are many other products you could spend your money on to help acne if you are dealing with that.
Don't forget to check out my Get Rid Of Acne archive for more information and product recommendations!
What About Dry, Sensitive Skin?
Yes, CeraVe's website mentions this product is safe to use on dry and sensitive skin. I believe this is because the percentage of salicylic acid is low enough to not cause irritation. Dry and sensitive skin will also benefit from the ceramides in the face wash.
The website also says ceramides work by being "essentially the glue that holds our skin cells together to keep our skin barrier intact and healthy. A healthy skin barrier helps seal in moisture and seal out harmful elements."
This helps dry and sensitive skin immensely!
It is also free of fragrances which is one of the biggest aggravators of dry & acne prone skin.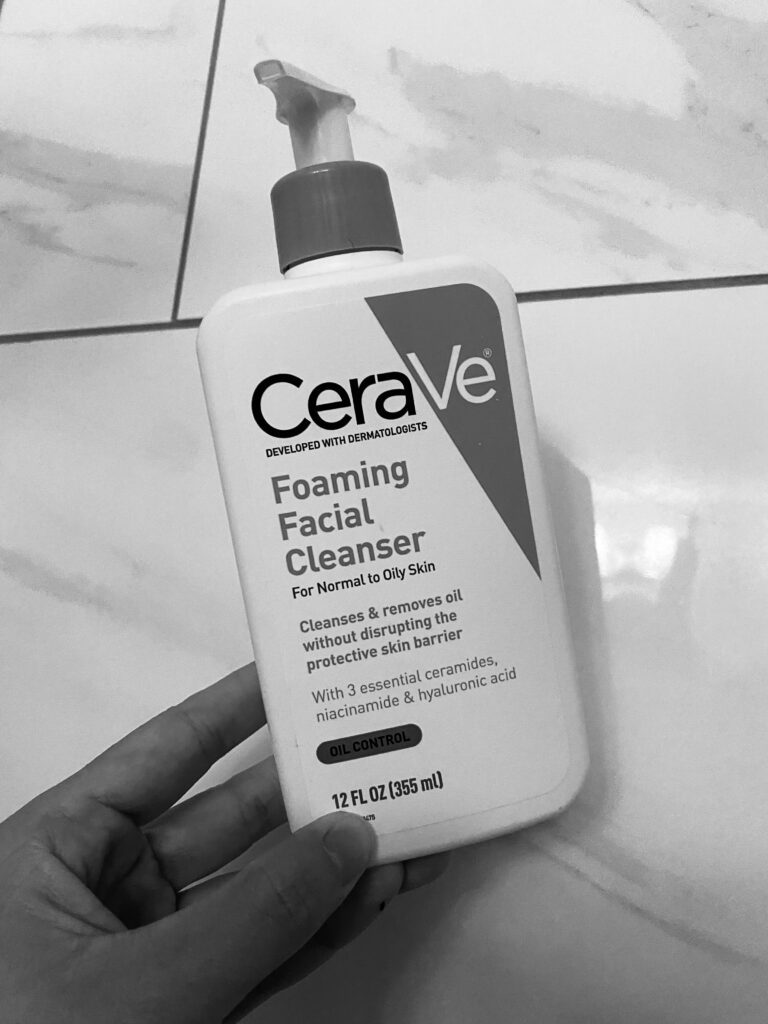 How To Use It
Can I use the CeraVe Renewing SA Cleanser twice a day?
While the label doesn't have that in the instructions, I do believe you could use this cleanser morning and night. Just be sure to always use sunscreen on your face!
When should I use the CeraVe Renewing SA Cleanser?
Morning and/or night! You might need to use makeup remover and a cotton ball to get all your makeup off first, and then do a final cleanse with the CeraVe Renewing SA Cleanser.
Is CeraVe Renewing SA Cleanser Worth It?
To me, it isn't! But it might be to you. It is more expensive and the bottle is smaller than other CeraVe face washes.
Another point to consider: the FDA only allows 0.5 to 2% salicylic acid to be in over-the-counter products. According to dermatologists, this is a small amount that will produce very minimal change. This is even further evidenced by the fact that CeraVe doesn't even list salicylic acid as an active ingredient on the label.
If you have major acne you are better off spending money on other things because the CeraVe Renewing SA cleanser probably won't transform your skin much. If you have great skin and want to use this as a gentle exfoliate then that should be more in your ballpark. Or, if you don't want a ton of products and want this to take off make up and exfoliate simultaneously for smoother skin it will probably be good for you.
The last use for this that would be more worth it would be for body acne. In my experience, back/body acne has cleared up considerably easier for me than on my face. This product would be all I need to clear up back pimples. It would exfoliate and keep it clean which for me helps my bacne so much.
CeraVe also made a salicylic body wash and lotion for this very reason!

I hope this helps you when deciding if you wanted to add the CeraVe Renewing SA Cleanser to your beauty routine!
Have a blessed day, Mia
This content is for informational purposes only, and what has worked for me personally based on my own opinions. I am not a professional/medical doctor, and you should always consult your doctor or dermatologist on what will work best for you. The information presented here is not legitimate, official advice from a professional. If you choose to rely on any information from this blog, you do so at your own risk. Please refer to the "Blog Disclaimer" tab in the menu bar to read more information and the official disclaimer statement.