I started this skincare website with the intention of sharing my favorite skincare products + acne tips. I was also hoping to make a little side money as a stay at home mom. I finally have reached the point where I can monetize my content! If you are looking for ads for blogs with low traffic, consider using Monumetric!
This is the ad network I use with a bit more than 10k page views a month. Read more about my experience in this Monumetric review below!
Ads For Blogs With Low Traffic
Over the past two years, I have worked hard to try to bring traffic in through Google and Pinterest. Today through SEO-focused articles, I mostly get organic traffic as a big chunk of my daily visitors. My end goal was always to have ads displayed on my site to bring in some revenue. Despite my relatively low traffic, I am very happy I can make some money vs. none.
When Can I Add Display Ads To My Website?
I started researching when I could have ads for blogs with low traffic. Since it was taking a while to reach 50k sessions (which is what was required for joining Mediavine, the only ad network I knew of at the time), I looked up all other available options.
I checked out lots of Reddit threads on blogging and SEO, and read people's opinions on which ad networks to use. Monumetric definitely stood out to me.
Monumetric Requirements
My point of view was this: While I could really monetize my site from day 1, it would be for pennies. I wanted to sacrifice not monetizing my articles until I reached 10k page views a month so I could join Monumetric.
Some people think that's foolish, and that you might as well monetize your blog as soon as you can.
But I wanted to wait until I hit 10k page views so I could join Monumetric, and not just jump the gun with ad agencies that accept any and all blogs. I had done some research as well as read Monumetric review and believed their mission statement and quality service lined up with what I was wanting.
I wanted an agency that wouldn't slow down my site and there weren't any reviews on Reddit mentioning Monumetric did that vs. other ad agencies.
Check your site here and join using my referral link!
*This post contains referral links, which means I earn commissions if you sign up for Monumetric using my link. This is at no extra cost to you, and I would greatly appreciate you using my link if this article has helped you monetize your blog!
From the beginning, I wanted to rank my articles and bring in lots of traffic fast. So, I decided to keep my pages clean so they would load as fast as possible. I wanted visitors to my new site to visit it and stay on it as long as they could. This is so I could establish my site early on and make it look favorable to Google.
In other words, I didn't want to nip my site in the bud before it had a chance to prove itself.
Monumetric vs. Ezoic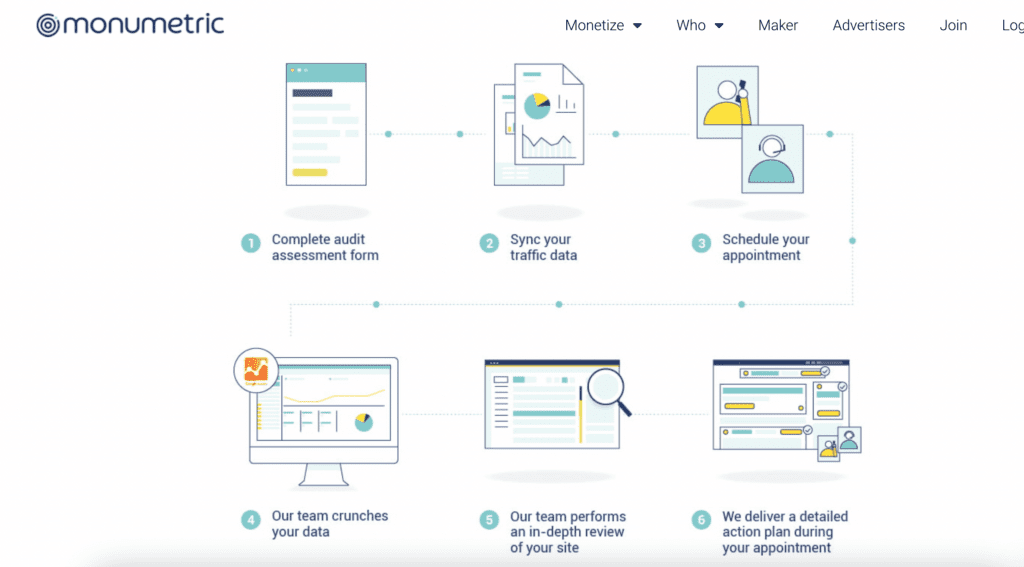 I am not familiar with Ezoic, but I know it is another ad agency that accepts blogs with low traffic. I chose to not go with them and wait to hit 10k pvs for Monumetic because I heard that Ezoic slows down your website. Again, I can't confirm that. I am only repeating what I have heard from searching Reddit threads like r/juststart.
So Monumetric stood out to me the most, and I was fine waiting for them.
Monumetric Monetization Programs
They have 3 ad programs you can join –
Propel (10k-80k pv/mo) This is the one I applied to.
Ascend (80k-500k pv/mo)
Stratos (500k – 10m pv/mo)
Apollo (10m + pv/mo)
Want to apply too? Click here to join using my referral link!
Joining Monumetric Ad Agency – My Monumetric Review
As I mentioned before, I waited until I hit around 10k page views as shown in Google Analytics.
One year into building up my blog, I had my second baby. After she was born the blog was on pause for a while. 6 months later I decided to get back at it and churn out some more articles because my traffic was sitting at around 5k visitors a month.
(Side note, I do not advise taking a break on writing articles if you have a blog! Google likes to see websites that are active, and updating their site with a few articles every week.)
I wish that I had planned everything out better to keep up with my blog – I believe I would have been able to hit my 10k traffic goal a lot sooner if I did!
But, long story short, I was able to reach that goal and I promptly applied for Monumetric.
I applied and added all the stats they needed. Then I waited to hear from them in an email.
After reading a confirmation email about Monumetic receiving my application, I was a bit dismayed at the wait time for getting onboarded. But, it is to be expected. When you do accept blogs with lower traffic minimums (10k minimum vs 50k for Mediavine for example) you will have a lot more people wanting to join.
Thankfully, it actually took me less than a month to get completely set up!
There is a one-time $99 dollar set up fee with Propel though which I was basically able to make back in about a month and a half. Their other programs do not have a setup fee.
The onboarding was very fast and Monumetric took care of everything.
They will ask what ad placements you were thinking of, and which would be best for bringing income to your site.
Monumetric Propel Program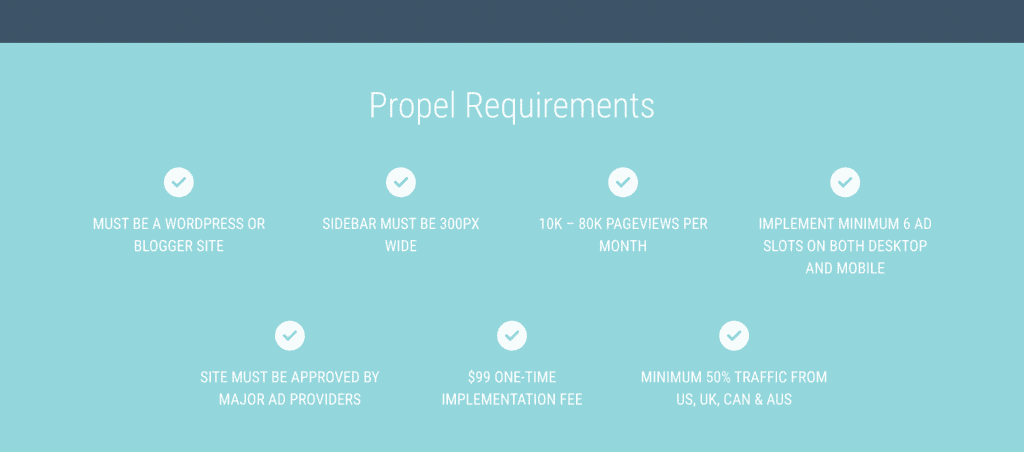 When you start out with ads, you will go through a period where your RPM is calculated. This is a time where the they figure out the analytics of your traffic and how much advertisers will pay for your audience.
Currently, I am at ~$12 RPM. This means that for every 1000 visitors to my site I would make $12 from display ads. An extra $120 a month is awesome!
I do think there are ways to improve the RPM for your blog too – like longer content, more pictures, etc.
I plan to keep adding more articles to my site with the goal of hitting 1000 visitors a day. I also am going to work on adding more words and pictures to articles to beef up the RPM. Monumentric also has VOLT which is a video ad you can include to also increase RPMs. I am looking into it now!
Monumetric does pay out on net-60 terms. So you will start to get your payments about 2 months after you sign up.
Trying Monumetric Propel Program
Ideally, I would love to make $1-2k from ads on this blog per month, so I am glad that I have finally taken the first step. Which is being able to put ads on the site at all!
I highly encourage you to try Monumetric if you are starting out blogging and want to add ads to your website that earn you actual money – not just pennies!
I found Monumetric easy to apply and be accepted to, as well as easy to work with. They are always fast at answering emails and helping me. There is no reason why you shouldn't be able to have ads for blogs with low traffic! Monumetric is a great choice if you want a quality ad agency that actually cares about the value of your website and the hard work you put into it. They also are great for getting you a bit of extra cash each month!
Like I listed above, they do also have other programs you can apply to when your traffic grows because each program caters to where you are on your website journey. But here's an encouraging tip: your traffic CAN grow! It all depends on you writing more content and getting people's eyes on it.
If you'd like to monetize your blog with lower traffic now – you can use my link to apply!
This is a great goal to work up to and keep in mind as well! You don't have to wait until 50k to join a quality ad network. Check out Monumetric and thanks for reading this Monumetric review!
Leave a comment if you have any questions.
Best, Mia