We all know that pregnancy is such a special time! But a lot of changes are going on in a woman's body which can cause lots of unpleasant side effects. Acne is one of them! I dealt with major flare-ups of acne in the beginning months of my pregnancies.
Here's a look: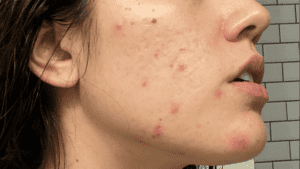 If you want to get rid of pregnancy acne naturally, I highly recommend using salt! It works so fast, and won't hurt you or the baby.
Salt has been my miracle solution for major acne breakouts throughout all stages in my life. But you need to make sure its not just any salt – you will need sea salt!
Keep reading to learn the specific routine to get rid of pregnancy acne naturally with salt.
Why Does Pregnancy Cause Acne?
Hormones
So why does pregnancy cause these crazy acne outbreaks for some? According to the American Pregnancy Association, "During pregnancy, elevated hormone levels can bring a variety of skin changes, which makes acne during pregnancy a common complaint."
New hormones and other proteins are created by the baby and the mother's endocrine glands. 1 This also causes a variety of other dermatological changes for the mom over the course of 9 months.
When Does Pregnancy Acne Start?
For me, my hormones are out of whack during the first trimester. This is usually when my pregnancy acne starts.
How Long Does Pregnancy Acne Last?
Again, going back to my experience. During the two times I was pregnant, my pregnancy acne started in the first trimester but usually stopped somewhere in the second. I think that your body just has to get used to the new hormones and then everything will settle down. Of course, I am not a doctor and can't give a definite answer. Plus, every woman is different. I would say though, that a bonus is that your skin will stop the breakouts fairly quickly. If you use salt as well, it might clear up even faster!
How To Get Rid Of Pregnancy Acne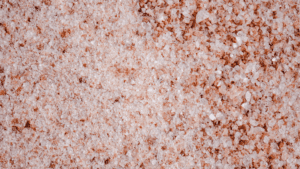 Using Salt For Pregnancy Acne
The reason why salt is great for clearing up pregnancy acne, is that it creates a salty environment that acne bacteria can't thrive in.
But another point to make is that the type of salt you use is very important. Natural SEA SALT only. No table salt!
Sea salt is great for helping clear acne because it also contains lots of minerals that get to work healing your inflamed breakouts.
How To Use Salt In Your Skin Routine
First, get your sea salt.
This is one I use and love.

You need warm clean water, and enough salt to make the solution taste like the ocean. This is really scientific, I know aha. But I'd say about a 1/2 cup water to 1-2 tbsp sea salt. Mix it until the sea salt is dissolved.
There are two options you can do next.
The first, is to take a cotton ball, and then dip it in the solution. Then apply it to the affected area and let it dry. Ideally, you should do this at night so you can leave it on for a longer time.
The second option is to add more warm water to a bowl and add more salt. After this is dissolved, literally dunk your face in it!
Here is my other article explaining exactly how to do it.
Read More: Does Salt Water Help Acne? Only With This Unique Routine!
How Long Does It Take For Pregnancy Acne To Go Away?

It might take a month or so to see skin under control especially if you are fighting the natural hormones your body is making during pregnancy. Make sure you are eating well so as to not add more stress to the body.
You if you are fine with using other products, vitamin c has also been really useful for me! Here is another post I wrote about dealing with pregnancy acne.
Read More: How To Affordably Treat Pregnancy Acne: [3 Pregnancy and Acne Safe Solutions]
Still, using salt for acne is a no brainer during pregnancy. I found it to be highly effective at getting my skin back to normal!
If you are pregnant, check out my maternity archive. I have clothing, boutiques, and product recommendations over there.
I hope this is the solution to your pregnancy skin woes! Let me know if it worked for you while pregnant!
Best, Mia
This content is for informational purposes only, and what has worked for me personally based on my own opinions. I am not a professional/medical doctor, and you should always consult your doctor or dermatologist on what will work best for you. The information presented here is not legitimate, official advice from a professional. If you choose to rely on any information from this blog, you do so at your own risk. Please refer to the "Blog Disclaimer" tab in the menu bar to read more information and the official disclaimer statement.