When I became pregnant, I worried about how my skin would react. As a former cystic acne sufferer, I didn't want to go back down the severe breakout road. Unfortunately, in the beginning, I did experience bad pregnancy acne flareups. Here's a before and after: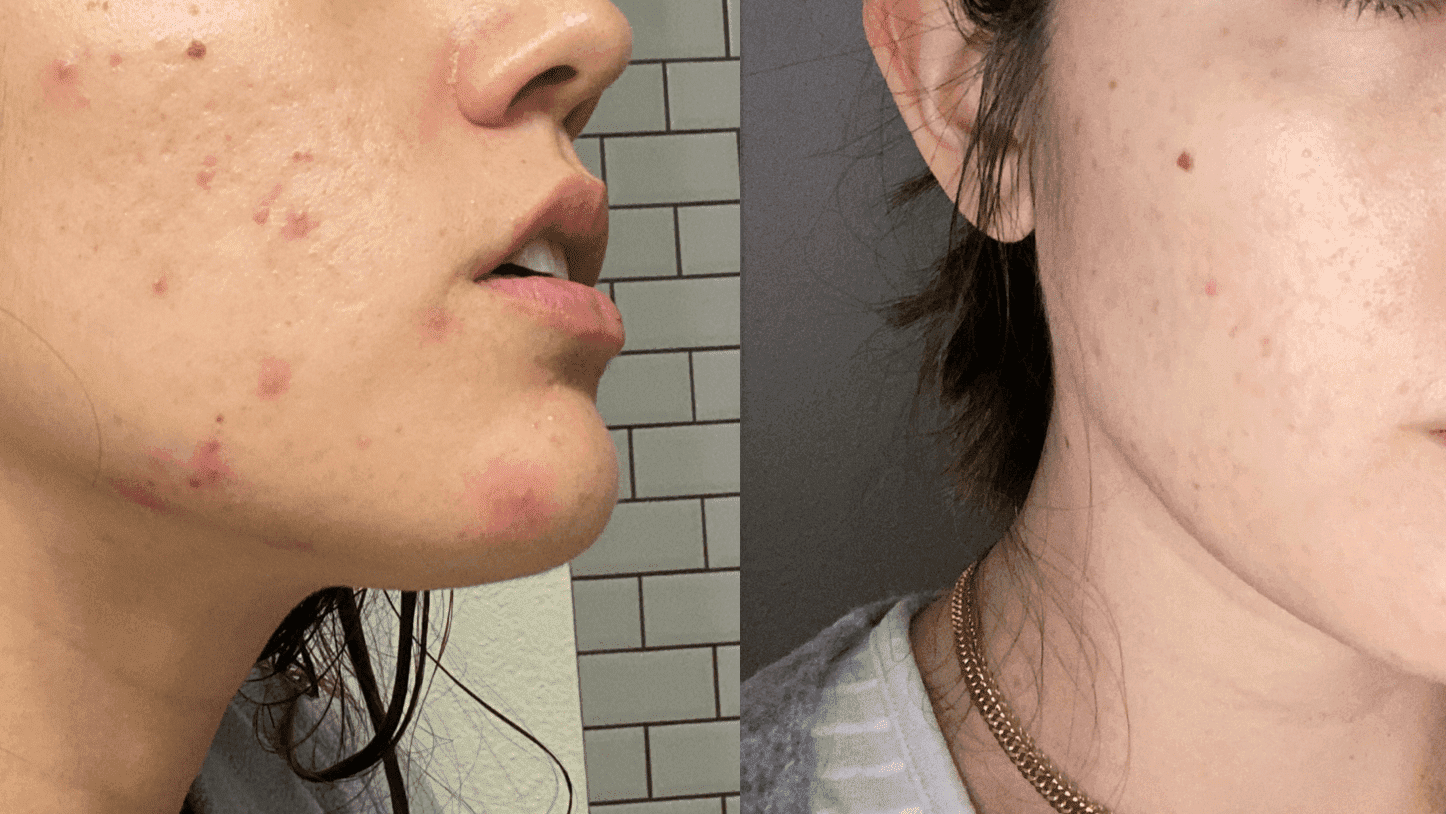 Yet… as you can see from the after, I figured out how to safely and affordably treat my zits! Yay! In this blog, I share three simple solutions that worked for me!
Disclosure: This blog post contains affiliate links, which means I make a small commission on a purchase without an additional cost to you if you buy something through the link.
Pregnancy Acne: Safe Pregnancy Acne Treatments
Solution #1
Here is my pregnancy skincare routine!
The Best Treatment For Pregnancy Acne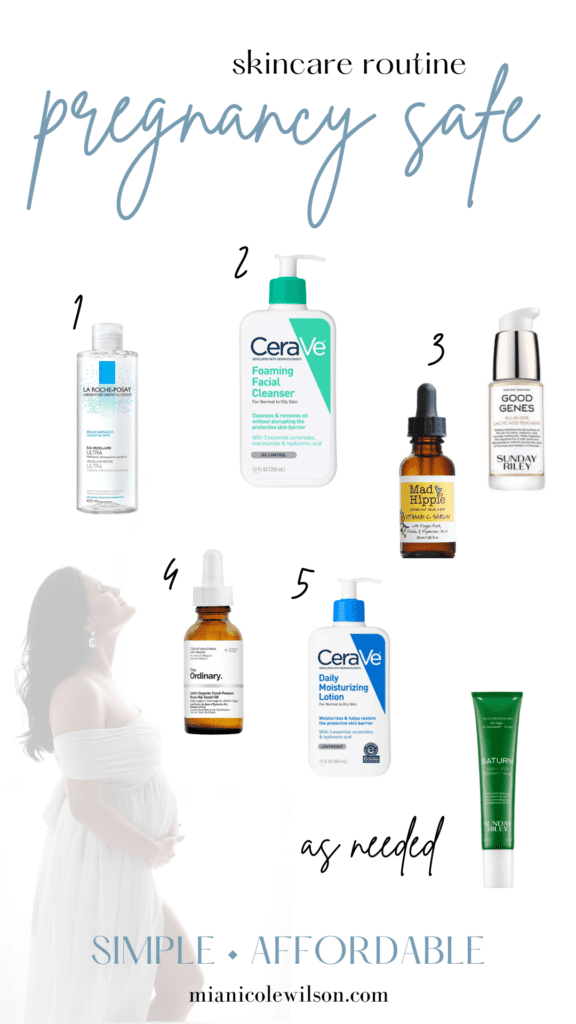 La Roche Posay Micellar Cleansing Water – This isn't a requirement, but I love using this affordable micellar water. It comes in a big bottle and there are different formulations for your skin type. I use this to prevent any breakouts as it breaks down stubborn makeup that might be hard for your regular face wash to remove. As a plus, you conserve face wash by only using enough to do a final wash of your face.
CeraVe Foaming Facial Cleanser – I absolutely love CeraVe products. I've used this brand ever since being on Accutane. The Foaming Face wash has great foaming power that really leaves your skin feeling clean without drying it out.
Mad Hippie Vitamin C Serum (Morning/Morning and Night) – **Recently, a reader pointed out that this serum has clary sage oil in it, which their doctor advised against using during pregnancy. The Mad Hippie website doesn't mention pregnant women avoid this serum, but you might double check with your doctor first before using this product when pregnant. I used this for about half of my pregnancy without issues, but if I could go back I would probably not use it just to be safe.** After cleansing, I apply the Mad Hippie Vitamin C Serum. I use this in the mornings. Use this morning and night if you want to make the routine more affordable, otherwise, use it once per day to help brighten the complexion! Then use the next product at night:
Sunday Riley Good Genes Lactic Acid Treatment (Night) – While this is a bit more pricy, the lactic acid is great for chemical exfoliation. Use it at night after cleansing, and over time it helps combat pregnancy acne, as well as will reveal a more even skin tone. This is great for those after acne marks too. Use the vitamin c in the morning and lactic acid at night.
The Ordinary Rosehip Oil – For an affordable rosehip oil, try this option. Rosehip oil is safe for pregnancy and can help brighten the skin and makes it super soft. It can even work to get rid of PIE scars that are left behind from pregnancy acne breakouts. If you need to fake the pregnancy glow, you need this oil in your routine! Use it after your active sinks into the skin. I also use this before lotion since it is a drier oil.
Another rose hip oil I swear by is this Pai Bioregenerate Oil.
CeraVe Daily Moisturizing Lotion – I also have been using this lotion since my Accutane days – it gave me so much relief when I was battling terrible dry skin. It without a doubt moisturizes my skin and keeps it soft. Another plus of using this is that I can safely pair it with the other actives I use as it is just a plain moisturizer.
Sunday Riley Saturn Sulfur Spot Treatment – If you are still experiencing occasional breakouts, adding this spot treatment will help due to the 10% Sulfur, 4% Niacinamide, Tea Tree Oil, and Manuka Oil.
Solution #2
On top of a great skincare routine, be sure to watch what you eat as well. A healthy diet is a huge factor in how your skin looks too. You will probably already be eating right while pregnant! Still, here is an article on the best foods to eat that can help with acne, and those to avoid:
Read More: Use Food to Help with Acne: 8 Incredibly Valuable Tips
Solution #3
You can also use salt water in combination to the skincare routine mentioned above. If you are wanting to avoid all skincare products while pregnant, using salt water for acne is a great all natural way to get breakouts under control.
I used this specific method to get rid of acne during my first pregnancy as well, with great success.
Read More: Does Salt Water Help Acne? Only With This Unique Routine!
Pregnancy Acne Explained
Here is why pregnancy can wreak havoc on your skin.
Can Pregnancy Cause Acne?
Pregnancy can definitely cause acne. The mechanisms by which pregnancy alters the course of acne are not well understood. Yet, is most likely that it is exacerbated during this time due to the new hormones and other proteins created by the baby and the mother's endocrine glands. 1 This also causes a variety of other dermatological changes for the mom over the course of 9 months.
What Does Pregnancy Acne Look Like?
It typically occurs around the jawline, as this is where hormonal acne shows up.
What Skincare Ingredients To Avoid During Pregnancy
While you might be wanting to try anything you can to treat severe acne during this time, please do not use these ingredients:
These can be harmful to your growing baby.
Read this article which shows you 14 beauty ingredients to avoid during pregnancy, according to a dermatologist.
I hope this helps you on your pregnancy journey and helps you focus on the joy of your new baby instead of breakouts.
Best, Mia
Citations:
Vora, Rita V et al. "Pregnancy and skin." Journal of family medicine and primary care vol. 3,4 (2014): 318-24. doi:10.4103/2249-4863.14809

This content is for informational purposes only, and what has worked for me personally based on my own opinions. I am not a professional/medical doctor, and you should always consult your doctor or dermatologist on what will work best for you. The information presented here is not legitimate, official advice from a professional. If you choose to rely on any information from this blog, you do so at your own risk. Please refer to the "Blog Disclaimer" tab in the menu bar to read more information and the official disclaimer statement.