Elf has upped its game over the years, and its products are great for being from the drugstore. Recently, I picked up ELF Camo CC Cream and was excited to try it. But what is my opinion? Honestly, I have mixed feelings about it! Learn why I love/hate it and if I would buy it again in this review.
Being an acne and acne scar sufferer, I want to ALWAYS wear foundation if I am going outside the house. Until the day when my face is completely clear (I'm close!) I don't feel confident showcasing a bare face.
I tend to go for a fuller coverage to hide breakouts and dark PIE scars.
When I saw that ELF had a CC Cream at the store, I immediately threw it in my cart.
So, after using it for a few weeks, here is my general overview:
I like it but I don't think I will buy it again. I will list out the pros and cons I personally experienced here in this Elf Camo CC Cream Review.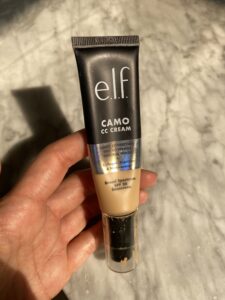 Pros: Shade Range
To start, this is honestly what drew me in the most. There were lots of shades to choose from looking at the setup in the store. I have a very tricky olive/yellow skin tone that has to have a very specific shade of foundation.
If I don't get it right, the makeup ends up looking very pink next to my neck and body. I liked that there was lots of different foundation colors as well as descriptions of the undertones.
For example, there were olive undertones, golden undertones, pink undertones, etc. So a lot of different shades that were going to be more natural to my skintone.
Pros: Full Coverage
Wow, is this formula full coverage! Watch this video as I apply it. I apply with my finger for a paint like coverage, then use my Sigma Beauty 3DHD Kabuki Brush to tap it in and blur any streaks. Using a beauty blender to apply it can dilute the coverage a bit.
In my experience, I prefer more of a heavy coverage so somethings I add another layer on top of the problem spots. For most people though, you might not need this.
Pros: Color Correcting
This is a cool feature! This Elf Camo CC Cream color corrects to your skin as it contains pigments that will really camouflage any dark spots, uneven spots, blemishes, or whatever skin flaw you might have.
Pros: Contains Sunscreen and Skincare Ingredients
If you aren't wearing sunscreen, you definitely need to start! Especially if you are using skincare products/routine. This foundation has SPF 30 which makes its easy to use two in one. I haven't used it in night photos though, so I don't know if it has flashback. If that is still a thing.
From Elf's website, they also have "hydrating and youth-boosting ingredients" as mentioned below:
Hyaluronic Acid helps provide hydration by locking in moisture resulting in a plumped up, bouncy complexion
Niacinamide to help brighten and even out skin tone
Peptides for a more refreshed complexion.
Infused with skin-loving collagen.
Now let's move onto why I don't like this foundation.
Cons: Very Hard To Remove
I have to use micellar water or wipes and then wash my face with the CeraVe to remove this foundation at the end of the day! Usually I don't like doing this, as I find the CeraVe does enough with regular foundation. But, this one is such full coverage and it feels like I still have a greasy film after washing face. I have to wash twice usually as well.
Here is a video of how water resistant it is.
Cons: Breaking Me Out
Now, this could be the sensitive nature of my skin, but I feel like I am seeing a lot of new pimples show up after using this regularly. I feel like it has to do with the greasy film it is leaving behind as mentioned earlier. With other foundation, I never noticed this. I would only experience some breakouts around my time of the month.
Cons: Maybe? Drying Out My Skin
I've also noticed that the ELF Camo CC Cream really picks up on my dry skin, despite me using hydrating skincare nightly. I am wondering if this is because of the heavy formula? It is said to contain hydrating ingredients in the formula, so this could be of my own design.
Overall I am still using the ELF Camo CC Cream and maybe my skin needs to adjust. I would like to try something different next time, but for price and shade range it's good!
I am saying no to this foundation for now because I need one that won't cause my skin to breakout when I am trying to get rid of acne and acne scars.
I am always on the lookout for a really foundation!
Best, Mia

This content is for informational purposes only, and what has worked for me personally based on my own opinions. I am not a professional/medical doctor, and you should always consult your doctor or dermatologist on what will work best for you. The information presented here is not legitimate, official advice from a professional. If you choose to rely on any information from this blog, you do so at your own risk. Please refer to the "Blog Disclaimer" tab in the menu bar to read more information and the official disclaimer statement.