Is Cerave or Cetaphil better? This review will help you determine the differences of Cerave vs Cetaphil, and which might work the best for you and your skin. I have been using Cerave skincare for almost 12 years now, and used Cetaphil in the past while on Accutane. I can definitely speak from experience on using these products.
For this review, I will compare Cerave facial cleansers vs Cetaphil facial cleansers on sensitive skin, dry skin, normal skin, oily skin, acne prone skin, and textured skin. No matter your skin type, I will help you find out which is your best match.
If you are needing comparisons between the Cerave and Cetaphil facial moisturizers, sunscreens, facial serums, or eye creams, click each link!
Cerave vs Cetaphil Differences
Let's start with some non-skincare related differences between the two:
Cetaphil vs Cerave Appearance
The two brand's designs look slightly similar, shown here: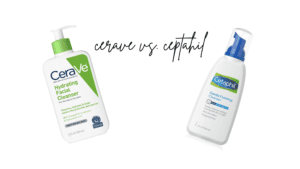 Cetaphil vs Cerave History
Invented in 1947 by a pioneering pharmacist in Texas, the first product – "Cetaphil Cleansing Lotion" – known today as Cetaphil Gentle Skin Cleanser – still uses the same formula. Quickly recognized for its gentle cleansing power, the Cetaphil range of products started to grow. Today Cetaphil is available in more than 70 countries worldwide and offers a wide range of everyday products from cleansers, moisturizers to baby products and solutions for sensitive skin conditions.

About Cetaphil
Founded in the United States in 2005 and developed with American dermatologists, CeraVe offers a full range of daily skincare products for the face and body, as well as a range for babies.

About Cerave
Cerave And Cetaphil Reviews
Here is a general overview of the big difference between Cerave and Cetaphil facial cleansers:
Typically, Cetaphil is recommended for those with very sensitive skin. When I was on Accutane, I used Cetaphil to keep my skin happy while it was going through major changes like extra sensitivity to the sun and fragile peeling skin.
If you'd like to know about Accutane, my experience taking it, and side effects, Read More: My Surprising Accutane Long Term Side Effects [12 Years Later]
Cerave is a newer product that "contains a blend of three essential ceramides (ceramides 1, 3, and 6-II), fatty acids and hyaluronic acid to restore skin barrier function, and sustain long-term moisturization with just one use." – Cerave This means that is great for hydrating those with dry skin.
Both brands carry more than just cleansers, though. I will go through a few other types of products the brands offer as well!
Let's dive in!
Cerave vs Cetaphil Facial Cleansers
Sensitive Skin
Starting with sensitive skin, Cetaphil should have a few great options for you. The Cetaphil Gentle Skin Cleanser contains a blend of Vitamins B3, B5 and hydrating glycerin to improve the resilience of sensitive skin.
If you like more of a foaming cleanser (like me) but don't want to upset your sensitive skin, try the Cetaphil Gentle Foaming Cleanser. it is dermatologist tested and clinically proven to be gentle on sensitive skin.
If you have redness or rosacea, try the Cetaphil Redness Prone Face Wash.

Dry Skin
Now to dry skin, Cerave will have the perfect match for you! As mentioned above, Cerave's products have had a lot of research and modern development go into them. Specifically, they have discovered the power of ceramides for hydrating and repairing the skin barrier. Ceramides are going to be your best friend if you have dry, parched skin.
Cerave Hydrating Facial Cleanser is an amazing product and a staple in many people's skin routines.
If you like foaming cleansers as well but don't like how foam can sometimes strip the skin, try the Cerave Hydrating Cream-to-Foam Cleanser.

Oily Skin
Here is my holy grail face wash! I use the Cerave Foaming Facial Cleanser for my oily skin. I have used this forever, and love how it takes away my makeup and oiliness. Sometimes, oily skin happens due to using a harsh cleanser, or not using moisturizer in fear that the skin will get oilier. Then, it starts overcompensating!
With this cleanser, it foams enough to leave the skin refreshed after cleansing without stripping the skin. (Just be sure to use moisturizer after!)
There is a Cetaphil option for oily skin, but it is a smaller sized bottle (8 fl oz vs. 12 fl oz) for around the same price. I think the Cerave cleanser would be smarter to purchase.

Textured Skin
If you are experiencing bumpy, rough skin the Cerave Renewing SA cleanser is such a great option! Salicyclic acid "can help exfoliate and smooth your skin while also effectively removing oil and dirt, sweeping away dead cells, and softening rough skin."

Acne Prone Skin
For this skin concern, I believe that the Cetaphil Gentle Clear Clarifying Acne Cream Cleanser will work better for you. It contains salicylic acid which will work better for acne-prone skin with whiteheads and blackheads.
Even though the Cerave option mentioned previously contains SA, it doesn't list the percentage on the bottle. Since it is down on the ingredients list, it might have between 0.5-2% in it, or less! (That is how much salicylic acid is allowed in over-the-counter items.)
The Cetaphil acne cleanser has 2% salicylic acid which will be more effective if you are needing to battle acne, vs using it for gentle exfoliation.
Cerave's acne cleanser contains benzoyl peroxide which is usually more effective on mild breakouts.

Cerave vs Cetaphil Recap
I hope you enjoy this quick run-down on Cerave vs. Cetaphil facial moisturizers. There are a lot of products from both brands out there, so it can get a bit confusing. This is a simple guide to which might work best for you based on your skintype. Of course, everyone's skin is unique, but this is a great starting point.
After using items from both lines, I really belive that Cerave and Cetaphil are great drugstore options for helping lots of skin concerns without breaking the bank.
Stay tuned for more product reviews for Cerave and Cetaphil coming soon.
If you are needing comparisons between the Cerave and Cetaphil facial moisturizers, sunscreens, facial serums, or eye creams, click each link!
Best, Mia
This content is for informational purposes only, and what has worked for me personally based on my own opinions. I am not a professional/medical doctor, and you should always consult your doctor or dermatologist on what will work best for you. The information presented here is not legitimate, official advice from a professional. If you choose to rely on any information from this blog, you do so at your own risk. Please refer to the "Blog Disclaimer" tab in the menu bar to read more information and the official disclaimer statement.