Are you suffering from dry cuticles? Whether you're washing your hands frequently during the pandemic, or experiencing dry winter weather, this guide has the solutions you need to restore dry cuticles back to normal.
Let's learn about dry cuticles and the products that heal them! And also, how to prevent it in the future.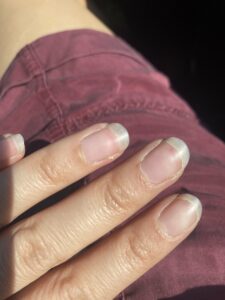 Causes of Dry Cuticles
As mentioned above, you can get dry cuticles from over-washing hands!
Other dry cuticles causes can be:
Dry, cold weather
Not moisturizing hands
Biting, picking at nails (the saliva can dry out cuticles/skin around nails)
Hand sanitizer overuse
Some nail polishes
Being malnourished
These are pretty self-explanatory. If you notice any of these apply to you, check out the dry cuticles remedy that I dive into below.
Dry Cuticles Remedy
Wondering how to heal cuticles overnight? There are actually lots of solutions you can use to solve your problem, and all I talk about today are at-home remedies for dry cuticles. This way relief is just a click or drugstore visit away!
I will divide these tips into products + techniques.
Cuticle Specific Creams/Balms/Oils
This is obviously the first place to start to get relief for dry cuticles FAST. Here are some great options! All the products listed work hard to soften dry, brittle cuticles.
They are also high quality and better than cheap nail salon products. (A lot of those oils are just olive oil and chemicals.)

These cuticle balms are also very useful if you have split toenails, or an accessory toenail! Learn more about how to get rid of double toenails here:
Got Toenails That Split? How To Fix Double Toenail On Pinky [Accessory Toenail]
Techniques to Get Rid of Dry Cuticles
Here are some easy changes you can implement into your life other than adding cuticle creams. They will go a long way to improve the dryness, but also prevent it in the future.
Let's go!
1. Wear gloves while washing dishes and out in cold weather.
Obviously, water will dry out your hands. Protecting them while doing the dishes or in harsh weather will go a long way and is one of the easiest fixes for dry cuticles.
2. Stop your biting nails habit.
Again, saliva/water will dry out your nails and cuticles leaving them looking rough. This could be a big contributing factor to your dry cuticles.
3. Use a moisturizing hand sanitizer.
Since we are frequently reaching for hand sanitizers in this pandemic world, make sure you carry your own that has moisturizing ingredients! Applying sanitizers with alcohol is, you guessed it, very drying for skin and cuticles.
4. Take a break from nail polish.
5. Add in supplements
6. Always have lotion on hand!
Obviously, if you have dry cuticles a lotion or oil should also be a great fix. Make sure you can easily reach for some lotion to apply before the problem is exacerbated.
Step by Step Guide to Lovely Cuticles
Typically, when you think of cuticles it is the idea of "pushing them back". For some reason, this always makes me cringe when I would get my nails done! Thankfully, it is actually found to be bad for the nail to do this. It is advised to not push your cuticles back as it can damage the nail. This way, you can also prevent infections that come when cutting them!
If you still opt to shape up cuticles that are a bit raggedy, follow these steps:
Soak Nails in Warm, Soapy Water – this softens the skin and cuticle.
Rather than pushing back the cuticle or cutting it, use a cuticle remover – this works to dissolve the dead skin around the nail.
Apply a moisturizing cuticle oil/balm/lotion.
Best, Mia
This content is for informational purposes only, and what has worked for me personally based on my own opinions. I am not a professional/medical doctor, and you should always consult your doctor or dermatologist on what will work best for you. The information presented here is not legitimate, official advice from a professional. If you choose to rely on any information from this blog, you do so at your own risk. Please refer to the "Blog Disclaimer" tab in the menu bar to read more information and the official disclaimer statement.