Whether you want to go big or go bold, John Frieda Foam Hair Color makes it fun and easy to color your hair! I recently used it to color my hair at home and here is my review.
I had previously gotten balayage highlights for my hair, but I wasn't really able to do the upkeep. They were getting very brassy and I was tired of the hue. I guess I just have to realize, that since I am actually a very dark brunette going lighter hair doesn't work for me – I don't have the money to really get what the "blonde" hair I want. Plus, my balayage was so grown out that it just looked messy. I wanted to quickly get my hair back to the solid brown I naturally have.
I wanted to try something different, so that is why I was drawn to foaming hair color!
Enter John Frieda Foam Hair Color.

Packaging

How To Use John Frieda Foam Hair Color
The instructions in the box are pretty straightforward. After you mix everything into a little squeeze bottle, (don't shake! Just slowly turn it in your hand to mix) you press it to create the foam. Then apply it all over the hair to saturate! You wait 20 minutes, then wash it out just like regular hair dye. It also comes with a deep conditioner to apply after you wash out the hair dye.
For my hair, I have used Natural Black and Deep Brown-Black. I love that these colors don't have any red undertones in them. That is just my preference!
Where To Buy John Frieda Foam Hair Color
You can find it at Target, Walmart, Walgreens, CVS, and Ulta which is accessible to most people!
Before and After Hair Dye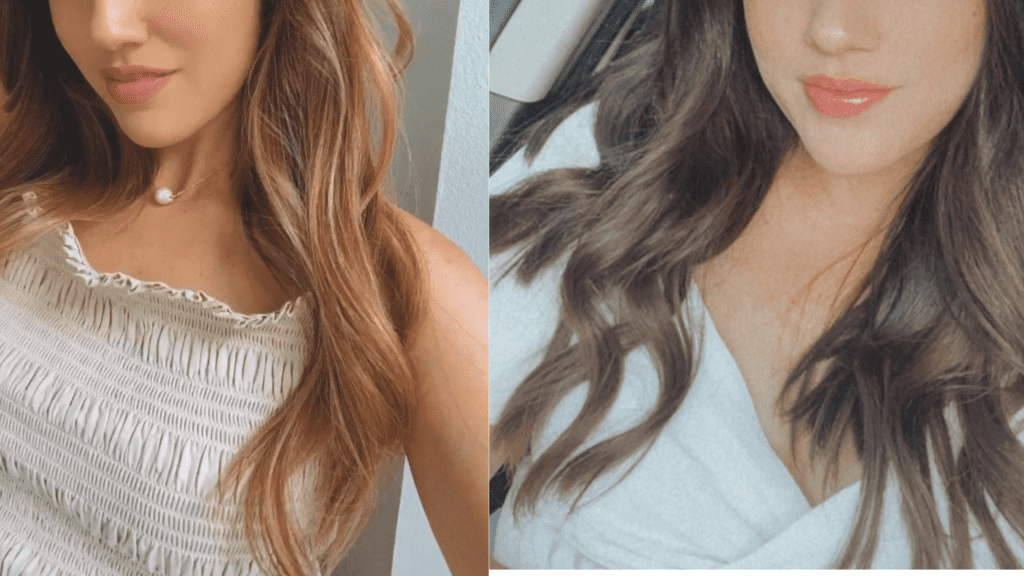 So, does it last? Is John Frieda Foam Hair Color permanent?
The box says it's permanent but in my case, I felt like the color faded after a few months. The brassiness/orange is showing through a bit but not as bad as before. I will need to redo it again. But for the price, it isn't too bad of a deal until I can grow out my hair more, and completely cut off the old balayage.
Does Hair Color Damage Hair?
As with all hair dye, I did notice my hair was drier after. I use the moral wonder water to help get my hair looking shinier and softer and this does the trick! Also, since hair dye dries out hair and can cause damage/breakage, don't forget to add a hair repair back into your routine. This Inkey List Bond Repair Spray is a Olaplex dupe and makes your hair feel strong and look shiny again! Check it out here:
Read More:
I also totally recommend using this for dry hair and scalp:
Read More: Raw Sugar Pure Scalp Therapy: $7 Easy Fix For Oily Hair
I hope you enjoy this review!
Best, Mia