If you have an oily, dandruff-prone scalp, going days without shampooing is out of the question. That used to be me, until I started using the Raw Sugar Pure Scalp Therapy treatment! Immediately after using, I noticed oil-free results that lasted for about 5 days.
I'm talking about less oil at the roots, less flaking, and a non-itchy scalp for almost a work week! Bonus: my hair felt super soft and manageable, and the product is inexpensive as well.
NO dry shampoo needed too, I must note.
Read on to learn more about this $7 holy grail product! You'll also see pictures of my oil free hair after using the Raw Sugar Pure Scalp Therapy Treatment in this review.
Raw Sugar Pure Scalp Therapy

The Pure Scalp Therapy is a leave-in treatment that you use in the shower. Apply it after shampoo and conditioner to revitalize and rebalance your scalp.

Here's what it looks like: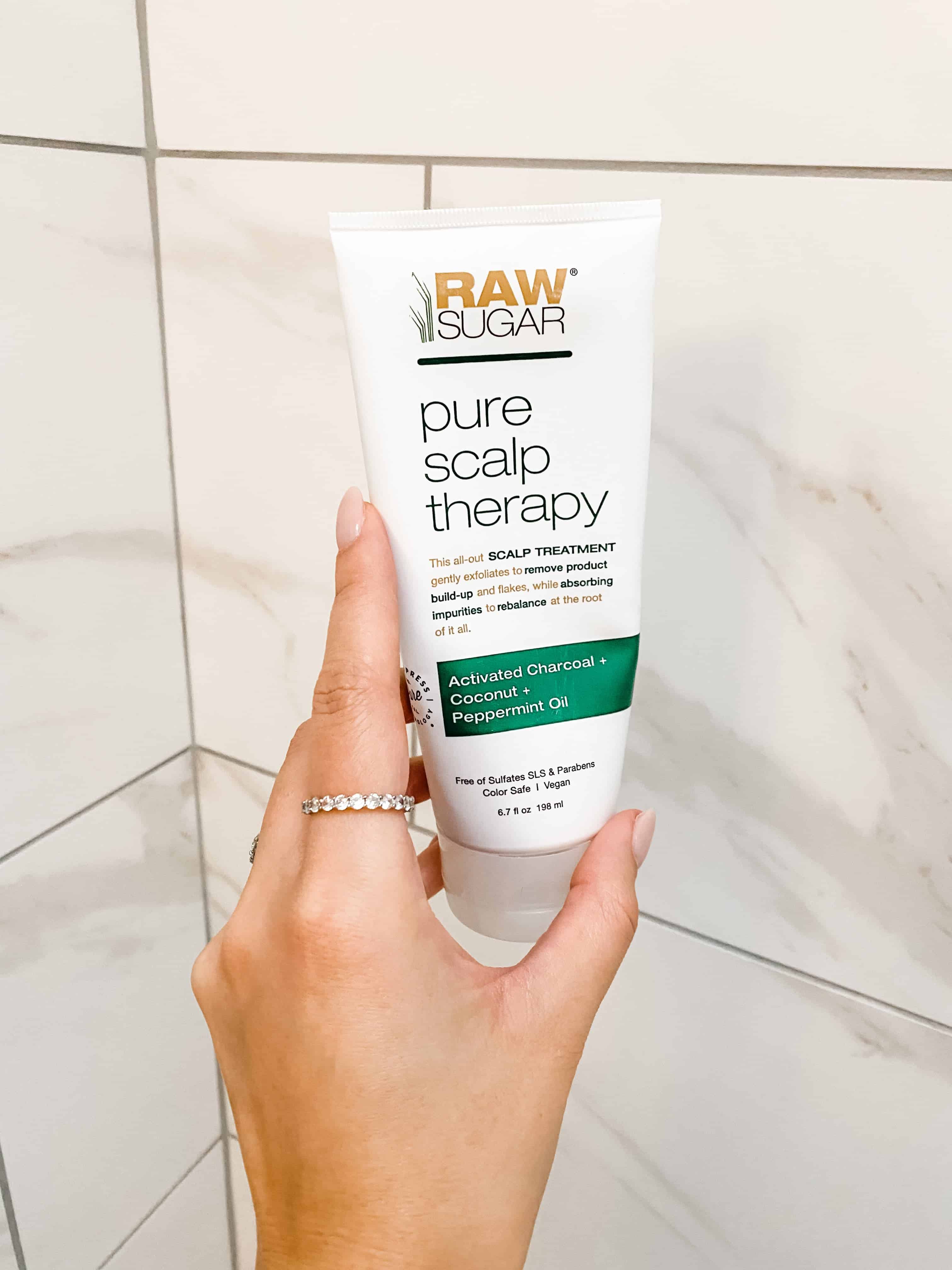 The packaging is clean and sleek looking.
The product consistency is like a paste, but not gritty or too solid. It melts into your hand when you warm it up in your palms, but it doesn't turn runny.
According to Raw Sugar's website,
In 5-10 minutes, this powerful and invigorating treatment works miracles on product build-up and flakiness, bringing the ultimate balance to your scalp, promoting stronger, longer, healthier hair. A refreshingly scented blend of activated charcoal powder, coconut oil, micro algae and peppermint leaf extract helps gently exfoliate and absorb toxins, lifting them out and washing them away without stripping hair of the natural oils it needs to shine. Hair is nourished, rebalanced and purified all at once, leaving you feeling super-clean, slightly tingly and all-out beautiful.

https://rawsugarliving.com/our_products/scalp-therapy-treatment-activated-charcoal-coconut-peppermint-oil/
The dark grey color and clean smell is from these ingredients mentioned below:
Raw Sugar Pure Scalp Therapy Ingredients
Activated Charcoal
Coconut Oil
Peppermint Oil
Micro Algae
My Experience Using Raw Sugar Pure Scalp Therapy Treatment
As mentioned above, I've always had super oily hair. Accutane had completely dried out my scalp, contributing to my powdery dandruff. Yet somehow it was still an imbalanced, greasy mess. Nothing seemed to help it!
Honestly, I had given up hope trying to battle my hair and said I'd just have to live with washing it every other day.
On a complete whim, I picked this up at Target when browsing around. I had noticed there was a newer trend of products treating the scalp. I got on board with this idea of detoxing the scalp and thought it might help me.
But still, I didn't expect it to do much but thought it sounded pretty cool. I had wanted to add a pampering step to my haircare routine anyway.

I bought it and used it the next day.
Applying The Pure Scalp Therapy Treatment
To use it, apply the product after shampooing and conditioning like normal. You'll distribute it all over the scalp and then through the hair to the ends. Leave it on for 5-10 minutes then rinse! It's that easy. There is no excess residue or treatment left over, just super soft clean feeling hair!
My Results
After using the Raw Sugar Pure Scalp Therapy treatment the first time, it surprised me how soft my hair felt! I knew it had helped me because the dry, itchy spots on my scalp were not there anymore. Typically, I would experience that after showering and using my regular shampoo.
I believe the charcoal helped balance the scalp with oil production.
The coconut oil helps add moisture back to the scalp as well as the ends of hair.
The Raw Sugar Pure Scalp Therapy treatment also helped exfoliate build-up which helped my dandruff.
It is said that you aren't supposed to use conditioner near the roots. I think that practice is actually causing the hair to overcompensate with more oil! Adding moisture back in makes a world of difference.
It seems silly to think it took me this long to realize, but I had never seen anything mention we need to be moisturizing our scalps too.
After using this treatment, I experienced super soft, non-oily hair for about 5 days. Plus, I didn't have to use dry shampoo! It is important to note that I don't exercise hard, which would cause my hair to be greasy. But, sometimes sleeping at night I tend to sweat.
Pictures Of My Results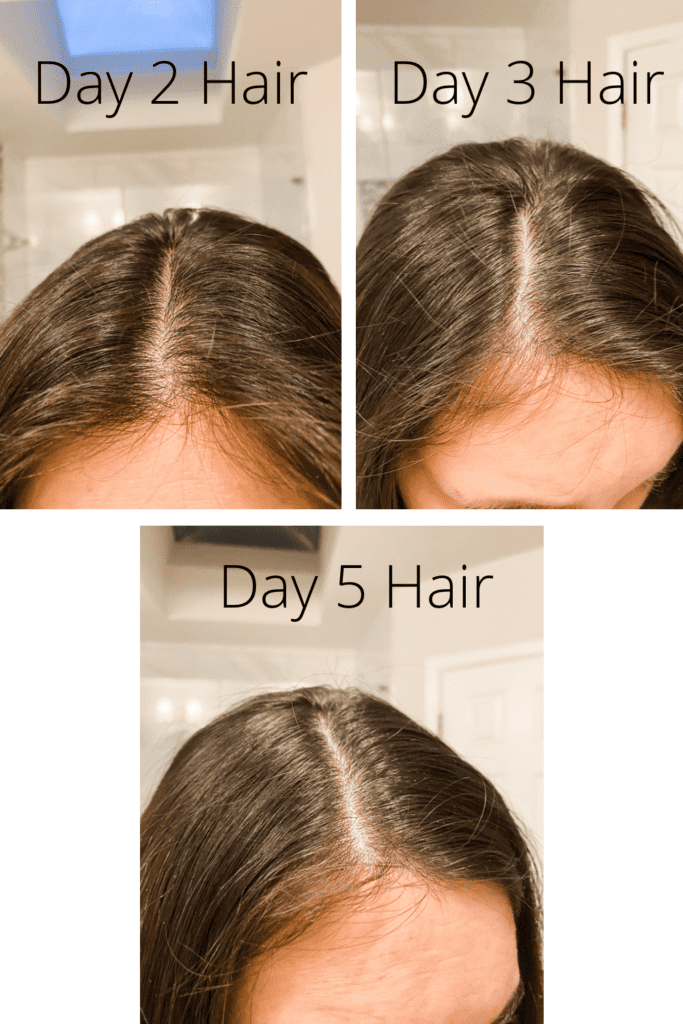 I also use my trusted Mason Pearson hairbrush which helps distribute the oils even more on my hair, unlike drugstore hairbrushes.
Read More: Why Investing In A Mason Pearson Brush Makes Sense
Another note: I didn't break out after using this treatment so close to my face. But you should make sure to rinse it out of your hair completely, then wash your face after using it so your skin is clean.
Is Raw Sugar Good For Your Hair?
Raw Sugar is a brand that focuses on natural, and safe products. They also use plant-derived ingredients as well as organic extracts.
Other important notes about Raw Sugar:
Contains NO Sulfates.
NO Parabens.
Includes NO Phthalates.
NO Animal Cruelty
Raw Sugar is also a eco-friendly brand with sustainable packaging.
Cold Press Technology
Another cool thing about Raw Sugar is the process they use for ingredients in their products, called Cold Press Technology.
Raw Sugar products are jam-packed with vitamin-rich goodness – from fruit and vegetable nutrients, to enzymes and Certified Organic Extracts. We accomplish this by using ingredients that are processed through ColdPress Technology®, which keeps everything that is pure and perfect about the whole fruit. It maintains the integrity of the plant, instead of trying to filter it down to one part.

https://rawsugarliving.com/coldpress-technology/
Overall Raw Sugar Pure Scalp Therapy Review
If you have oily hair TRY THIS PRODUCT! Even if you don't suffer from super oily hair, it is a great moisturizing product that is inexpensive and will make your hair all around super soft.
This product is a lifesaver because you can go so many days in between washing. Plus, you don't have to rely on dry shampoo after a day or two of not washing to keep your roots looking good.
Dry shampoo is actually not the best for your hair and has been known to cause some hair loss.
The Raw Sugar Pure Scalp Therapy treatment is a staple in my shower routine and I think you'll love to add it to yours as well!
Best, Mia
This content is for informational purposes only, and what has worked for me personally based on my own opinions. I am not a professional/medical doctor, and you should always consult your doctor or dermatologist on what will work best for you. The information presented here is not legitimate, official advice from a professional. If you choose to rely on any information from this blog, you do so at your own risk. Please refer to the "Blog Disclaimer" tab in the menu bar to read more information and the official disclaimer statement.