Are you looking for a healthy alternative to refined sugar-laden treats? Then these candied grapes are for you! A few years ago, I shared a quick recipe on how to make Sour Patch Grapes on my TikTok.
I was blown away at how fast it went viral, and how many people made my healthy hack! The frozen grapes with lime juice TikTok has over 2.2 million views, 226k likes, and 14k shares.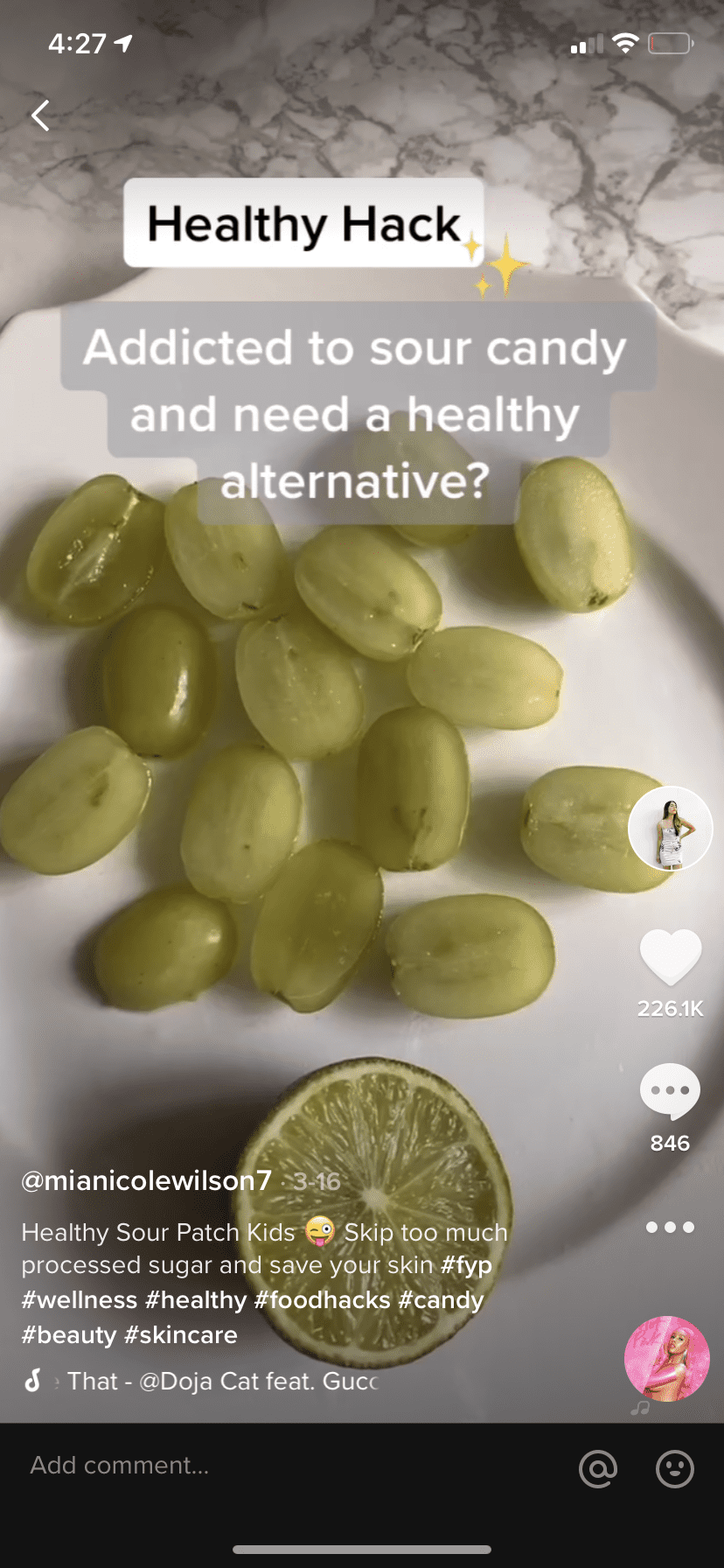 In this post, I will show you how to make your new go-to snack that satisfies your sweet tooth with basic staple items from your kitchen.
Sour Patch Kids were the inspiration behind this recipe and why it's called Sour Patch Grapes! The taste of these candy grapes is super similar, and makes you feel like you're not missing out on a treat.
This hack came to life because I wanted to break my addiction to Sour Patch Kids, (and candy in general) which is packed with refined sugar.
Sugar has such a negative effect on your body and skin. As a result of being a beauty blogger, you tend to invest a lot of effort into skincare and it's shocking what sugar does to your skin! Here is an in-depth post about that for those interested.
Stay tuned for this candied grapes recipe!
How To Make Candy Grapes | Sour Patch Grapes
You only need two ingredients for candy grapes, grapes and a lime!
If you are looking for that sour/sweet taste like Sour Patch Kids, go for green grapes!
Sour Patch Grapes Recipe
Wash your green grapes, and dry them.
Slice your grapes in half, lengthwise.
[Optional: freeze your grapes for a few hours after slicing them for a fun texture!]
Place them on a plate, and then squeeze your lime over the open halves of the grapes.
I've even seen some people roll them in sugar to get the texture closer to a Sour Patch.
Enjoy!
This is such an easy way to make candy grapes!
Alternative Grapes + Methods To Try
I have seen other people say that red grapes are a tasty swap for the green grapes.
Cotton Candy grapes would also be a great option to try! Cotton candy grapes are typically in season from August to September, so if these are available to you let me know how it tastes!
Other recipes for candy grapes call for rolling your grapes in powdered Jolly Rancher Jello, or monk fruit extract powder.
Original Creator of TikTok Healthy Sour Patch Viral Hack
Here is my video that I created two years ago, which started this whole healthy sour patch grapes phenomenon!
How To Make Watermelon Sour Patch
Additionally, if you are a former Sour Patch Kids addict like me, then you also know about Sour Patch Watermelon! In that case, slice up some chilled fresh watermelon and then squeeze lime juice over it. This also creates a similar and satisfying healthy hack as a substitute for the candy. A comment on this recipe mentioned adding Tajin for a kick!
If you cannot have a Sour Patch Kids stash in your pantry because you've been known to easily eat a whole bag at once, then these candy grapes are a great substitute to the classic candy. They are easy and fun to make, and can help you ditch the guilt when it comes to eating sugary treats.
After trying this simple Sour Patch Grapes recipe, let me know in the comments whether you thought green or red grapes tasted better with the lime!
Best, Mia