When you think Charlotte Tilbury, you think Pillow Talk! This ICONIC Charlotte Tilbury Pillow Talk lipstick will go down in history as a cult classic. I will cover everything you need to know about this lipstick before you buy it (trust me, you'll want to!)
Stay tuned for swatches and an application demonstration!
Charlotte Tilbury Pillow Talk Original
Here it is! I recently purchased the mini travel set of Pillow Talk so I could try out the liner and lipstick before committing to the full size.
At Sephora, it was around $25 for this mini "Matte Revolution" lipstick and "Lip Cheat" lip liner set.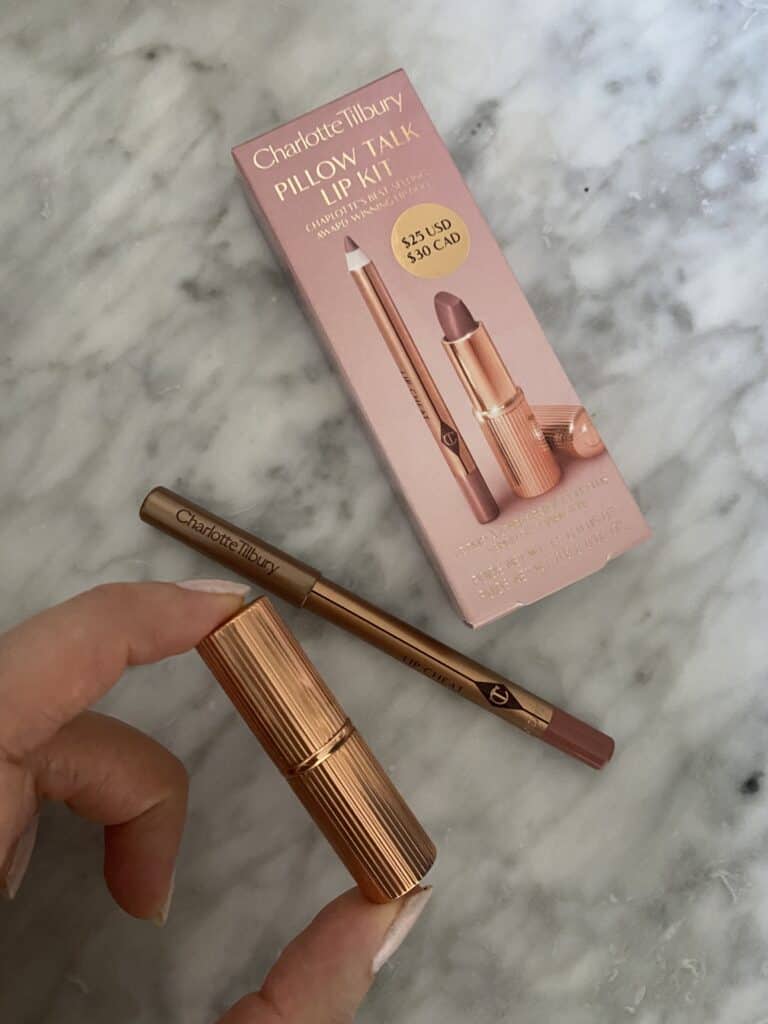 For a full-size tube of Pillow Talk, it is $34 at Sephora.
I purchased the "Original" Pillow Talk vs. the "Medium". Further below I go into the difference between the two.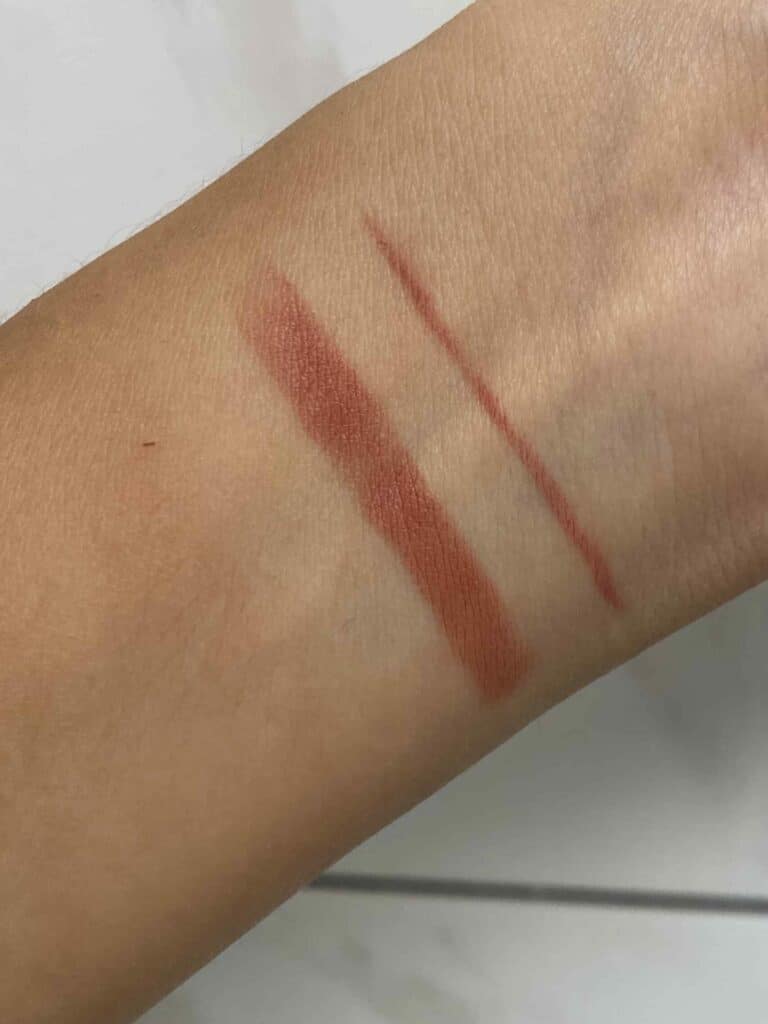 What Color Is Pillow Talk Lipstick?
As you can see from the photos, Charlotte Tilbury Pillow Talk is a very warm, nude-ish pink. Charlotte T herself said "I've…added warmth and deeper, sweeter rose tones for every skin tone."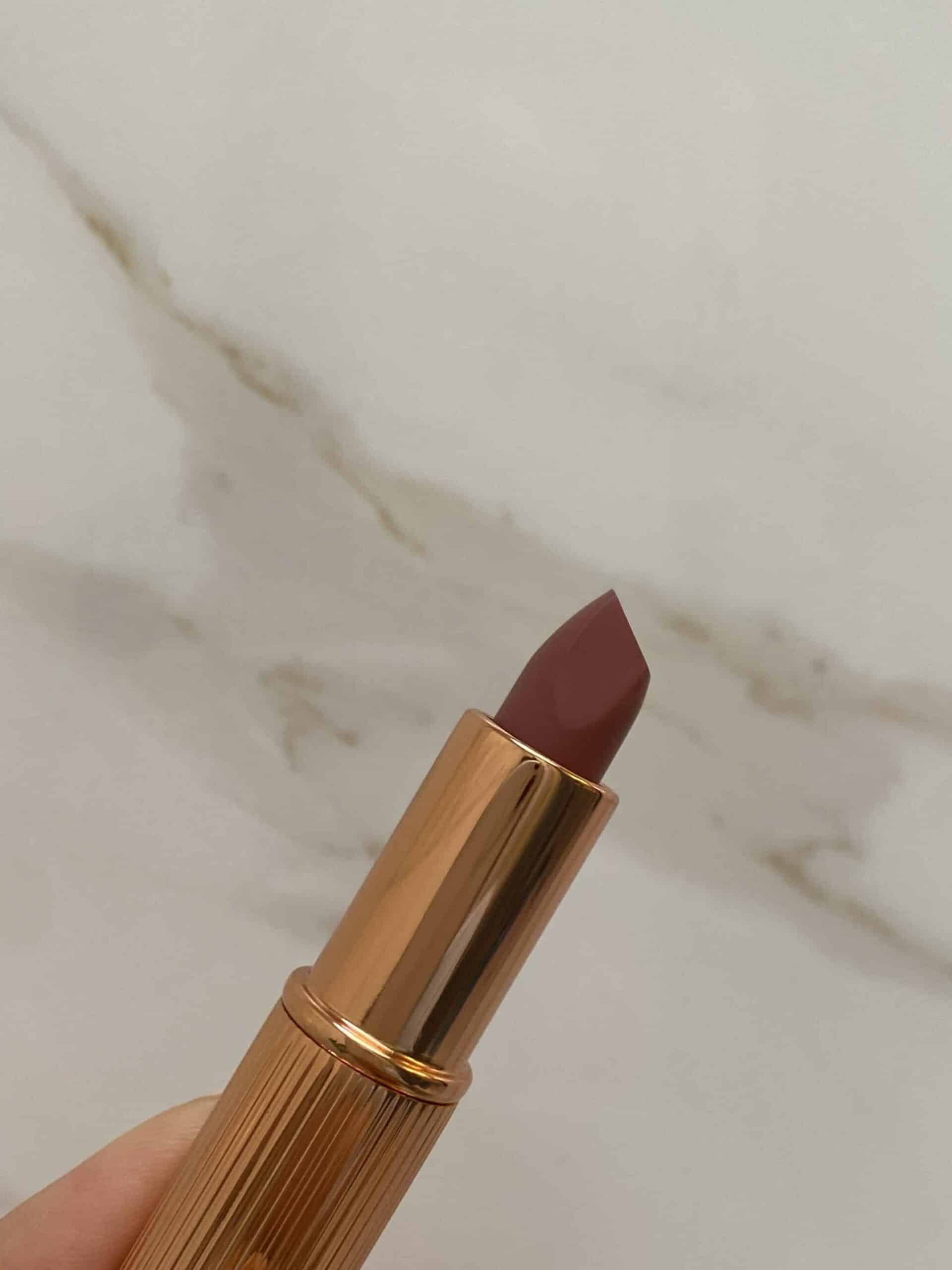 Is Pillow Talk warm or cool-toned? It is warm-toned.
About Pillow Talk Lipstick
Why is Pillow Talk lipstick so popular?
Here are some key features about the lipstick that everyone loves!
Pillow Talk consists of a hydrating and moisturizing formula. 3D pigments will give your pout a glowing look that is super beautiful – not to mention helps the lips appear fuller.
The color is a romantic universally flattering nude-pink.
The matte formula has orchid extracts that work to soothe the lips for a cashmere finish – not too dry and not too glossy.
The unique, square-angled tip mimics the shape of a lip brush for a precise application
Pillow Talk doesn't contain parabens.
Just like Clinique Black Honey Lipstick, Pillow Talk enhances your natural lip color and flatters all!
Buy Charlotte Tilbury Pillow talk here:

How Long Does Charlotte Tilbury Pillow Talk Last?
A blend of oils, triglycerides & waxes in Matte Revolution gives you buildable, long-lasting color for up to 10 hours!
Is Pillow Talk Good For Dry Chapped Lips?
This formulation is meant to be matte, but I think it's right in the middle between matte and satin. It has the moisturizing extracts mentioned above to keep the lips supple.
As a person who constantly gets chapped, dry lips this held up pretty nicely for me. It didn't turn patchy and didn't feel dry. In all fairness, I did apply my Laniege lip mask to my lips before applying. My lips tend to chap eventually with every lipstick due to side effects from Accutane.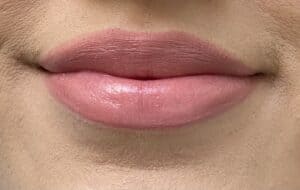 How Many Shades of Pillow Talk Are There?
As I said already, there is a Pillow Talk "Original", a Pillow Talk "Medium", and also a Pillow Talk "Intense".
Charlotte Tilbury created two more versions of this iconic shade. "Original" is a matte pink nude, "Medium" is a matte berry pink, and "Intense" is a hydrating deep berry rose.
Pillow Talk Medium is a bit darker and more plum/mauve colored vs. the pale nude of the Original. From what I see in the reviews it may suit medium skin tones better! Some say that the Original was too pale for their complexion.
The deep berry shade of Intense was formulated to look "extra dreamy on tan & deep skin tones." It doesn't have the angled bullet shape like the other two, which is because it's in the K.I.S.S.I.N.G formulation. This is also not a matte finish.
Should I Get Pillow Talk Original or Medium?
You might have already guessed that it will probably depend on your skin tone. I encourage you to read the reviews both on the CT website and Sephora. See if people with similar skin tones had left any feedback on what they believed looked better on them.
From the feedback I did see, it seemed like more tan/deep skin tones preferred Medium.
Is Pillow Talk Similar to Velvet Teddy?
YES! Here is a swatch of how similar Velvet Teddy and Pillow Talk are.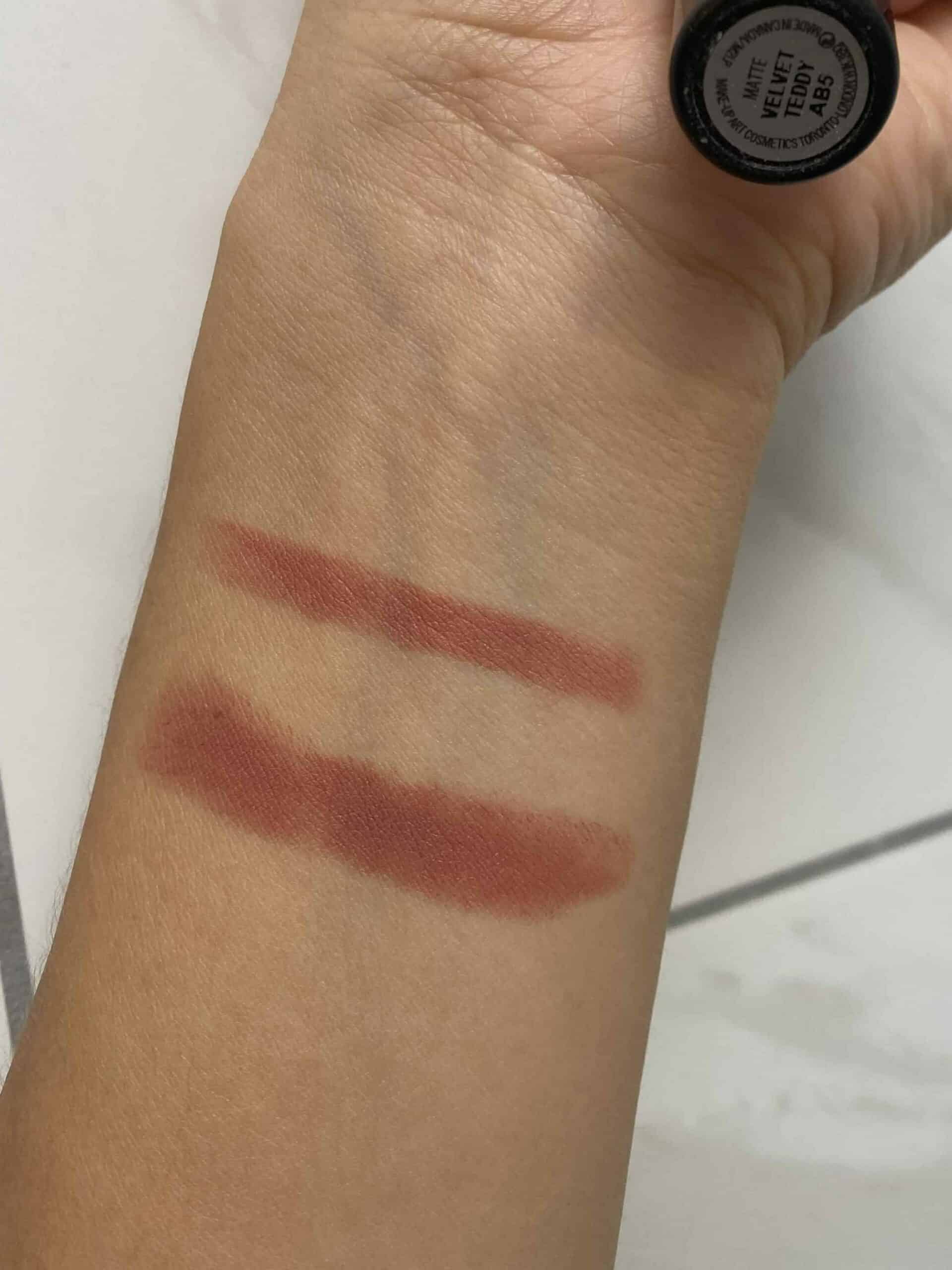 Pillow Talk Looks Brown On Me
If you believe that you lipstick isn't looking the same on you as in the tube, try this trick!
Apply your foundation to your lips to neutralize any of your lips' red/pink undertones. Then apply the lipstick. It is almost like a blank canvas to truly showcase the color of your lipstick!
Is Charlotte Tilbury Worth The Hype?
Yes, it totally is! This lipstick is a classic hue, has timeless packaging, and feels luxe/very romantic. It's something that is a staple for just running to pick up kids or going out to dinner. I have come to a point in my life where I would rather just have a few go-to lipsticks instead of having so many that I don't even use. I love this one and is so glam that I come back to it always! It's the perfect neutral to have in your beauty drawer.
It's such a cult classic that I believe one day my grandkids will be wearing it too!
Thanks so much for reading this Charlotte Tilbury Pillow Talk Review.
Best, Mia