According to TikTok, you'll see that the "butterfly haircut" is a huge trend for 2023! Are you curious about the butterfly cut and if you should get it? Read on for the best hair types that suit this cut, as well as inspiration pictures to take with you to the salon!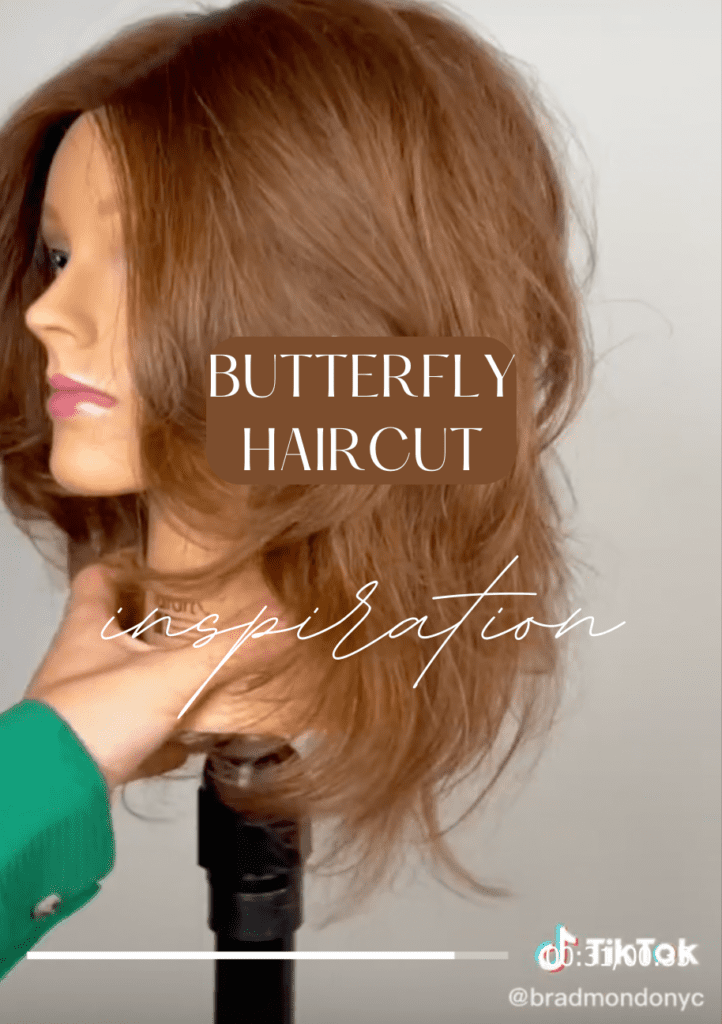 What Is A Butterfly Haircut
A butterfly haircut has all the 70s vibes, and is called this generation's version of "The Rachel"! This cut leaves you with lots of layers, & makes the end result look super voluminous. When you use rollers or curl the ends, it looks so gorgeous and fluffy. Not to mention it gives your hair lots of movement!
Let's get into the inspiration pictures so you can see for yourself! Below, I also talk about who should get a butterfly haircut and other points to consider before getting the chop.
Butterfly Haircut Inspiration Pics
This is a cute short butterfly haircut style.
Check out these other blog posts on HAIR here:
TikTok Butterfly Haircut Inspiration
Should I Get A Butterfly Haircut?
As you can see from the pictures, this style works on ALL lengths of hair! Typically, it is best for girls with longer hair as you can get a lot of layers and movement without sacrificing length. Sometimes, the multilayered cut on shorter hair adds major volume that can almost look poufy and poodle-like. Honestly, though – that is the style right now as 90's layered haircuts are very on-trend.
The butterfly haircut also works on all textures of hair as well as medium and thick hair. But, one thing to consider is if you have very thin hair. Adding lots of layers can make it look even thinner, especially at the end.
What Face Shape Is The Butterfly Haircut For?
Butterfly cuts are good for oval and square faces, just due to the nature of the layers framing the face. If you have a round face, just opt for longer layers which will lengthen the face.
Is a Butterfly Cut Low Maintenance?
Due to the layers blending so well, especially around the face, you could say this cut is low maintenance! It will grow out looking effortless as well. To achieve the voluminous look on TikTok, you will have to style it though. Blow dry the hair with a round brush, curling the ends of the hair in. You can also use hot rollers!
Can You Do A Butterfly Cut At Home?
Yes! Professional hairstylist Brad Mondo shows viewers how to do the Butterfly haircut at home. I was honestly blown away by how easy it looked! Everyone who has done it at home also looked amazing with their DIY haircut. Of course, just try to err on the side of caution and start by cutting off a tiny length and see how it looks from there. Check out the video!
Best, Mia