Got a little one who's obsessed with all things mermaids? Make their birthday party extra special with these mermaid party decor picks, all from Amazon! You can score pretty much everything you need from there – it's your party one-stop shop!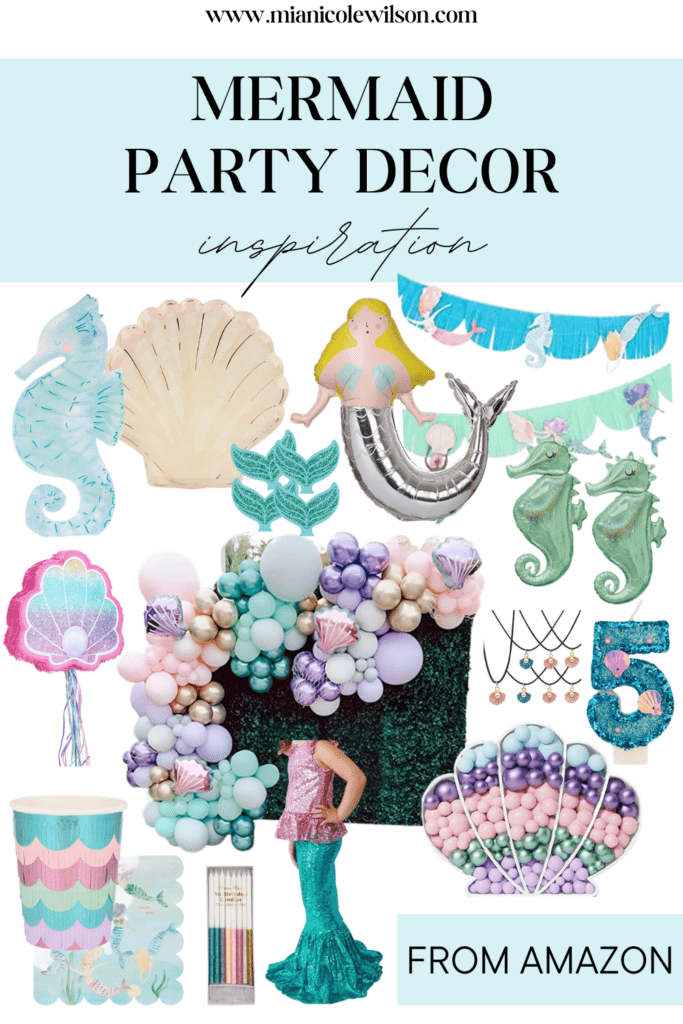 Disclosure: This blog post contains affiliate links, which means I make a small commission on a purchase without an additional cost to you if you buy something through the link.
The Cutest Mermaid Birthday Party Decorations
Keep reading for cute and sparkly mermaid-themed decorations that will make planning a kid's birthday party even more fun.
Mermaid Plates Cups & Napkins

Meri Meri is one of the most aesthetically pleasing businesses that sell party decor! Practically everything they make is darling, and they always hit the mark when it comes to design. The best part is that they also sell their products on Amazon too! These watercolor shell plates look a lot more luxe and artistic than some of the other options out there. The same goes for the seahorse and mermaid napkins all in the perfect pastel shades. They are scrapbook worthy as well, you'll definitely want to save a plate and napkin as a something you'll love to look back on in the future! These unique items will definitely set your party decor apart.
Mermaid Balloons & Wall Decor

Create the perfect cove backdrop for your mermaid and her guests with these balloon arches! Don't forget these darling themed balloons and streamers to hang up on the wall.
Mermaid Cake Decor

Of course, the party wouldn't be complete without an absolutely show-stopping cake! You can add these cake toppers, or create your own cake/cupcakes and add the finishing touch with these mermaid sprinkles.
Mermaid Centerpieces

I love these simpler mermaid centerpieces that aren't too over the top. These will pair nicely with the cute cups and other decor mentioned above.
Mermaid Outfit

What birthday girl wouldn't want to wear this mermaid outfit on her big day?! As a bonus, these costumes can easily be kept for playing dress up even after the birthday is over.
Mermaid Party Favors

Last, send everyone off with fun party favors! They won't forget how adorable and magical your mermaid party was. Throw it all in the iridescent party or shell-shaped gift bags.
If you are looking for more party inspiration, check out these blog posts:
Best, Mia