Pregnant belly masks have become very popular recently. Pregnant women typically use them as a way to prevent stretch marks. While belly masks are a great part of my pregnancy skincare, using packaged masks can add up in terms of cost over time. Luckily, there is a DIY way I use to get the same results at home, without spending a ton of money!
This is how I made my own pregnancy belly mask at home with just a few ingredients! I was able to save money, and control what goes on my skin with this homemade belly mask for stretch marks tutorial.
Pregnant Belly Mask DIY
So, what should you put on your belly while pregnant? Here is an easy DIY belly balm for pregnancy that you can make at home. I used:
Rosehip Oil

This oil is LIFE CHANGING! – I specifically recommend this as it is a clean skincare option. This specific type of oil is so beneficial to the skin, as I explain below. I use this on my face as well – it is a must-have during pregnancy to help stretch marks.
Thick Moisturizer/Oil

I use Nucifera moisturizer for my tummy as it is gentle, vegan, organic, and also used on babies. Using this Nucifera moisturizer for your pregnancy belly is perfect for the DIY pregnancy belly mask because it contains nutrient-rich coconut oil, kokum butter, moringa oil, mango butter, and more deeply replenish the skin.
This balm is multi-purpose cabinet staple too – use it for shaving, sunburns, split ends, diaper rash, and more! You can use another oil if you prefer, like coconut oil or avocado oil. But the rosehip oil is non-negotiable because of how it works on the skin!
Add a dime-sized amount of the rosehip oil to your carrier oil/moisturizer and mix. This is your homemade belly balm.
This DIY belly butter is perfect to use any time you feel like it to keep the skin moisturized. Take it up a notch by making it into a mask!
How Does The Pregnancy Belly Mask Work?
Start with a clean tummy – you can easily use this after showering while applying lotion to the rest of your body!
Grab some plastic wrap and cut a piece that is long enough to wrap around your belly. Apply the homemade stretch mark cream for pregnancy on your belly, and then apply the plastic wrap.
The heat from your body will help the ingredients melt into the skin even more and do their job to help prevent stretch marks and itchy skin. Leave it on for about 5 minutes, then gently rub in any excess balm.
Next, is an explanation of why this mask is so beneficial.
Benefits Of Belly Mask During Pregnancy
My specific belly mask contains the Pai Rosehip Oil, and all the deeply hydrating oils found in the Nucifera Balm. Here's why they are important:
Rosehip Oil
"Rosehip oil contains a wealth of essential fatty acids, including linoleic and linolenic acid." This is so important to the skin as these components heal dry and itchy skin.
Vitamins A and C are also present in rosehip oil which helps contribute to keeping skin elastic and strong. If you have stretch marks, applying this oil can help repair the scars. (Healthline)
This is why using rosehip oil is non-negotiable for your belly balm. It goes a step further than regular lotion and helps regenerate the skin as well as deeply moisturize it.
Coconut Oil
Clinical studies have revealed that Virgin Coconut Oil improves the symptoms of skin disorders by moisturizing and soothing the skin. (NCBI)
Having it in my pregnancy belly mask further hydrates the skin. The anti-fungal properties are useful for protection if you have been scratching the belly harshly and exposing the skin to bacteria.
When Should I Start Moisturizing My Pregnant Belly?
It is never too early to start moisturizing your growing tummy! I started to moisturize my belly specifically with rosehip oil around 20 weeks. This is when stretch marks can start to appear.
What Does It Mean When Belly Is Itching During Pregnancy?
An itchy belly is very common as your stomach starts to grow bigger.
When skin expands (and the skin on your abdomen is expanding big-time), it becomes increasingly moisture-deprived — and dry skin tends to feel itchy and uncomfortable.

Quote From What To Expect Article
If you gain pregnancy weight in a short amount of time, this might also contribute to a super itchy belly and stretch marks.
Making sure to moisturize (with the belly balm above) and trying not to further irritate the belly by scratching it can help.
If you have other skincare issues you are dealing with during pregnancy, check out my Pregnancy Skincare Archives.
Is It Safe To Use A Pregnancy Belly Mask?
Pre-packaged pregnancy belly masks will be specifically made to be safe to use in pregnant women. If you make your own, be sure to check what ingredients you are putting into it.
For my DIY belly mask, I used products that have been deemed safe to use during pregnancy. Always consult with your doctor if you have questions. I am not a professional – I'm just sharing general beauty tips for stretch marks that shouldn't be taken for medical advice.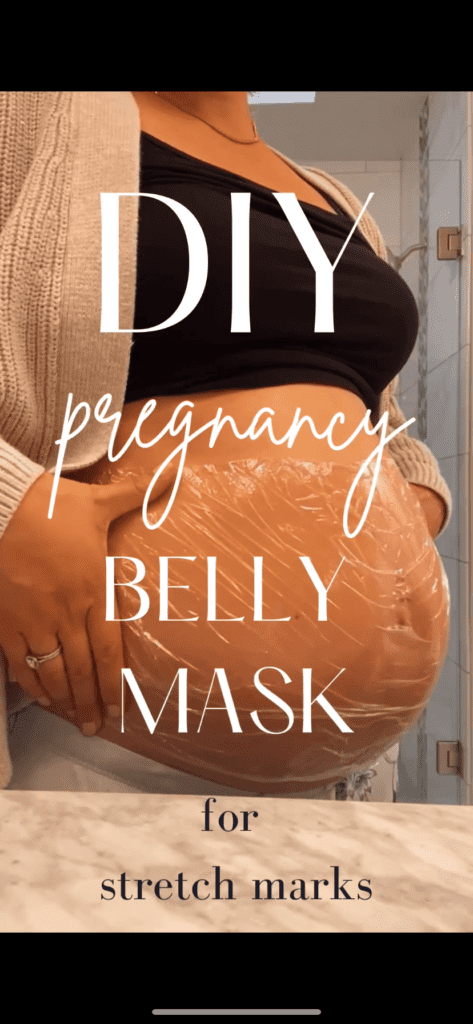 Where To Buy Pregnancy Belly Masks
If you would rather skip the DIY process and splurge on yourself, here are great pregnancy belly masks to buy!

The experience will be a lot more luxe than using plastic wrap – so if you choose to purchase one, relax and enjoy it! This is the perfect opportunity to take some time to yourself and take part in some self-care.
I hope you enjoy reading about how to make and use your own pregnancy belly mask to help with stretch marks. Let me know what other remedies you use for stretch marks below!
Best, Mia
This content is for informational purposes only, and what has worked for me personally based on my own opinions. I am not a professional/medical doctor, and you should always consult your doctor or dermatologist on what will work best for you. The information presented here is not legitimate, official advice from a professional. If you choose to rely on any information from this blog, you do so at your own risk. Please refer to the "Blog Disclaimer" tab in the menu bar to read more information and the official disclaimer statement.