Disclosure: This blog post contains affiliate links, which means I make a small commission on a purchase without an additional cost to you if you buy something through the link.
The Ordinary recently came out with its Multi Peptide Lash and Brow Serum – and it's gone VIRAL! In this review, I'll cover the benefits of adding The Ordinary Lash Serum to your beauty routine, and my own experience after using this product.
The TL;DR? The Ordinary Lash Serum will easily grow lash/brow hairs as well as more expensive products, says it doesn't irritate the eyes or skin, and only cost $14.50 at Ulta!
UPDATE: While my lashes grew super long, I actually did end up with irritated eyes from continued use over 2 months of this product. I won't use this product on my eyelashes anymore. Scroll to the end to read what happened & my updated thoughts.
The Ordinary Lash Serum
The Ordinary Multi-Peptide Lash and Brow Serum is a concentrated, lightweight serum with four peptide technologies to promote the look of thicker, fuller, healthier-looking lashes and brows. (Ulta)
It comes in a 5 ml tube which is a bit smaller than a typical mascara and has sleek packaging. Here's a look: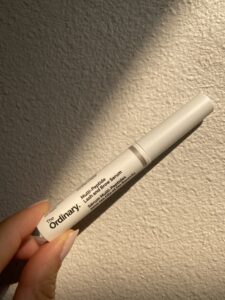 Its focus is to grow hair (lashes AND brows!), and is good for all skin types.
This formulation is alcohol, oil, silicone, nut, gluten, and cruelty-free. It also is vegan!
What Does The Ordinary Lash Serum Do?
The serum uses peptide complexes and natural extracts to make your lashes look fuller and better looking, all in as little as four weeks!
The Ordinary Multi Peptide Lash and Brow Serum Ingredients
This non-greasy, water-based formula has some key ingredients.
A common question: Does The Ordinary Lash Serum have Prostaglandins? As you can see, the controversial ingredient is not listed here.
How Fast Does The Ordinary Multi Peptide Serum Work?
The Ordinary claims that you can see results (volumized, thicker, fuller hair) in about 4 weeks.
How To Use The Ordinary Multi Peptide Lash and Brow Serum
Of course, always refer to the package insert, and patch test before use.
Use the serum morning and night along the lash line, and/or spotty places in brows. After cleansing the face, apply it right at the root to stimulate hair growth.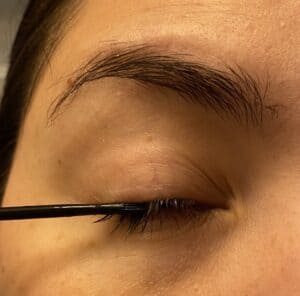 Make sure you don't use
Direct Acids
Direct Vitamin C
Resveratrol and Ferulic Acid
Salicylic Acid
with this serum per The Ordinary website.
After 6 months of use/after opening, it is best to discard the serum.
The Ordinary Lash Serum Review
I personally chose to use this serum to grow my lashes and not my brows. I didn't want to apply fake lashes everyday, and didn't have the money to get them professionally done. If I could enhance my natural eyelashes at home and for cheap, I would be up for it!
After looking into Latisse/generic brands they were still so expensive and out of my budget. At $14.50 at Ulta, it was definitely worth it to try out.
The Ordinary Serum has a non-greasy, lightweight feel to it and the applicator makes it super easy to apply. The tube was pretty big as well! It lasted me for the month I used it generously morning and night.
Here are some pros and cons!
Pros of The Ordinary Lash and Brow Serum
Lightweight, non-greasy formula – didn't make my eyes water or cloud from a greasy film (like some face oils/castor oil can do)
Affordable
Effective Hair Growth Quickly
Non-irritating to eyes if used correctly
Sleek, sustainable packaging
Clean Ingredients
Brush Applicator is perfect size
Cons of The Ordinary Lash and Brow Serum
Can be hard to get last bit of serum out
If applied directly to eye/under lash line it can burn
INFLAMED MY TEAR DUCTS/INNER CORNERS – READ UPDATE BELOW
The Ordinary Lash and Brow Serum Before and After
My eyelashes are normally very long, but straight. They also are not very thick so the combination can make it look like I don't have many eyelashes. My goal in using this serum was to give more volume/thickness first and then added length.
I think that this serum worked quickly to definitely make my lashes longer, and to fill in the sparser areas.
Here are the before and after pictures!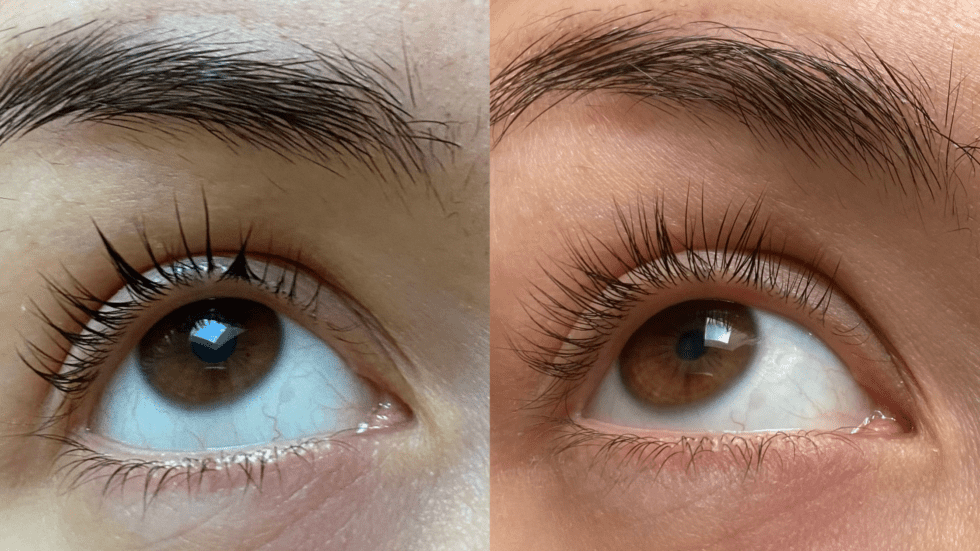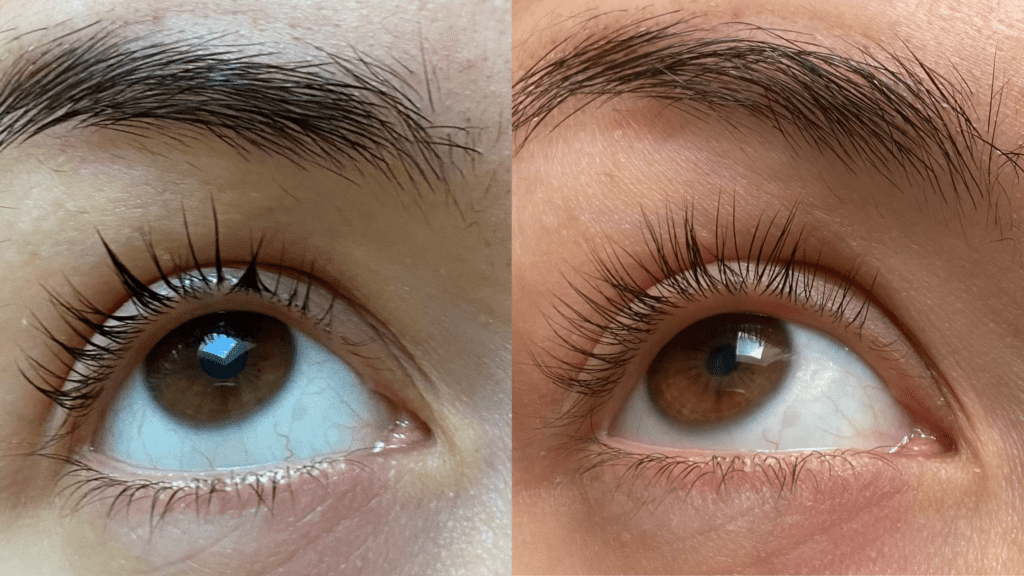 The Ordinary Lash Serum Side Effects
While I haven't experienced any side effects from using this serum, I know that there are some major side effects that can occur when using other eyelash serums.
This is specifically for those that use prostaglandins. This ingredient is known to cause eye irritation, orbital fat loss, and sunken eyes, as well as iris discoloration! It is not listed as an ingredient in The Ordinary's Lash Serum though.
UPDATED JANUARY 2023
I stopped using this on my eyelashes about a month & a 1/2 after use. I began to notice that when I rubbed my eyes, the inner corner/tear duct area felt very raw, inflamed, and almost "full". What's weird is that everything looked normal, and I only felt this weird irritation when I touched the area. But it was enough to bother me when I would wash my face or want to press around the eye. Despite being very diligent with only applying it to the top lash line (if it got directly in my eye I would flush it out since it burned) it no doubt ended up migrating towards that area. After discontinuing use on my eyelashes, the pain/irritation in the inner corners/tear duct area has gone away.
Now, I only use it on my eyebrows and have seen it grow my brow hairs pretty well. I would buy it again only to use in my eyebrows.
Where To Buy The Ordinary Multi-Peptide Lash and Brow Serum
You can snag this serum online at Ulta, Sephora, and The Ordinary's website.
If you enjoy using The Ordinary, and want more reviews of other skincare/beauty products check out my archive on Product Reviews here!
Best, Mia
This content is for informational purposes only, and what has worked for me personally based on my own opinions. I am not a professional/medical doctor, and you should always consult your doctor or dermatologist on what will work best for you. The information presented here is not legitimate, official advice from a professional. If you choose to rely on any information from this blog, you do so at your own risk. Please refer to the Blog Disclaimer tab in the menu bar to read more information and the official disclaimer statement.