If you are in need of a way to get rid of acne scars that is effective, affordable, and works quickly then microneedling (collagen induction treatment) should be right for you!
Let's dive more into the why behind this topic! I also share a microneedling review of my in-office experience, as well as how to microneedle at home if you must. (FYI: Dermarollers are off-limits!)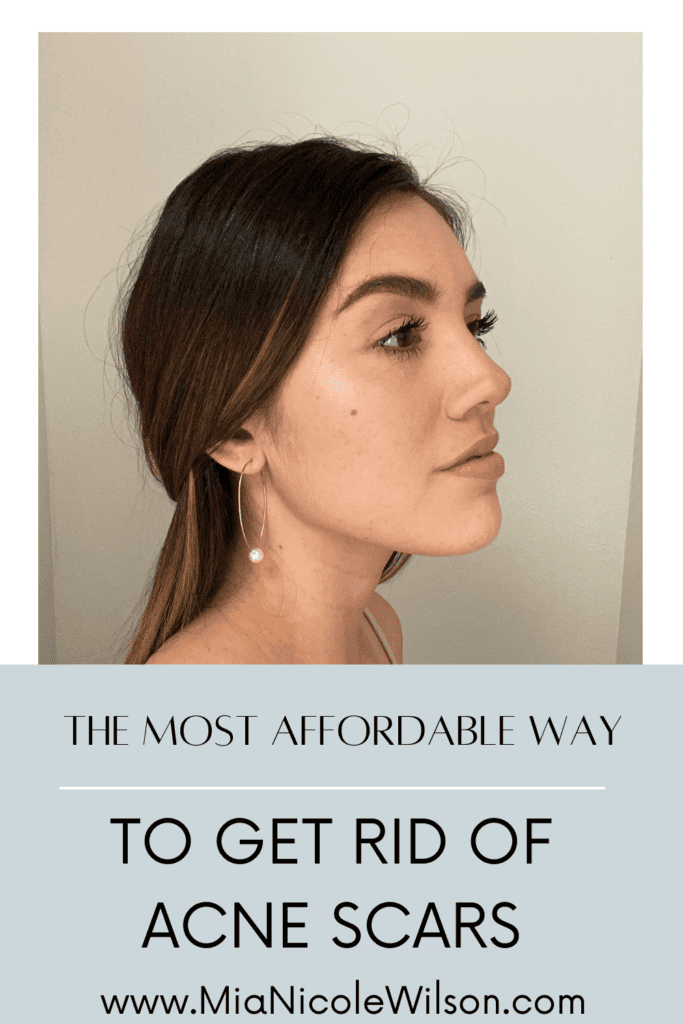 What Helps Get Rid of Acne Scars
If you are wanting to know how to get rid of scars from acne – whether deep, pitted acne scars or superficial red marks left behind, microneedling can help!
Microneedling For Acne Scars
This is why microneedling was the best option to get rid of acne scars, in my opinion…
It Targets Collagen Repair
Pitted acne scars are one of nature's cruel jokes. Suffering from acne can be traumatizing enough, but when you are left with craters in the skin long after acne leaves… it's even worse.
A pitted acne scar is when the skin can't regenerate the tissue on its own, and a scar forms below the normal top skin layer due to the damage from acne.
They are harder to treat on your own since pitted acne scars are not going to totally heal from topical creams (with the slight exception/benefit of retinoids), unlike superficial red marks (PIH). You also can't exfoliate them away.
In this instance, stimulating collagen for repair within your skin is going to be essential.
So if someone is telling you that there is a "magic cream" to get rid of these scars, don't fall for it.

If you thought expensive lasers or fillers was your only option, hope is not lost! Consider microneedling treatments to get rid of those acne scars.
Multiple Microneedling Treatments Can Be Affordable
In my experience, I thought that lasers were going to be what I needed to get rid of my acne scars, or I would have to live with them forever.
However, I wasn't be able to afford laser treatments, which cost thousands of dollars per session. It was said that you might even need multiple sessions to see results. I was very disheartened until I heard about microneedling.
At my dermatologist's office, it was around $300 dollars for a microneedling treatment for the whole face.
I saw improvement even after my first treatment, but keep in mind you might need at least three treatments to see the best results depending on your severity of scars.
There is even an option to treat a certain part of the face (in my case the cheeks, where my scars are the worst) for $200 to further save money.
According to this article,
"…the average out-of-pocket cost for laser skin resurfacing is around $2,000 for ablative and $1,100 for non-ablative laser treatments."
As you can see, microneedling is the most affordable option that is effective and has minimal downtime.
How Microneedling Works To Get Rid of Acne Scars
If you want to know more of the why/science behind microneedling, check this article out.
For a quick run down, microneedling goes like this: The sterile micro needles of the device will repeatedly puncture the skin. This breaks up old collagen strands which then stimulate the production of elastin fibers. This helps regenerate the collagen in your skin. You are then left with smoother, thicker, and tighter skin.
According to realself, 83% of people believe that microneedling is worth it.
In my experience with getting rid of pitted acne scars, microneedling treatments has been such a game-changer in smoothing and evening out the texture of my skin!
It also helped with the red marks that were left behind. The treatment is just like a whole refresh for the skin so no matter what skin concern you have, I am sure that microneedling will work really well for it!
Continue reading about the process of the treatment at the dermatologist's office and what to expect when it comes to results. I also have a link to my step-by-step guide to microneedling at home if you are interested below.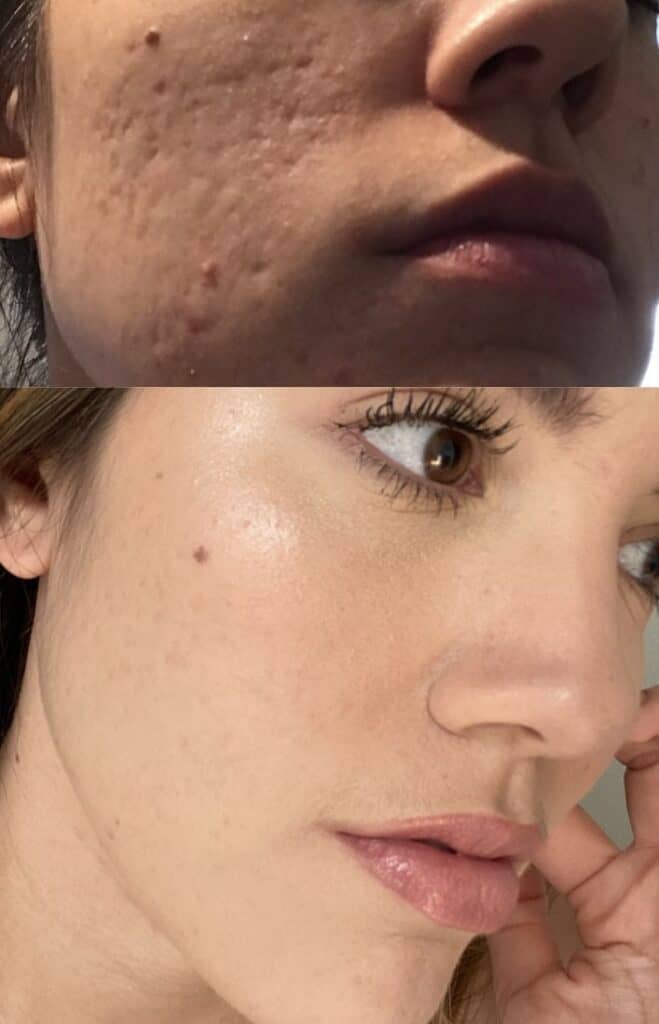 SkinPen Procedure
I got my first SkinPen microneedling procedure done at my dermatologist's office.
Arrive with a cleansed, makeup-free face (obviously!) First, the esthetician will apply topical lidocaine to your face. It takes about 15 minutes to work, and is crucial for pain management, but to also control bleeding.
After your face is numbed, the esthetician removes the lidocaine and wipes your skin down with an alcohol pad to prevent infections. She then applies a gel that helps with the gliding of the needles over your skin.
The microneedling device looks like a pen and works by stamping your skin, pricking the top layer of your skin.
Consequently, depending on your depth of scars, your needle length will vary. Shallow scars should be fine with shorter lengths, and deeper scars might respond better to a longer needle.
I went for a longer needle depth since I have what I consider deeper acne scars. Of course, the longer the needle the more you might bleed.
The esthetician will gently glide the device in all directions over your skin. And in my opinion, micro-needling doesn't hurt. It just feels like intense vibrations and might be a *little* uncomfortable. Around bonier areas like the forehead, it does feel a little tender but nothing that is outright painful. The results of the procedure far outweigh any of the discomfort I felt. If I remember correctly, I think the actual microneedling took 15 min or less.
Results & Aftercare for Microneedling
Immediately after, expect to look like you have a bad sunburn. So, MAKE SURE YOU STAY OUT OF THE SUN!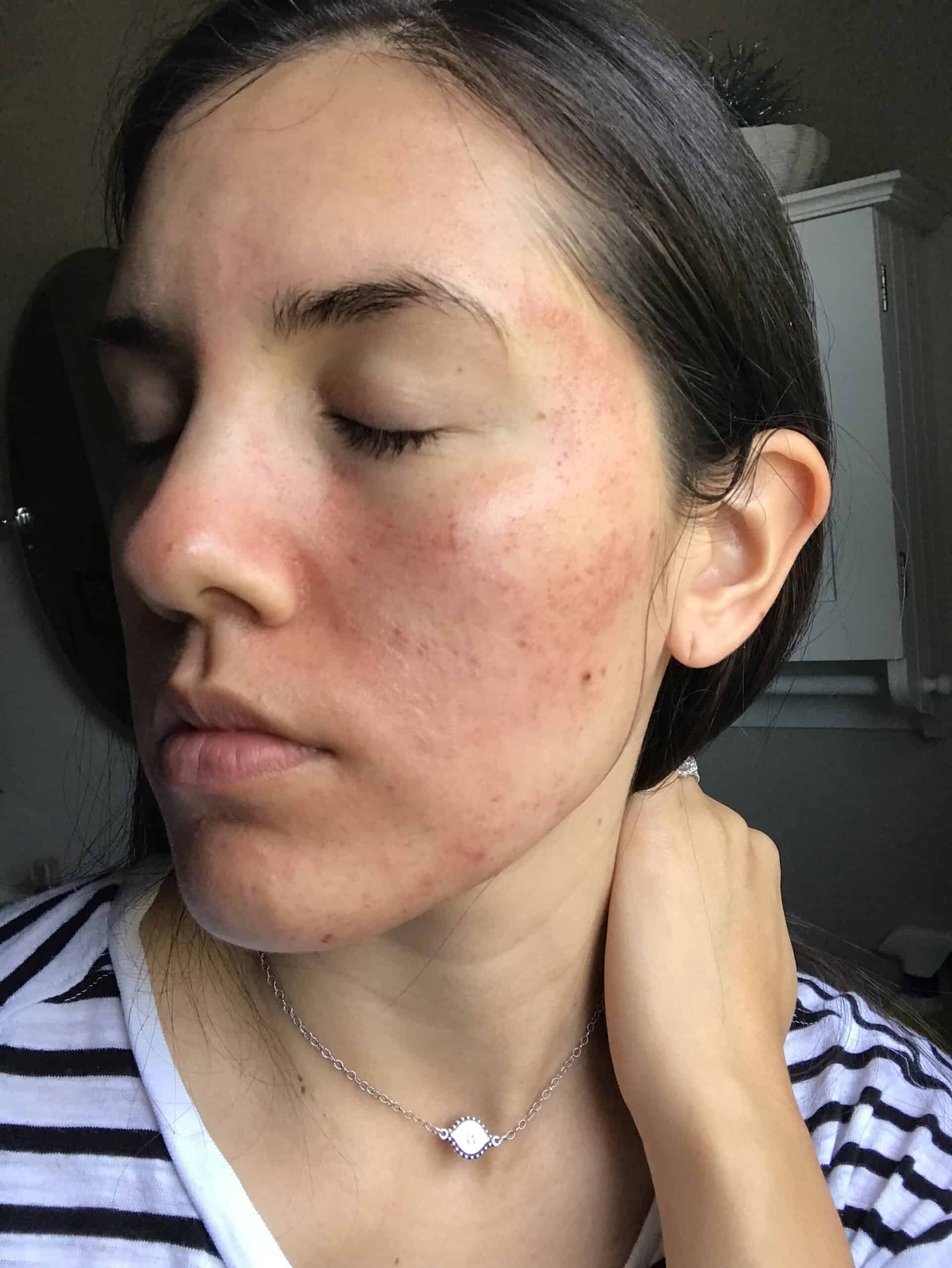 I also had a little pin point bleeding which looked like red spots left behind, but as you cleanse your face it will go away.
The esthetician should give you a rundown on how to take care of your skin – I was told to only cleanse my face with water the first night, and then apply the specific gels/serums I was given for about a week.
Try not to use your regular skincare for a few days, just let your delicate skin heal.
The procedure actually has minimal downtime, with you really only needing a day or so to use makeup again if you'd like.
I personally like to let my skin heal for much longer than the recommended few days – I wear no makeup for a week at least. After the week, your skin should be pretty much back to normal and not red, flaky, or puffy looking.
IMPORTANT! Your skin will look so smooth and flawless during that first week. If you have deep scars, your skin will look like you have completely gotten rid of acne scars and you will be overjoyed!
BUT, things do somewhat go back to looking like what was before, as your skin is pretty swollen from those micro injuries.
Give it a month though – then the magic happens! Your skin takes 30 days to "turn over" and see results. That's why you have to wait at least a month between treatments so you don't interrupt that process.
Microneedling For Acne Scars Before and After Review
I have had a total of 5 professional treatments in the office, and then two I have personally done on myself at home. If you would like to read about how I do microneedling at home, click here or below.
You can see continued results from microneedling months after getting the treatment too! Between microneedling and investing in skincare more, I am 100% sure I will be able to achieve near perfect skin.
A great bonus of getting microneedling for acne scars on face is that it helps your skin look brighter, glowier, even-textured, reduces pore size, and gets rid of fine lines too! Also, I think anyone looking to refresh their skin will benefit from this.
Overall, microneedlilng is such a great treatment and you should totally consider it!
It works for acne scars, deep and PIH, wrinkles, light acne, all skin types, and skin tones! (I would ask your dermatologist if you have severe active acne or are on Acctuane, though.)
I definitely will continue to get microneedling treatments, even if my scars are gone! It is great for anti-aging concerns too.
I really appreciate that I have found a way of how to get rid of acne scars affordably. This makes me more likely to be able to keep up with the treatments for the long run.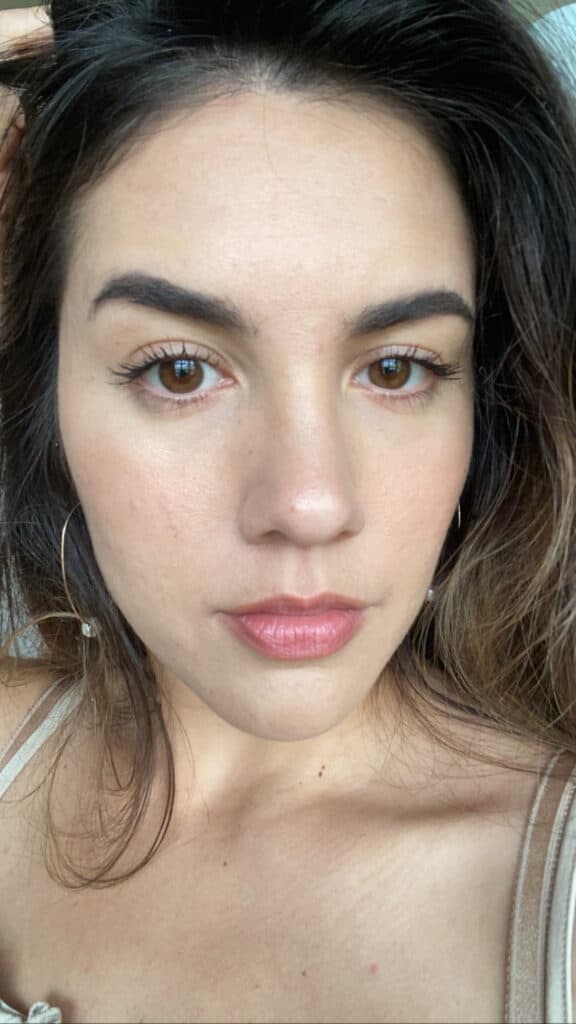 Here are a few other questions I've seen pop up about microneedling:
Does microneedling really work? Yes! I have deep pitted scars, and my skin is 75% improved after 5 treatments in office.
Is microneedling worth the money? Yes! I always thought I would have to get multiple laser treatments to get rid of my acne scars. Those are pretty pricy, around thousands of dollars for one session. I couldn't afford that! Microneedling is much more affordable, my dermatologist's office charges $300 for one session for your whole face. I also have the option of choosing a certain section for $200. I have done just my cheeks (where my scarring is the worst) a few times.
Can microneedling ruin your skin? In my personal opinion, I don't believe that it will ruin your skin if you go to a dermatologist's office, but I can't guarantee that. One thing that I won't use are dermarollers, as I do believe those damage your skin vs. a pen microneedling device.
Does this help hype you up to get microneedling for your acne scars? I really hope that it is informative and can help you on your skin journey.
Best, Mia
This content is for informational purposes only, and what has worked for me personally based on my own opinions. I am not a professional/medical doctor, and you should always consult your doctor or dermatologist on what will work best for you. The information presented here is not legitimate, official advice from a professional. If you choose to rely on any information from this blog, you do so at your own risk. Please refer to the "Blog Disclaimer" tab in the menu bar to read more information and the official disclaimer statement.