Y2K trends have definitely made a comeback in our current fashion and beauty sphere. TikTok has catapulted the return of scarf tops, low-rise jeans, and even creators wondering if they should go back to thin brows!
After the grungy era of the 90s, the early 2000s saw people turn to bright, fun colors as well as different textures like metallics and faux fur. If you want to capture the whimsy and nostalgia of Y2K, here are some nail ideas to use as inspiration for your next manicure.
What Is The Y2K Nails Aesthetic?
Since Y2K fashion has been trending on TikTok, it's not surprising that people also want to incorporate it into their nail designs! Cyber Y2K nails feature bold colors like bubblegum pink, purple, lemony yellow, orange, icy blue, and even chrome to name a few!
The Y2K nails aesthetic also favors futuristic designs, groovy retro patterns/swirls, flames, and popular butterfly prints.
Are you ready to reminisce about the time when Lizzie McGuire and butterfly hair clips reigned supreme? Here are the best Y2K nails ideas you'll want to copy.
What Nails Were Popular in the 2000s?
Here are fun designs to choose from! Don't forget to use bold colors!
Yin Yang and Graphic Print Y2K Nails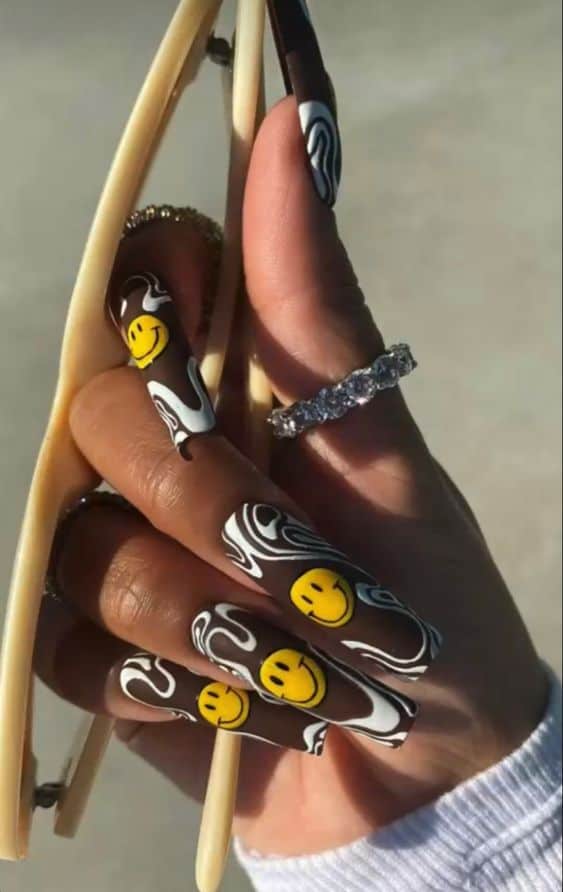 Coconut Girl Nails
Y2K Butterfly Print Nails
Y2K Flame Nails
Checkered Y2K Nail Inspiration
Cherry Y2K Nails
Retro Print Groovy Y2K Nails
Hello Kitty Nails
Simple Y2K Nails
Thanks so much for reading, and I hope this blog post gave you the inspiration you were looking for! If you Want to learn more about nail care? Check out How To Get Rid of Dry Cuticles here.
Best, Mia