TikTok has declared that this summer belongs to "Tomato Girls"! In my last blog post, I covered everything you need to know about what the Tomato Girl Aesthetic is that is so popular right now. The post explains the clothing and makeup staples you need to rock the look. If you decided this vibe is totally you for the season, here are 12 Tomato Girl Aesthetic outfits you can easily copy this summer if you are needing some inspiration! Whether you are going on a European vacation soon, or just want to bring a bit of "la dolce vita" to where you are – these outfits will transport you to a vintage 70's Italian holiday.
Tomato Girl Aesthetic Details
To recap, let's quickly go over the staples you will need to rock the look as reflected by these outfits.
feminine dresses,
cat-eye sunglasses
scarf/head-covering,
tomato red clothing
linen sets
12 Trending Tomato Girl Summer Outfits To Copy
Here is fresh outfit inspiration to recreate for yourself as we head into summer!
Disclosure: This blog post contains affiliate links,
A pretty floral dress, straw bag, and classic brown slides is something everyone can feel powerful in! This look has great coverage for all body types and will really play up your feminine side.
Tomato red clothing is a must for the aesthetic – what better way to rock it than in dress form?
This look totally has Sophia Loren vibes all over it! Everything in this look is a winner – from the headscarf, vintage style sunglasses, feminine 50s sweetheart neckline top, and pleated shorts.
The print of this dress is so amazing – it looks like handpainted Italian tiles! I've seen a lot of this bold and graphic pattern when it comes to the aesthetic.
You don't have to pack many fussy outfits when on a Tomato Girl European getaway. Reach for staples like a white linen top, and cotton skirt that you can mix and match with.
Again, a headscarf is a chic and fun new style to try out for the season. Instead of reaching for a ball cap to cover up, why not a scarf instead?
This outfit not only looks amazing, it is both breathable and in a tomato red hue so it checks all the boxes.
Along with the cat eye style of sunglasses, the slimmer rectangular/oval styles we are seeing now fit in with this vintage feel of this aesthetic too! Click here to see these Celine dupe sunglasses from Amazon I found that will be perfect to pick up for the summer.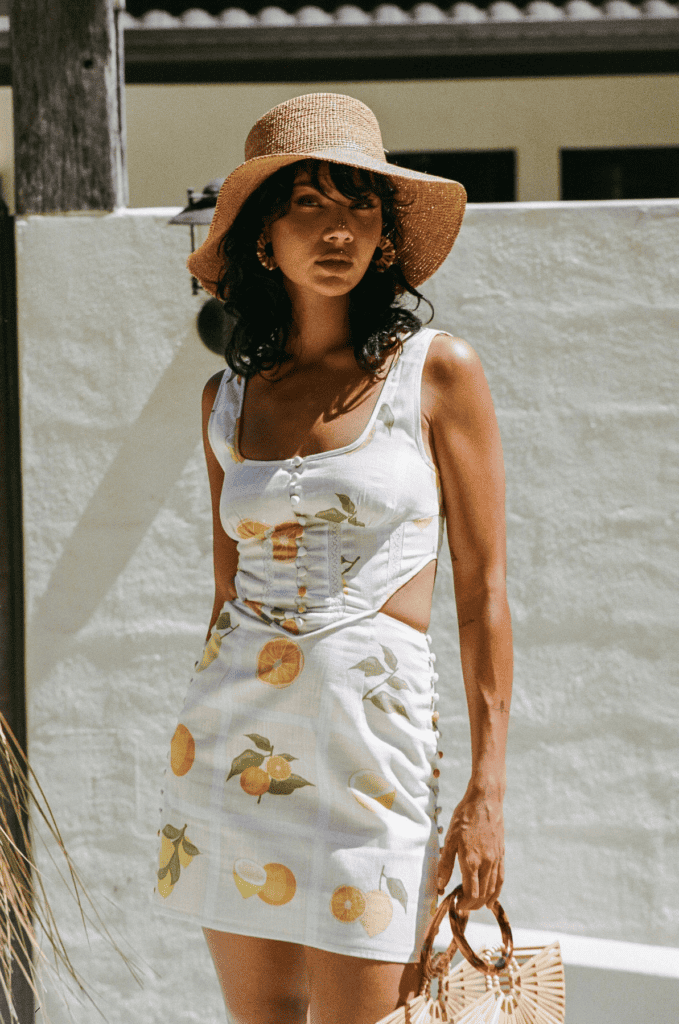 Like the pretty patterned dress above, I love the graphic prints in grids that almost has a table cloth vibe to it – but in a chic way of couse!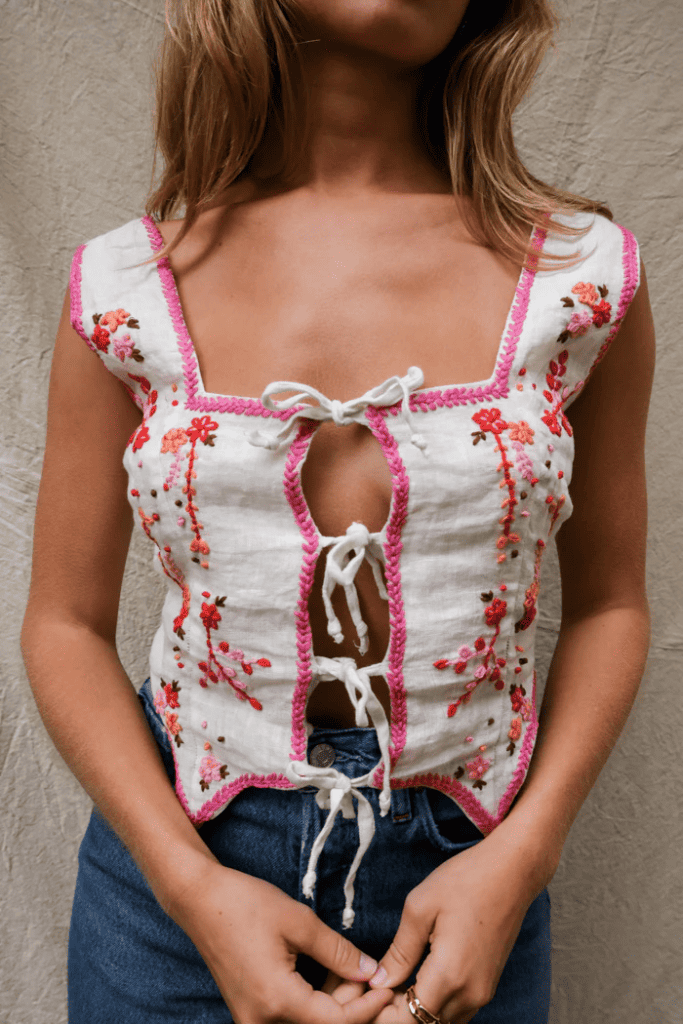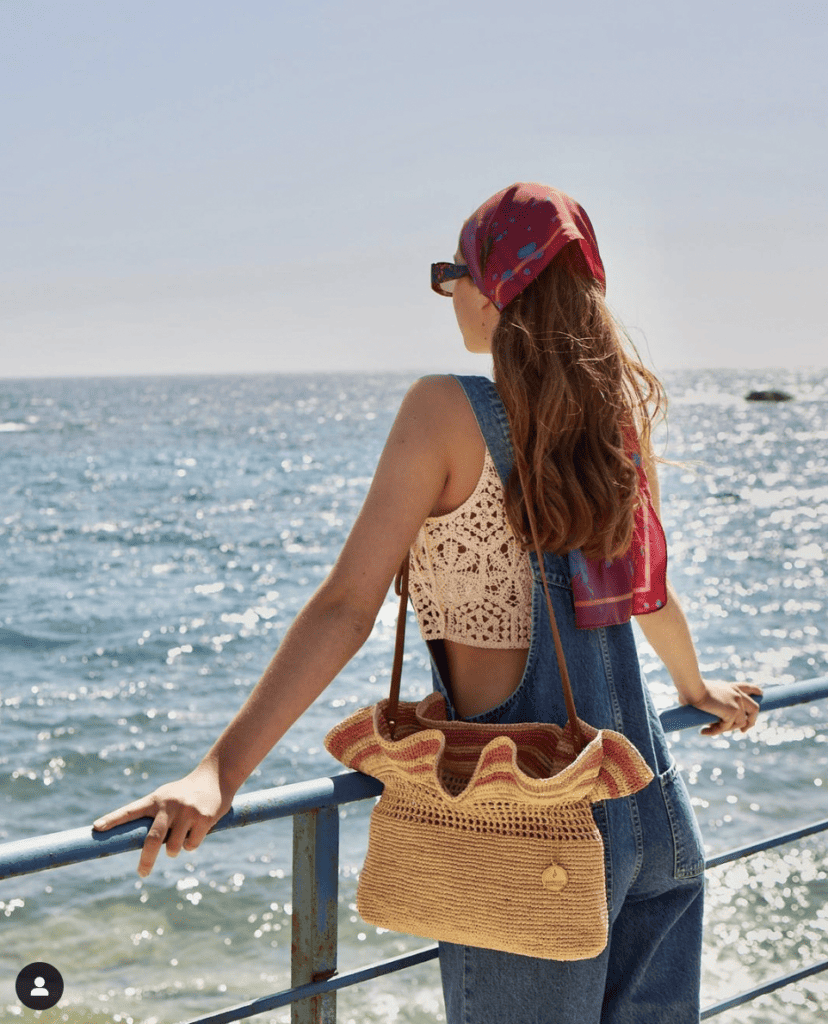 Another great example of the vintage 70s feel this aesthetic is trying to capture. Crochet tops and skirts are another big winner to have in your closet when bringing out your inner Tomato Girl.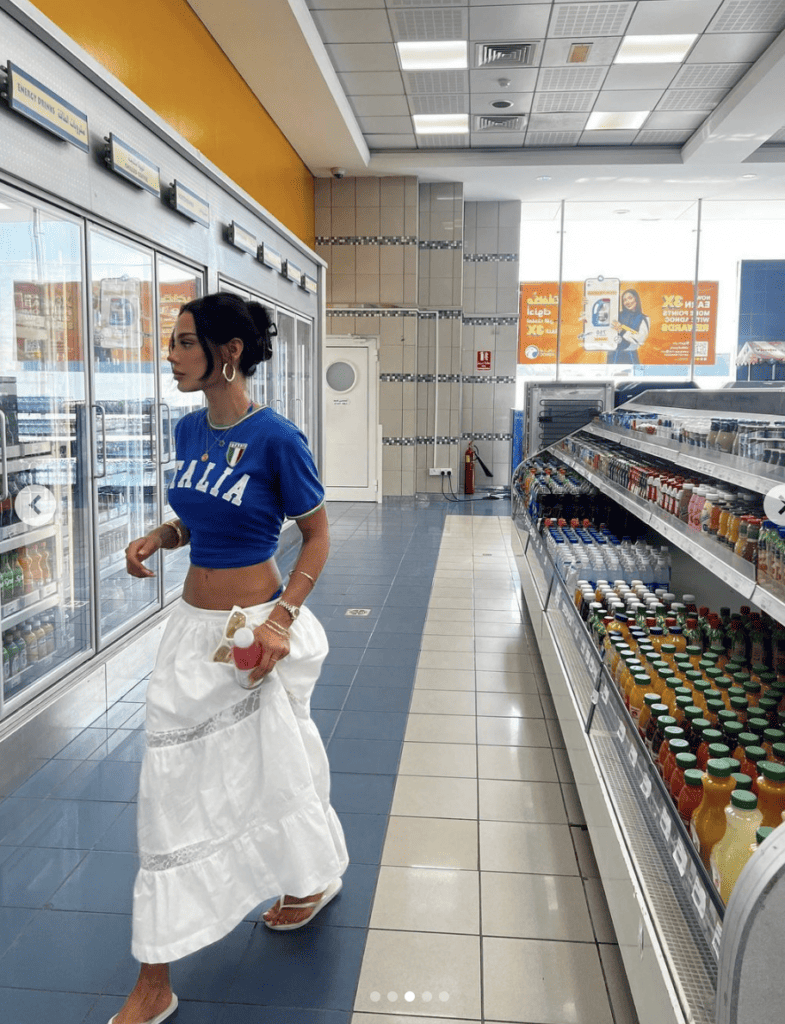 Overall, I love the laid-back and feminine vibe this aesthetic radiates. This style is perfect for the girl who doesn't really care so much about being dressed to the nines in heels – she just wants to be comfy, cute, and live in the moment! Which Tomato Girl aesthetic outfit is your favorite?
Best, Mia