Summer has officially started, and we're making it a "Tomato Girl" one! We've been blessed with yet another new TikTok trend that will soon be on everyone's radar. The "Tomato Girl Aesthetic" or "Tomato Girl Summer" has been going viral on the platform, with many excited to apply the aesthetic to their own life this summer season. Curious about being a Tomato Girl? Here's your explanation of the trend as well as the the clothing & makeup you need to nail the look.
What Is The Tomato Girl Aesthetic?
Move over Coconut Girls, Coastal Cowgirls, and Coastal Grandmothers! So, what is the Tomato Girl Aesthetic? Basically, it is bringing back the idea of "la dolce vita" – it's all about romanticized European summers filled with days swimming in the Mediterranean sea, reading a good book on the beach, dining on pasta, & twirling around in a beautiful dress. Whether you are heading to Italy this season or not, you can channel the aesthetic easily by turning to fiery tomato red clothing, oversized sunglasses, linen sets, romantic corsets, & graphic floral prints. Think Sofia Loren, a chic Italian summer, and very effortlessly feminine. Here are the clothing staples you will want to rock if you are going for the look.
Tomato Girl Summer Outfit Staples
Fill up your shopping cart with these Tomato Girl Aesthetic staples and you are set for any occasion this summer!
Headscarf
Instead of reaching for the same of ball cap this summer, turn to a silk bandana/headscarf! This hairstyle brings to mind Old Hollywood beauties in convertibles while twisting through the hills of the Amalfi Coast. Pairing them with cat-eye sunglasses is the cherry on top!
Red Dress
It can't be a Tomato Girl Summer without a tomato-red dress! Opt for very feminine pieces, like sweetheart necklines, puff sleeves, and even corset styles.
Cat-Eye/Round Sunglasses
As mentioned above, the cat eye sunglasses shape trending for the season. It adds the perfect vintage touch to any look.
Bold Florals + Prints
Bold florals and prints that look like hand-painted ceramic tiles from Italy are a must for dresses, swimsuits, or bags.
Midi Skirt + Cropped Cardigan
To reinforce the vintage vibes associated with this aesthetic, throwing on a midi dress, tank, and cropped cardigan feels very Sofia Loren!
Linen Shorts + Tops
Summer just isn't right unless you've got linen! This lightweight fabric will keep you cool and comfortable, and the earthy neutral hues it comes in will go with everything in your closet. Wear a coordinating set, or reach for shorts, pants, or a top to pair with denim for a very chic look as demonstrated below.
Stripes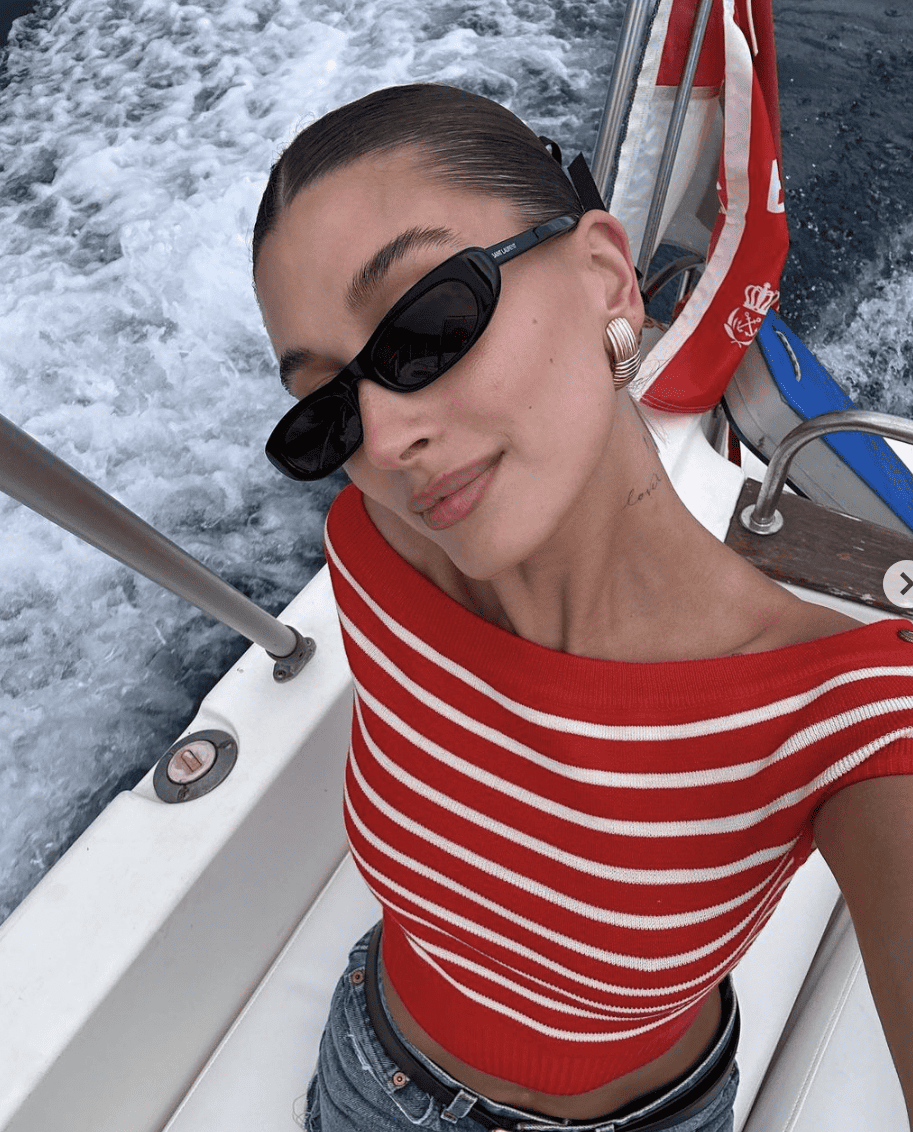 Also, be sure to check out this blog post: 12 Tomato Girl Aesthetic Outfits You Can Easily Copy!
Tomato Girl Aesthetic Makeup
Now that you have the outfits nailed down, complete the look with makeup! Glowy, natural skin will be essential for this effortlessly pretty aesthetic. Makeup that looks low-key for visiting the farmers market, or beach is what to aim for. Though, you can't forget a red lip for a night out! Tomato girls don't spend hours fussing over getting ready – they just swipe on some lipstick, tousle their hair, and add a few sprays of perfume & they are off.
Want to recreate these looks? Reach for these products:

Does this aesthetic feel like the right match for you? If you are interested in other TikTok trending aesthetics, check out these blog posts:
Best, Mia