Planning a trip to Fredericksburg, Texas soon? Here are some cute outfit ideas to pack with you for your getaway. No matter what you do, these pieces will have you fashionably covered for your time in this historic city. Let's jump into what you can do in Fredericksburg, and what Texas-inspired outfits you will want to rock while you are here!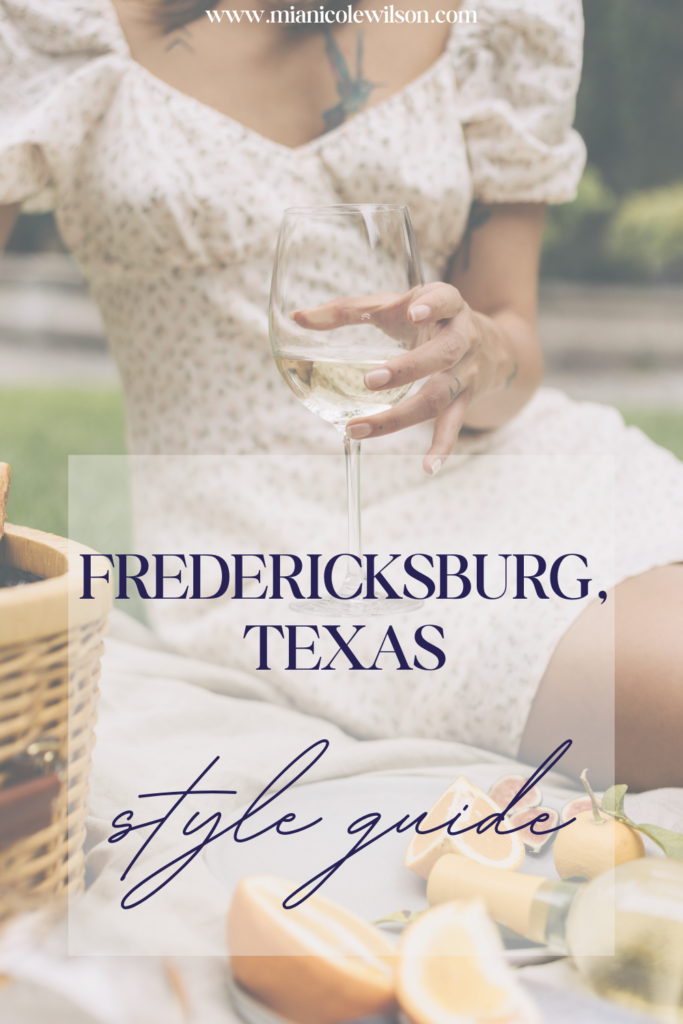 Disclosure: This blog post contains affiliate links, which means I make a small commission on a purchase without an additional cost to you if you buy something through the link.
What To Do In Fredericksburg TX
When visiting Fredericksburg, Texas, there are several activities and attractions that you won't want to miss. First and foremost, explore the historic Main Street, which is lined with charming shops, restaurants, and galleries. Don't forget to sample some of the local wines at the numerous wineries in the area. If you're a history buff, make sure to visit the National Museum of the Pacific War, which offers a fascinating look at World War II in the Pacific. Additionally, the Enchanted Rock State Natural Area is a must-visit for outdoor enthusiasts, with its stunning granite dome and hiking trails. Relax in the many delightful bed and breakfasts! Lastly, immerse yourself in the town's German heritage by visiting the Pioneer Museum and participating in one of the many local festivals that celebrate Fredericksburg's roots.
What To Wear In Fredericksburg Texas
Wineries

Are wineries on your list of pit stops? Reach for lightweight linen dresses that look romantic and give a European feel. These options are also great for spring, summer, and fall as Texas Wine Country is perfect to visit year round. Wear a lovely cotton midi dress with a light denim jacket in the spring, as is in hot months, and then with a heavier moto jacket for fall. Complete the look with some espadrille wedges or chic sandals and a practical crossbody that holds just the necessities. That way you can enjoy the experience without worrying about lugging a huge bag around!
Dancing/Music/Nightlife

There are lots of dance halls, as well as bar & grills in downtown Fredericksburg to visit, but you also have to check out Luckenbach which is just about 10 min away! This is your chance to throw on some blingy cowboy boots, a flirty dress, or even a fun graphic tee and denim cutoffs while you dance the night away.

Antiquing/Exploring
After a night out dancing, go for more of a chill day antiquing or exploring the town. Comfort is key, so try these athleisure looks that are easy to move around.

Restaurants

Fredericksburg, TX is home to a variety of restaurants that cater to different tastes and preferences. Whether you're in the mood for classic Texas barbecue, authentic Mexican cuisine, or a fine dining experience, you'll find it in Fredericksburg. Some popular restaurants in the area include Vaudeville, a European-inspired bistro offering a seasonal menu, Otto's German Bistro, known for its traditional German dishes, and Cabernet Grill Texas Wine Country Restaurant, which combines Texas flavors with a touch of sophistication. Other notable options include August E's, a contemporary Asian fusion restaurant, and Porky's Hamburger and Sandwiches, a local favorite for mouthwatering burgers. With its diverse culinary scene, Fredericksburg is sure to satisfy any food lover. Relax and enjoy a good meal with family/friends at many of the restaurants this town has to offer!
Getting Outdoors

In Fredericksburg, TX, there are plenty of outdoor activities to enjoy. Exploring the stunning Enchanted Rock State Natural Area might be part of your itinerary, which offers picturesque hiking trails and opportunities for rock climbing. Another popular activity is visiting the Pedernales Falls State Park, where you can swim in the river, hike along the scenic trails, or simply relax and have a picnic. With hiking and natural trails, rock climbing, and even cave exploration available you are going to need the dress the part especially in the summer months.
Best, Mia