The Charlotte Tilbury Contour Wand has become the new must-have product to sculpt and contour the face with. Popular TikTok beauty influencers from Alix Earle to Meredith Duxbury have incorporated this product into their routines. The only downside… it is pretty pricy at $38! Luckily, there are some near identical Charlotte Tilbury Contour Wand dupe you can snag at the drugstore for WAY less!
Let's jump into what makes the Contour Wand so popular, so we know what our dupes will need to have to stack up!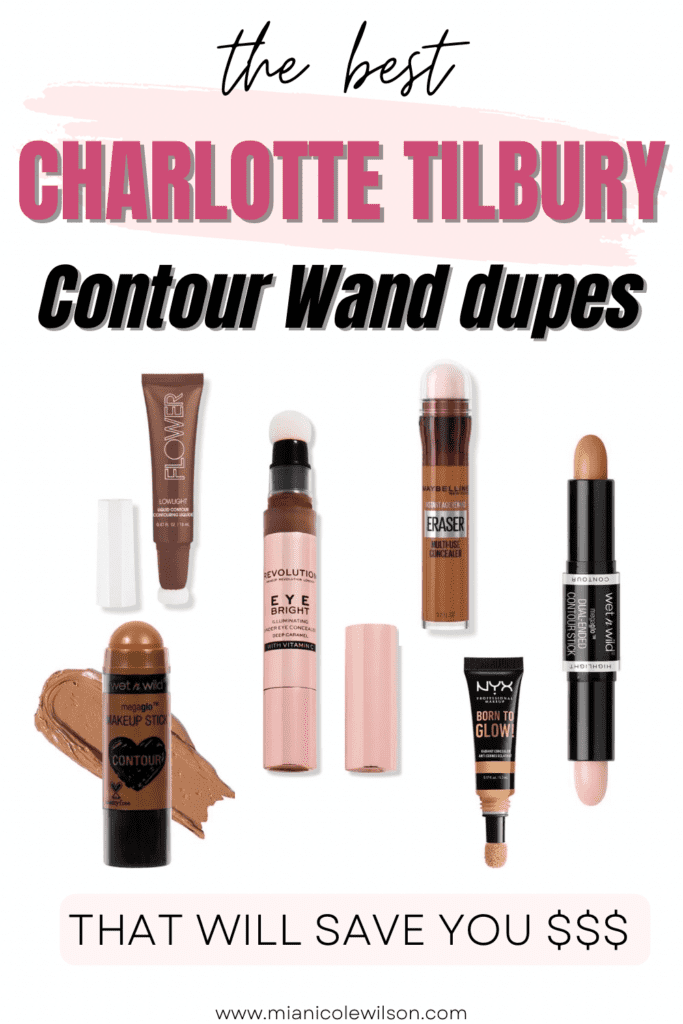 Disclosure: This blog post contains affiliate links, which means I make a small commission on a purchase without an additional cost to you if you buy something through the link.
Why Is The Charlotte Tilbury Contour Wand So Popular?
The Contour Wand has become a viral sensation on TikTok. Not to mention, popular creators like Alix Earle have really hyped it up. People love the soft tip applicator and easy-to-use "wand" design for contouring. These combined make it super easy for just the right amount of product to go exactly where you need it.
Couple that with the fact that cream/liquid makeup formulations are trending right you have a winner! This formula is more on the dry side, which works great for going over your foundation. It isn't too creamy or slippery to mess up the makeup underneath, and it won't give you a super shimmery or wet look. This makes it more realistic as a "shadow" needed to make the face look naturally sculpted.
The Best Charlotte Tilbury Contour Wand Dupes
Now, the exciting part! Here are the best affordable Charlotte Tilbury Contour dupes to try out that look like the real thing at a fraction of the price.
Flower Beauty Lowlight Liquid Contour Wand

We will kick things off with the Flower Beauty Contour Wand. It is closest to the Charlotte Tilbury one, in terms of appearance and purpose. This product was specifically made for sculpting the face, and only comes in three shades: Light, Medium, & Deep. The sponge tip also looks the most similar to CTs, as it is flat and easier to "stamp" the face with. Just add a few dots where you want to contour and blend! It will cost you more than most drug store options, at ~ $14. The only bonus though is that it is 0.47 oz worth of product – that's more than the CT Contour Wand which is 0.40 oz. Use the Flower Beauty Lowlight Contour Wand instead of the Charlotte Tilbury Beauty Light Wand!
Maybelline Age Rewind Magic Concealer

Maybelline's Age Rewind Concealer is something I grew up loving! Just like the Makeup Revolution option, this was originally marketed as eye concealer. They recently included correcting blemishes and contouring as other uses for this dupe! The Age Rewind concealer has the soft cushion tip applicator too which comes in handy for precision and control exactly where you need it. You can also pick this up at the drugstore/Ulta from $8-10 dollars depending on location.
Makeup Revolution Eye Bright Concealer in Deep Caramel

This is a Charlotte Tilbury Contour Wand dupe from Makeup Revolution! Notice that it also has the soft sponge tip application just like the original. While it is made to be an eye concealer, the Deep Caramel shade will work as a contour color on those with lighter skin tones. The creamy formula contains skin loving Vitamin C and is easily blendable – all for only $10. The packaging is also very luxe and similar to Charlotte Tilbury's. While affordable, you will get a lot less product at 0.10 oz.
Want more high end makeup dupes? Be sure to check out these blog posts:
Revlon Colorstay Skin Awaken 24 Hour Concealer

Continuing on with more great drugstore dupes, the Revlon Colorstay Skin Awaken Concealer will contour the skin nicely. This brand boasts a large shade range, so you will be able to find the perfect darker hue to conceal and sculpt with. This product has the cushion tip for precise application, and also has caffeine and vitamin c in the formulation. At $7.99 at Target, you can affordable to grab a darker shade to contour and a lighter option to highlight!
NYX Born to Glow Radiant Concealer

Anything from NYX is a win in my book! This Born To Glow Radiant Concealer can be the perfect answer to Charlotte Tilbury's Contour Wand, as the applicator looks very similar. The luminous formula is easy to blend for a very natural looking contour.
Wet n Wild MegaGlo Contour Stick

While a different type of product, the Wet N Wild Megaglow Contour Stick is another great dupe that will get you that snatched look. This dupe scores points for being very convenient for contouring the face. While it isn't a liquid formulation and doesn't have a sponge tip applicator, the stick still boasts great ease of use and precise application. It is also specifically made to be a contouring product, and has 3 shades of contour to choose from based on your skin tone. This is an insane deal for only $3.99 on Amazon!
There is also a Dual Ended Contour and Highlight Stick by Wet N Wild if you want to cut down on how many products are in your makeup bag!
Milani Conceal & Perfect Face Lift Collection Liquid Contour

Why Is Charlotte Tilbury Contour Wand Sold Out?
Like many other viral products of Charlotte Tilbury, the Contour Wand can frequently be sold out because of such high demand! As mentioned above, when certain influencers love a product the waitlist to get your hands on it too can be long. TikTok has that effect on makeup!
How Long Do Charlotte Tilbury Wands Last?
Of course, the answer will change depending on how frequently you use the product. But, it should last about 2 – 3 months. In the case of the dupes listed above, it might even last you less. This is one of the trade offs with dupes that I have noticed. You pay less because you get way less product to begin with. Case in point – Makeup Revolution's Conceal is 0.10 oz, while the Charlotte Tilbury Contour Wand is 0.40 oz.
How To Contour With The Charlotte Tilbury Contour Wand
Check out this helpful TikTok that helps you contour and highlight, as well as place blush the Charlotte Tilbury way!
Best, Mia