The wolf cut has skyrocketed in popularity in the past year (along with other animal-themed hairstyles). This on-trend cut is still going strong into 2023, and it isn't too late to try it out! Wolf cut hair is this generation's beyond-chic take on the shag. This cut takes us past the cutesy, beach wave hairstyle that has dominated the 2010s and gives more of an effortless, "I don't care what you think", rocker girl vibe. It can also be known as the werewolf haircut!
With so many sporting the cut on your TikTok FYP, are you wanting to join the club? Here are 10+ amazing wolf cut pictures to check out and take with you to the salon as inspiration! Then, keep reading to find the answers to the most frequently asked questions on the wolf cut.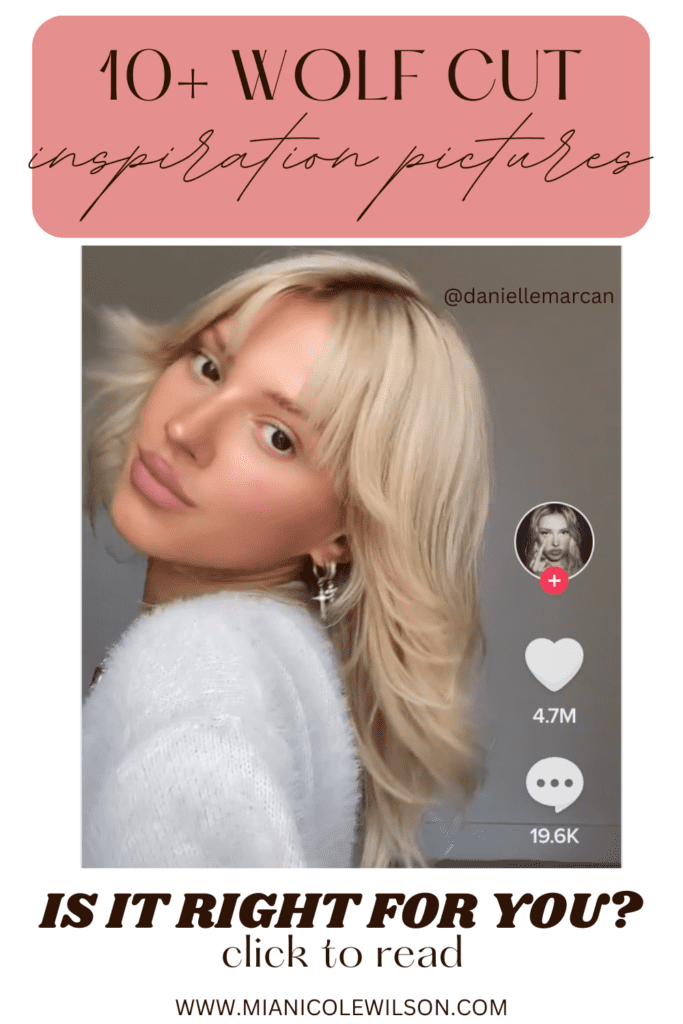 Wolf Cut Hair Inspiration Pictures
Want more hairstyles to get inspired by? Check out these hair blog posts:
Now that you've seen some examples of the werewolf/wolf cut, let's jump into some FAQs about this hairstyle!
Why Is The Wolf Cut Called Wolf Cut?
Many believe that the wolf cut originated with K Pop in South Korea in the 80s. The "wolf" comes from the very textured, shaggy, & untamed look of the many layers that resemble the fur coat of a wolf.
What Hair Type Is Best With Wolf Cut?
It is said that werewolf/wolf cuts can pretty much work on all hair types and thicknesses! Whether you have longer, thicker hair that has a bit of wave to it, or short tresses, you'll achieve more volume and movement. This creates the perfect tousled look.
Just keep in mind that you might have to style straight hair with a bit more curl to recreate the look you are seeing on your TikTok FYP.
BTW: Did you know the Butterfly cut is another version of the Werewolf cut? This style is so easy to do yourself at home. Check out this blog post for more information, as well as a DIY tutorial.
Do All Wolf Cuts Have Bangs?
Bangs are a must because of the wild, untamed look of the wolf cut. This cut heavily frames the face. They don't have to be straight across the forehead though, they can be parted down the middle and swept to the sides of the face, like curtain bangs!
Is A Werewolf Cut Basically Layers?
A wolfcut is basically layers that are soft and graduated around the face. This gives so much choppy texture! Think of it as a modern mullet.
What Are The Different Kinds Of Wolf Cuts?
Short Wolf Cut
Wolf Cut For Straight Hair
Long Wolf Cut
Wolf Cut For Curly Hair
Wolf Cut For Men
Are you ready to try something new and get the wolf cut?
Best, Mia