If you color your hair at home, you have to know these easy tricks to get hair dye off skin. Also, do this one thing to prevent it in the first place!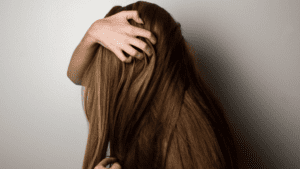 What To Use To Get Hair Dye Off Skin
Here are some things you might have laying around to get hair dye off your skin:
Baking Soda and Dishsoap – This mixture gently exfoliates the stains away.
Rubbing Alcohol – Make sure to rinse off after rubbing it on the stain with a washcloth.
Vinegar
Makeup Remover and a Cotton Ball
Also, if you dye your hair a lot at home, you might want to look into getting some professional products that do the job as well:



How To Remove Haircolor from Hair
If you don't end up loving your at home hair dye job, use this to remove the color!

This product is formulated for:
Removal of unwanted dark shade, muddy or uneven results or color build-up
Ideal for all color corrections
Allows any desired color changes
Leaves hair ready for immediate re-coloring
It also has mostly positive ratings, so it might be good to give it a shot!
How To Prevent Getting Hair Dye On Skin
Apply lotion or vaseline to the hairline to stope the dye from dripping down and staining the skin. It creates a little barrier!
How To Get Hair Dye Off Counters
Even if you try to be super careful, hair dye can get on the furniture!
Again, rubbing alcohol and baking soda are super useful everyday household products that can come to your rescue.
Take this advice from this business that specializes in bathrooms:
Take 1 tbsp of baking soda and some warm water.
Wear rubber gloves. Mix the baking soda and warm water to the consistency and appearance of toothpaste.
Rub this paste gently on the stained area.
Let this paste remain on the surface of the counter for 1 hour.
Scrub the stain off gently using a sponge or a soft damp cloth.
I hope that this article helps you! Happy hair coloring!
Best, Mia
This content is for informational purposes only, and what has worked for me personally based on my own opinions. I am not a professional/medical doctor, and you should always consult your doctor or dermatologist on what will work best for you. The information presented here is not legitimate, official advice from a professional. If you choose to rely on any information from this blog, you do so at your own risk. Please refer to the "Blog Disclaimer" tab in the menu bar to read more information and the official disclaimer statement.