Do you have acne scars, and are on a budget? Here is a list of the best chemical peels for acne scars that are affordable, and can be done at home! These are all great options to get smooth skin. Whether you have PIE scars, PIH, or minor atrophic scarring there is an option that can benefit you!
Also, see my chemical peel before and after pictures on my acne scars below!
6 Best Chemical Peels For Acne Scars: Quick List
Here are the best at-home chemical peels for acne scars. I've also included a quick overview of each peel's benefits and what type of acne scarring it works well for.
Disclosure: This blog post contains affiliate links, which means I make a small commission on a purchase without an additional cost to you if you buy something through the link.
Mini GoopGlow 15% Glycolic Acid Overnight Glow Peel
The strong Glycolic Acid (AHA) 15% in this peel is the gold standard in chemical exfoliation. This helps remove dead skin and support cell turnover.

Reviews mention this worked to improve dark acne scar spots (PIH), make pores look smaller, and gave a brightened glow.
If you are new to using peels, try the Neutrogena Glycolic Acid Overnight Face Peel which is gentler.
The Ordinary AHA 30% + BHA 2% Peeling Solution
AHA 30% + BHA 2% works to improve radiance as well as skin texture. Since it works on fine lines, I believe it can help soften the look of atrophic scarring. In my experience, I think it did just that for my indentions.

I also found this worked so well on my flat red spots after acne (PIE). It helped get tone down the red marks on my skin and in turn drew the eye away from my atrophic scarring.
The Peeling Solution has gone viral on social media for a reason. If you haven't tried it yet you absolutely need to, especially if you have acne scars. It is inexpensive, so you have everything to gain by trying it!
Murad Replenishing Multi-Acid Peel
This powerful bi-phase peel exfoliates, renews, nourishes, brightens and smooths while being gentle on skin.

If you have all forms of acne scars, this would be a great option to help you as the blend of ingredients in this peel will work to all around refresh your skin to get it baby soft and smooth.
Acure Resurfacing Inter-Gly-Lactic Peel Pads
This affordable product contains glycolic and lactic acid to refresh and renew the skin.

Lactic acid is a great exfoliator and even though it is "milder" it is still the perfect option for dark spots. If you also have fine lines and a dull complexion, lactic acid fixes that.
Last, lactic acid can make the skin look firmer!
Versed The Shortcut Overnight Facial Peel
If you are on a tight budget, this Versed Peel packs a triple punch of lactic acid, glycolic acid, and vitamin A to get smooth, clear skin for cheap.

Vitamin A is great for sufferers of PIE and PIH. It helps boost the production of collagen (great for repairing broken capillaries that cause PIE scars) as well as reverses UV damage (dark spots or PIH).
Volition Beauty ACV Resurfacing Peel Pads
For a clean skincare option these pads are a great buy. You also get 30 pads for the price!

AHA/Glycolic Acid helps Dark Spots, Dullness and Uneven Texture, Acne and Blemishes.
Note: You won't see recommendations for products from Amazon. I don't buy certain skincare items from Amazon as I'm not sure if the products listed are 100% legit or sterile.
Is A Chemical Peel Worth It?
Trying out an at-home chemical peel is so worth it! There are some very affordable but super effective options that you can test out. The Ordinary's peel is a great example of that. You'll save money by skipping the dermatologist's office and expensive peel sessions.
Of course, if you are doing this at home the intensity of the peels will be less. This means you have to be patient as you won't see the same results as you would with a dermatologist. It will take a longer period of time to see clearer skin. Still, it is worth it!
If you absolutely need to have results fast (like for an upcoming event) letting a professional perform a stronger peel is ideal.
How Long Does It Take To Recover From A Chemical Peel?
Typically, with at-home chemical peels for acne scars you apply and wear overnight. Then cleanse your face as normal the next morning. Unlike professional peels, the at home chemical peels mentioned above do not require downtime.
They also won't cause your face to peel drastically.
Best Sunscreen For Chemical Peels
This is a very important point:
If you are going to perform any at home chemical peels for acne scars, you must remember to apply sunscreen daily too!
These chemical exfoliators will make your skin super susceptible to the sun. If you don't apply sunscreen daily after using chemical peels, you can increase your risk for skin cancer, as well as cause further damage and aging.
Basically, anything you try to "undo" on your skin will come right back, sometimes worse!
Try these mineral sunscreen options:

Mineral sunscreen is important as it is gentle on the skin. The formulation is also better for acne prone individuals as it won't cause breakouts.
Chemical Peels For Acne Scars Before And After
After using The Ordinary Peeling Solution as well as the Goop Glow Overnight Peels, here are my results: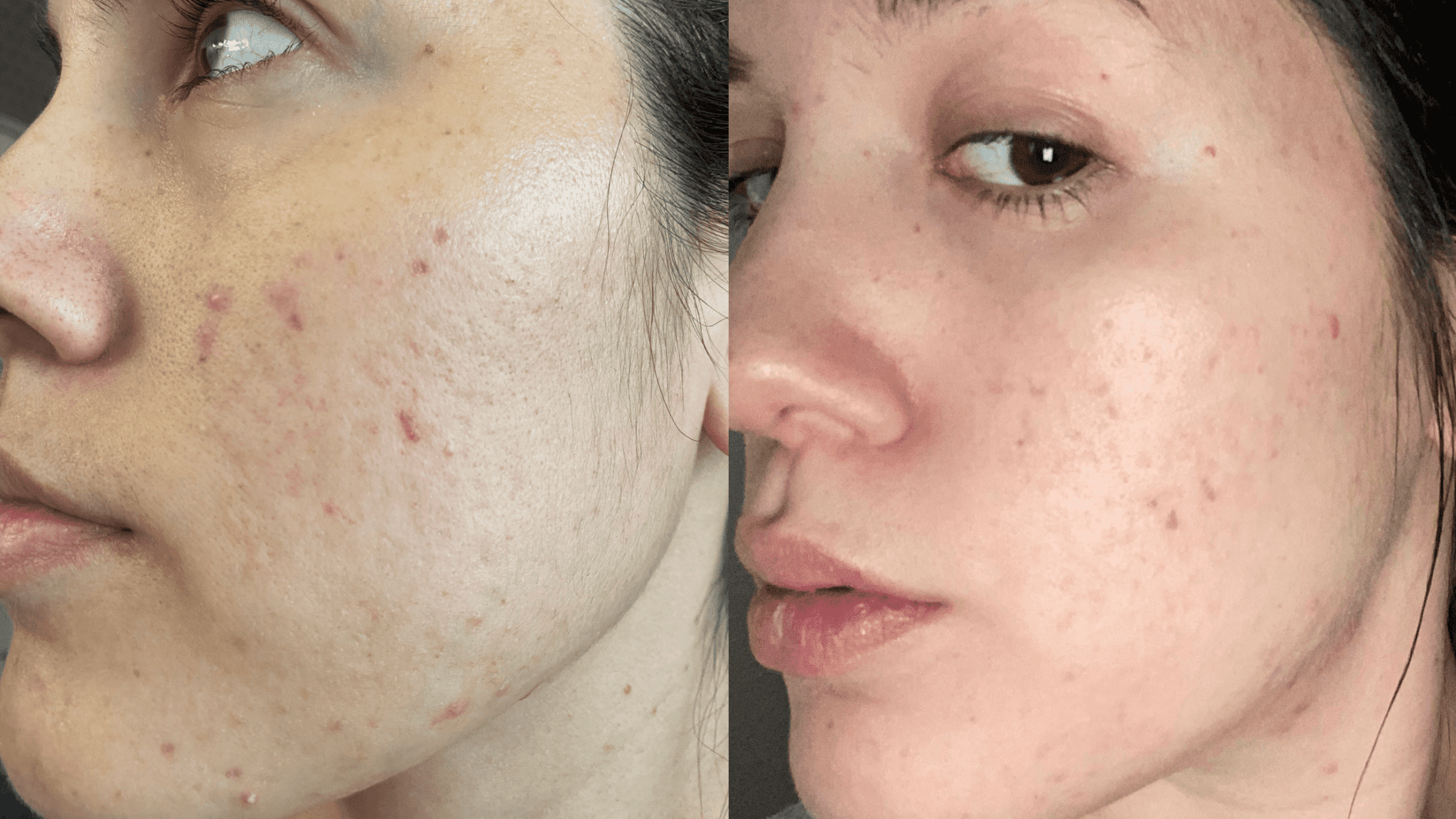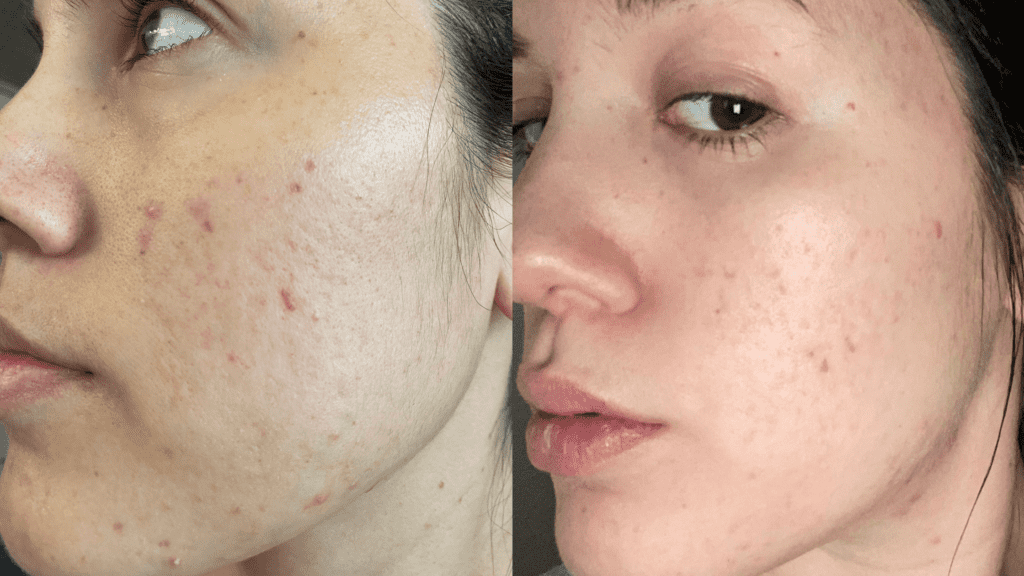 Chemical Peels Before and After Hyperpigmentation
This helped my PIE scars and to lessen some hyperpigmentation from sunspots. I used The Ordinary Peeling Solution once a week, and then the GoopGlow Peel a total of 2 times over the course of a few months. Results can happen pretty fast with the items listed above! Always wear sunscreen too as peels make your skin more susceptible to the sun.
Chemical Peels At Home For Atrophic Scarring
Do you have pretty deep indentions in your skin from acne scars? Chemical peels for acne scars can help, but you are going to have to do other treatments as well to heal the pitting on your skin. Check out my archives for all the tips you need to do it affordably, at home!
Read More: How To Get Rid Of Atrophic Scarring Archives
Best, Mia
This content is for informational purposes only, and what has worked for me personally based on my own opinions. I am not a professional/medical doctor, and you should always consult your doctor or dermatologist on what will work best for you. The information presented here is not legitimate, official advice from a professional. If you choose to rely on any information from this blog, you do so at your own risk. Please refer to the "Blog Disclaimer" tab in the menu bar to read more information and the official disclaimer statement.