Disclosure: This blog post contains affiliate links.
If you are pregnant and in need of new maternity clothes, look no further than H&M Maternity! This store has lots of great staples to wear throughout your pregnancy – all while being on-trend and affordable.
I recently was pregnant, and in this post, I will share the best things to buy from H&M Maternity. Learn what you really need from this store, and what to pass on!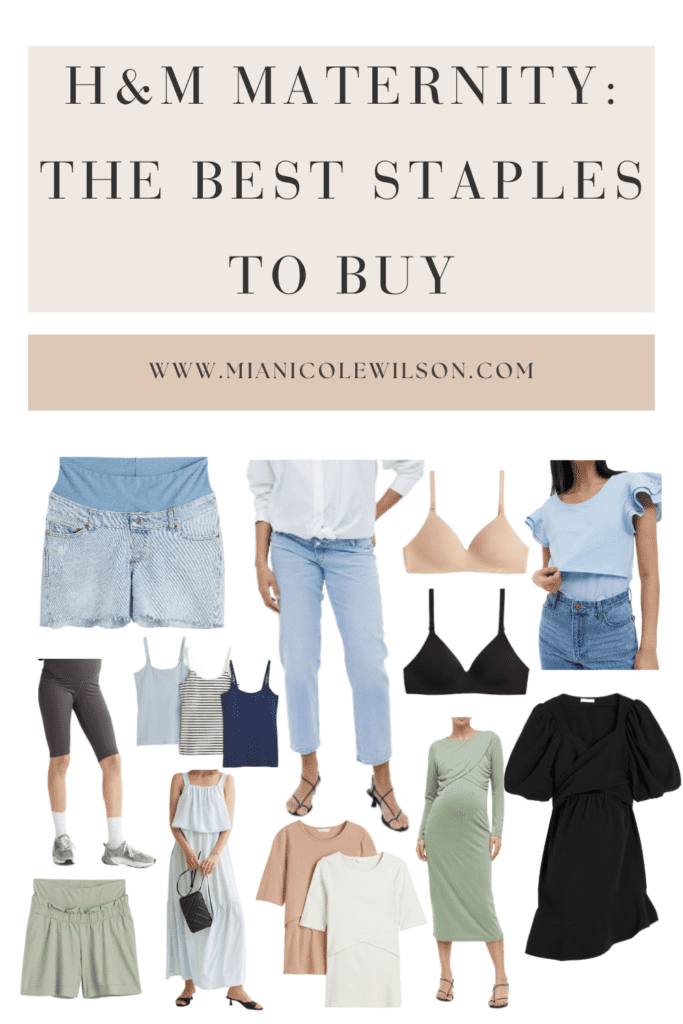 I previously reviewed another maternity store, Pink Blush Maternity, which in my opinion carries more items that you'd want to splurge on for special occasions. If you are needing more affordable and everyday options, I really think H&M is the way to go.
After two kids, I have found that it is most worth buying maternity jeans, shorts, pants, and *possibly* dresses.
I also think that their nursing tops/nursing bras are another must-have since things that have the label "nursing" tend to get marked up. At H&M it is pretty affordable!
What To Buy From H&M Maternity
Let's jump into what you should snag from the maternity line at H&M!
H&M Maternity Bottoms
Jeans
So, as your baby grows, you will obviously need some new bottoms that can grow with you too! I also gained weight with my recent pregnancy, so I was needing lots of new jeans options with a comfortable waistband. H&M Maternity has great options at great prices too.
As a comparison, A Pea In The Pod (another maternity retailer) has denim jeans with a comfortable maternity waistband that start at around $100 for a pair. In my opinion, that is just too expensive for jeans that you may wear for 6 ish months. Of course, a lot of these brands are designer, so keep that in mind.
H&M has on-trend styles that are just as cute as those from the website mentioned above. Typically, they will run you $40-$60 dollars from what I saw. And don't forget that H&M always has sales! Buying new jeans is very important when deciding what to invest in for a new maternity wardrobe.

Shorts
My first child was born in August, so since I was living in Texas I needed some maternity shorts. Again, H&M has great maternity shorts in denim and woven styles that have that lovely flex waistband. That way, the band grows with you and you won't have to keep sizing up.

Nursing Tops and Bras
Getting basics with the built in nursing function is A MUST! These stretchy and comfy top options will work during pregnancy, while nursing, and even later on! I still wear some of my nursing tops even though I am not pregnant or breastfeeding currently. Having shirts like these in your wardrobe makes life a lot easier. If you purchase at H&M, you can get great deals on multipacks.

Dresses
You don't have to feel frumpy when pregnant! H&M has lots of on-trend, gorgeous dress styles that work with pregnant bodies. They are also at a great price point too. I scored a few of the puff sleeve dresses for my summer pregnancy, and this was so comfortable just to throw on day to day. If you have any social events to go to while pregnant, look to H&M!

Only con, don't have as many nursing nightgowns which are handy.
So, not only does H&M have great maternity picks, you can pick up adorable baby clothes there too to get everything in one place. Save on shipping from multiple sites!

Want more maternity inspiration? Check out these blog posts:
Best, Mia