On The Hills, a spinoff from the first ever scripted reality show Laguna Beach, we met Heidi Montag. She was the best friend of Lauren "LC" Conrad, who was America's Sweetheart ever since Laguna Beach started airing in 2004. Over the years, Heidi has gotten a lot of flack for her relationship with Spencer Pratt. She also has gotten a lot of plastic surgery done which has garnered negative attention. Here is Heidi Montag before and after surgery – see her amazing transformation over the last two decades!
After the pictures, read more about why she decided to get plastic surgery, and how much it cost.
Heidi After Many Surgeries
Embed from Getty Images
Heidi Montag Before Plastic Surgery – 2006
Embed from Getty Images
Here we have Heidi before any surgeries. She looks super young here and just started appearing on "The Hills". Heidi is now starting to appear in the public eye.
Embed from Getty Images
Heidi Montag 2008
I personally believe this is her best look! I am obviously no plastic surgeon, but it is obvious here that she got a nose job rhinoplasty. Her nose looks less wide and more sculpted. She also may have gotten a chin reduction, and fillers in the cheeks & upper lip to balance out her smile.
Her upper lip was looking thinner before, and now it also appears her eyes are more lifted and less sleepy looking than before. This can be done with Botox!
I think she looks amazing here – she obviously looks different but it doesn't look like her face has been filled or sculpted too much at this point.
Embed from Getty Images
Heidi Montag 2010
In my opinion, this is where I believe she starts to go a bit overboard with the plastic surgeries.
Embed from Getty Images
Heidi Montag 2012
Now she looks totally unrecognizable, and a little bit puffy from all the filler!
Embed from Getty Images
Heidi Montag 2015
Embed from Getty Images
Heidi Montag 2019
Embed from Getty Images

Heidi Montag Now
Here is a recent picture of Heidi from 2022, who is expecting her second baby!
Embed from Getty Images
Now that you have seen Heidi Montag before and after, here are some questions you might be asking:
Why Did Heidi Montag Change Her Face?
Her husband, Spencer Pratt, opened up here about the reasons why she wanted to get plastic surgery. ""Heidi thought people would stop criticizing her if she got surgery,"
Basically, after being on tv where lots of people would hate on her looks, it got under her skin. Being so young and in the spotlight made her want to change her appearance so people would leave her alone. Unfortunately, it just brought more scrutiny and even regret to her.
When Did Heidi Montag First Get Plastic Surgery?
Heidi recently opened up that she underwent surgery at the age of 23. I'm not sure if it's the first time she underwent surgery as she looks different starting in 2008.
Back in 2010, at age 23, "The Hills" star revealed that she had undergone 10 body-altering procedures in one day, including a brow lift, a chin reduction and Botox injections.
How Much Did Heidi Spend On Surgery?
It can be assumed that Heidi Montag spend thousands of dollars on plastic surgery. From this article, it mentions "People [Magazine] estimated that the operations cost "upwards of $30,000."
How Many Boob Jobs Did Heidi Montag have?
It is known she went under the knife to get a F size breast augmentation. She also has had her implants removed.
Does Heidi Montag Regret Plastic Surgery?
Heidi said that she does regret her plastic surgery sometimes, and wishes she could go back to the old Heidi. She warns others to really think about getting any work done before they do it! They need to be for the right reasons.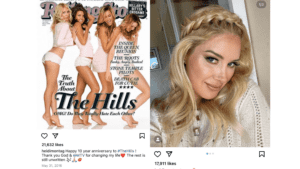 Interested in more Celebrity Before & Afters? Check out these blog posts:
Best, Mia