Disclosure: This blog post contains affiliate links, which means I make a small commission on a purchase without an additional cost to you if you buy something through the link.
Sol de Janeiro's Brazilian Bum Bum Cream is another TikTok favorite everyone is wanting to get their hands on. This skin tightening cream is award winning, and people rave about the amazing smell! It is used to firm skin and reduce the appearance of cellulite. But, it comes with a hefty price tag! The standard price of the cream costs $48, which in my opinion is a lot! Thankfully, there is a Brazilian Bum Bum Cream dupe that can do the same thing for less. Read on for 5 of the best bum bum cream dupes!
What Does Brazilian Bum Bum Cream Do?
First, let's quickly get into what makes this cream so special and why people are willing to pay around $50 for it. This way we can find the closest dupes that do the same thing! The moisturizing Bum Bum cream works by quickly absorbing into the skin. It leaves behind a yummy scent with notes of Vanilla, Salted Caramel, & Pistachio that everyone will ask about! It also is supposed to visibly tighten and smooth the skin all while adding a hint of shimmer.
This cream has swept through TikTok right now, as all the "It Girls" swear by it. You'll often see the Sol de Janeiro Brazilian Crush Cheirosa 62 Perfume Mist being spritzed on too!
Brazilian Bum Bum Cream Ingredients
Here are the ingredients in Bum Bum Cream that makes it so special:
Guaraná
Guarana is a plant that is common in Brazil. It has a high concentration of caffeine in the seeds, and it's extract is used in this cream. This works to help visibly smooth and tighten the appearance of skin. Many people swear by caffeine to reduce cellulite.
Cupuaçu Butter
This luxurious emollient is made of is of fatty acids, phytosterols, and polyphenols to lock in moisture and visibly restore skin's elasticity. It is dubbed a "super moisturizer" since it carries water to the skin, making it supple and soft.
Açaí Oil
Acai oil isn't just to eat! This antioxidant-packed powerhouse helps skin look and feel young.
5 Best Brazilian Bum Bum Cream Dupe
Now, here are the best Brazilian Bum Bum Cream dupes!
Trader Joe's Brazil Nut Body Butter Dupe
Starting off at number one is the BEST all-around dupe for Sol de Janeiro's famous cream: The Brazil Nut Body Butter from Trader Joe's! This cream boasts of coconut oil, shea butter, açai extract, guarana extract, and Brazil nut seed oil. It also has notes of salted caramel, pistachio, coconut and vanilla which is exactly the same as the original. Trader Joe's also perfectly captured the thick, emollient like texture of the cream that isn't watery at all.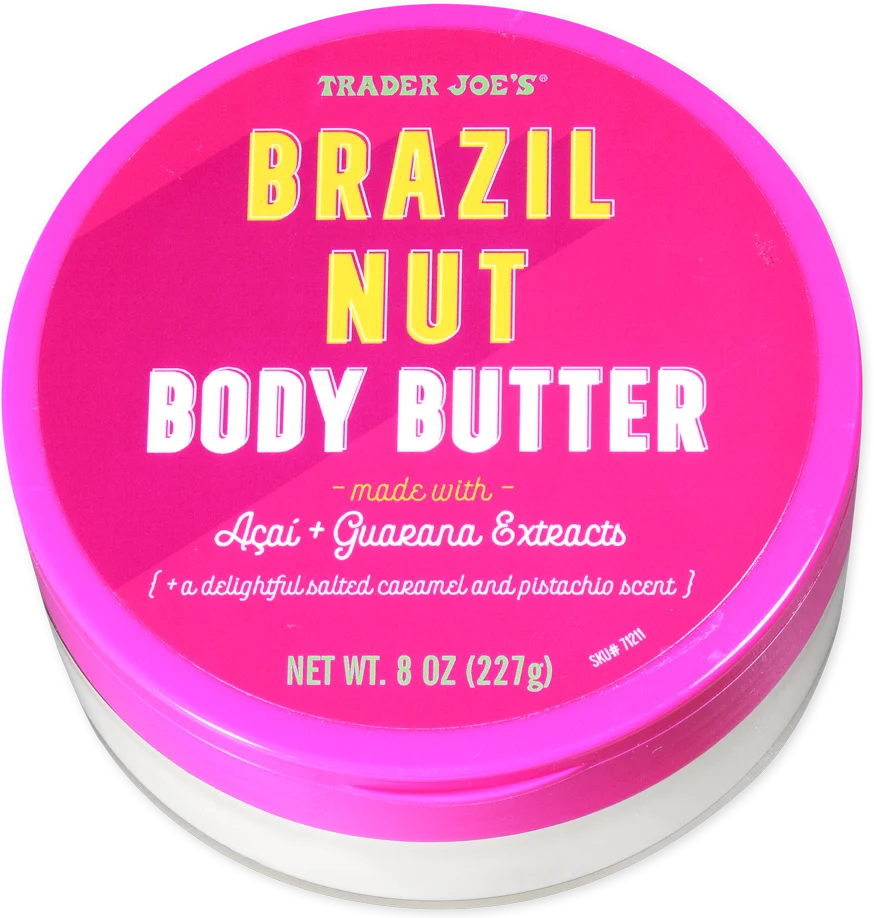 It may surprise you that TJ's would have something like this, but it is crazy how much they spot on recreated the $50 original for only $5.99. The only catch is that it's in-store only and seems to be seasonable. If you see it at your local TJ's, GRAB IT! Not to worry though, the next dupe can be found online!
The Nutrius Brazilian Body Butter Cream is neck and neck with TJ's when it comes to ranking. What's amazing about this cream is that the packaging looks almost identical, the top 3 ingredients (guarana extract, cupuacu butter, and acai oil) are all present, and the smell is similar. it does a great job moisturizing just as the BBBC does. I found that the smell is not as intense though. The only problem you'll run into is that it cost $30 for the package on Amazon. You do get 2 tubs though (even if they are 6 oz vs BBBC's 8.1 oz), but at $15 a piece it is still one of the more expensive dupes on this list.

This affordable body butter from Tree Hut is only $8.99 at places like Target and Walmart. It also boasts the same ingredients as the original like Cupuacu butter and Guarana extract to give you your best skin. The only difference is that this dupe doesn't have the exact same scent that makes the original Sol de Janeiro's BBBC so desirable. While still smelling summery, the scent of this body butter is similar but not the same. It also doesn't linger as long.

Another upside though is that you get more of this product (8.4 oz) as well vs the BBBC (8.1 oz).
Truly Beauty is another viral TikTok brand! They make a lot of products that tackle unique body issues, like a firming boob cream, cellulite serums, and tightening butt/leg polish just to name a few.

The Cake Maker is a great option to reduce the appearance of cellulite and firm the booty with the guarana extract. This pretty much all it has with the Brazilian Bum Bum Cream though. The scent is more like cake instead of a summer day at the beach. Still, it smells great on its own and is deeply moisturizing.
Last, Victoria's Secret Beauty has its own version of BBC! It features the Guarana extract that will get you runway ready just like the Angels! Again, it isn't comparable scent-wise as it has a coffee scent. But it is still great smelling and moisturizing just like Bum Bum Cream!

While this doesn't have the exact ingredients, it looks nearly identical to the original Sol de Janeiro packaging. This cream boasts of coconut oil to deeply hydrate the skin. Look for other versions, like the Aloe body cream and Vitamin C option.

Is Brazilian Bum Bum Cream Worth The Hype?
I hope you are able to snag a dupe of the famous Sol de Janeiro Brazilian Bum Bum Cream! This cream can be used year-round to evoke memories of a fun day at the beach – all while giving you tightened, glowy skin without spending a lot!
Here is another viral TikTok beauty item to check out before you go! 6 Clinique Black Honey Dupes: Under $10 at the Drugstore [TikTok Approved!]
Best, Mia