Have you heard about the benefits of probiotic skincare for acne?
It's safe to say that almost everyone knows the benefits of internal probiotics for the body, right? Yet, probiotics in skincare are a pretty new phenomenon. But when you break down the science of it, it makes a lot of sense why it's should be essential topically too!
While it is great for all skintypes, if you have acne – listen closely! This blog post will cover the reasons why using probiotic skincare for acne-prone skin is a great option to get rid of blemishes.
Disclosure: This blog post contains affiliate links, which means I make a small commission on a purchase without an additional cost to you if you buy something through the link.
How Does Probiotic Skincare For Acne Work?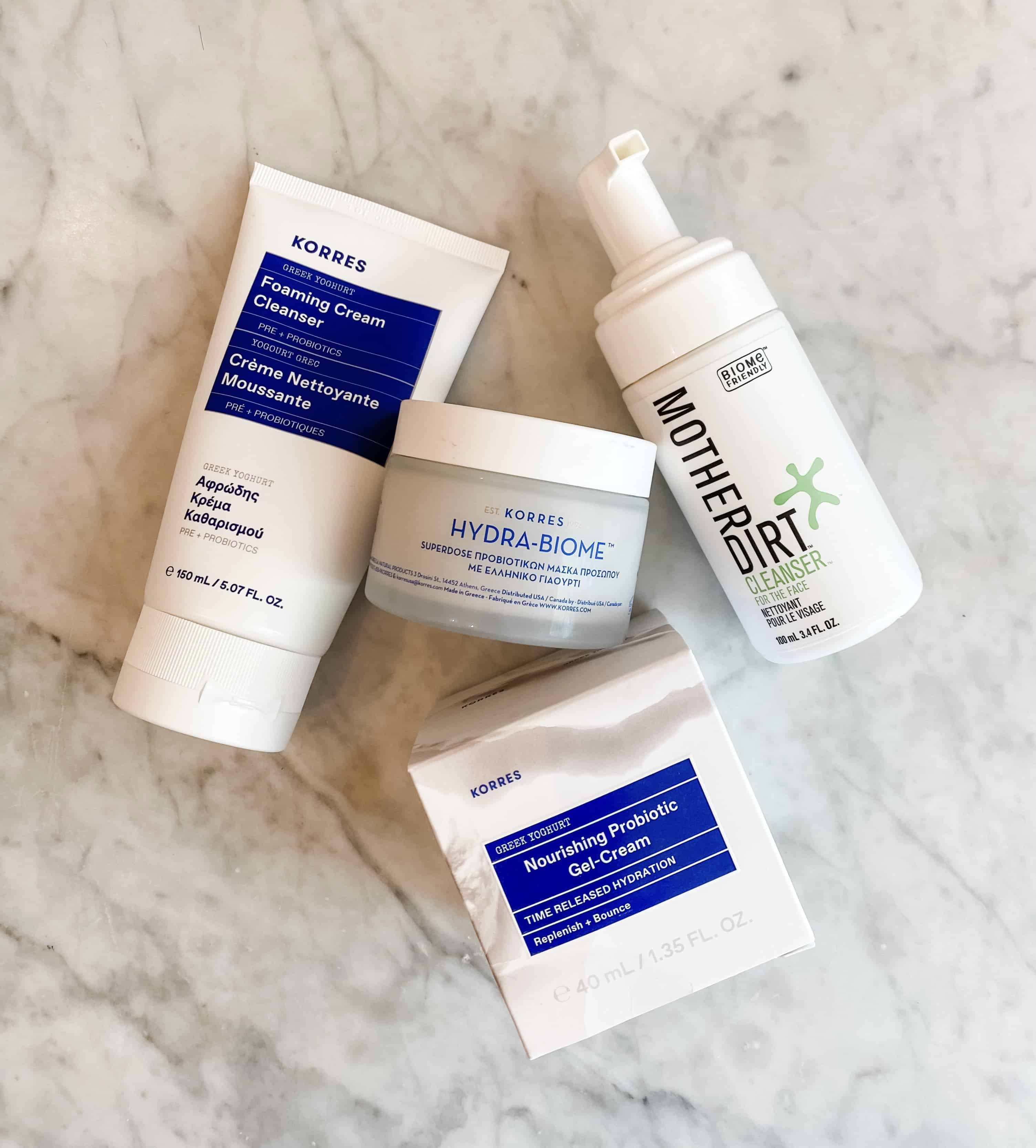 Here are some of the beneficial ways probiotics help acne-prone skin:
Heals the Skin Barrier
It took me a while to understand, but having a healthy skin barrier is so important to combat acne. Even if you think you are taking care of your skin, stress, environmental factors, and the wrong skincare products can all lead to a broken skin barrier.
If the skin barrier is compromised, it can cause dry and irritated skin. It makes your skin prone to wrinkles and fine lines. Last, but not least – your skin can't heal acne blemishes as fast too! When your skin barrier is in an optimal state, it is better able to ward against and fight breakouts.
Probiotic skincare for acne also helps the skin barrier by balancing the pH of skin. It also restores the skin microbiome. More on both is mentioned below:
Balances pH Of Skin
Similar to having a healthy skin barrier, the skin needs to be at the optimal pH as well to function correctly. Our skin has an "acid mantle" that helps defend itself from harmful bacteria and other potential contaminants. 1
The pH of the skin, on average, sits below 5. This makes it mildly acidic. Lots of the everyday soaps and products we use on our skin are very alkaline, and can affect the skin barrier. 2
Using alkaline products can lead to dry skin and irritation. It can also break down the protective functions of the skin leading to premature aging. The probiotic skincare recommended below is pH balanced. This means it won't negatively affect your skin.
Combining a pH balanced formula with good bacteria creates the perfect recipe for strengthening your skin.
Restores The Microbiome Of Skin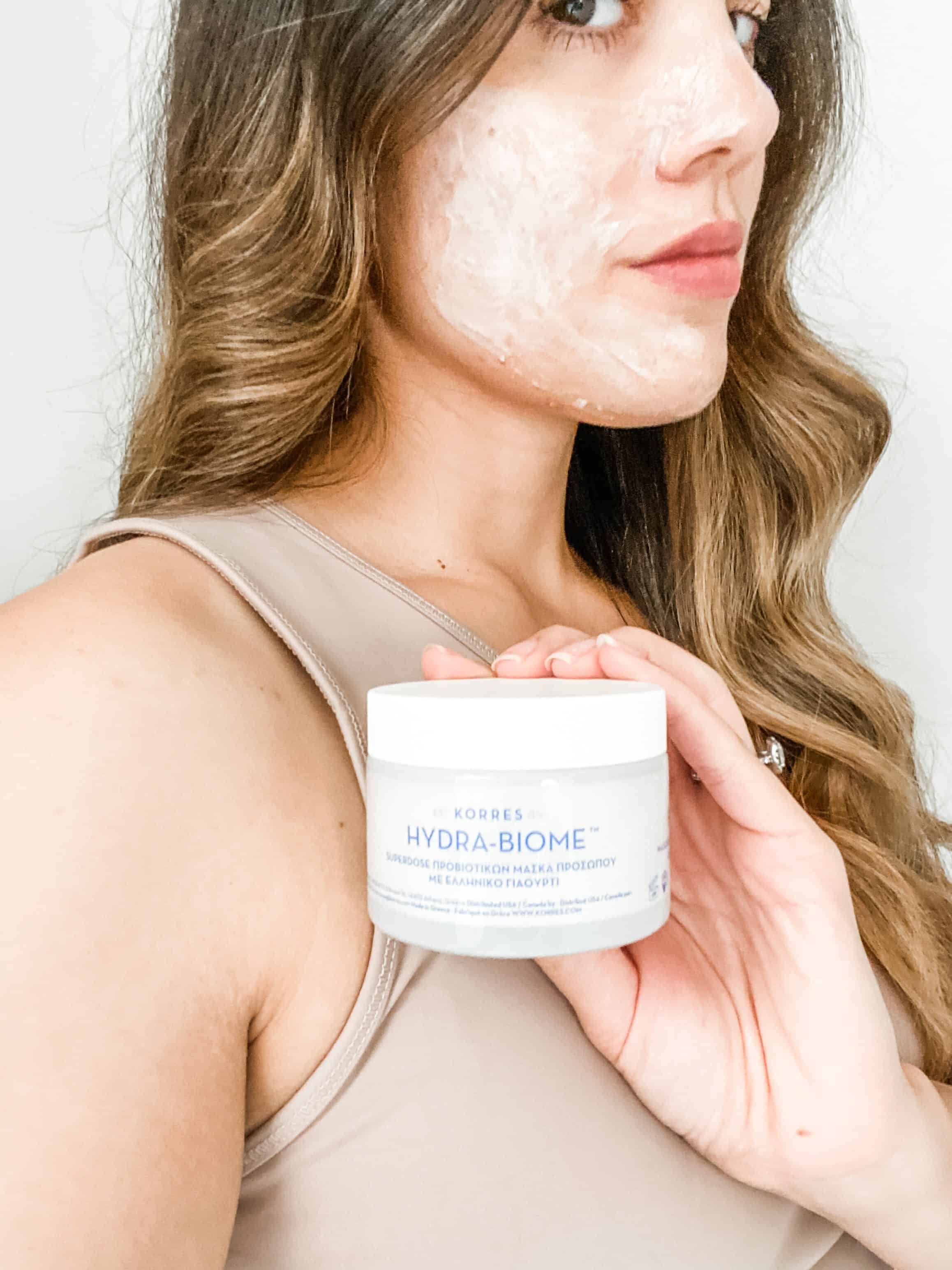 Adding probiotics to the skin helps restore the good bacteria that your skin might be missing. With an alkaline pH and compromised skin barrier, bad bacteria can flourish. Adding good bacteria can help fight the bad.
Best Probiotic Skincare For Acne 2023
Now that you know why probiotic skincare is so good for skin, here are some recommended products.

My Probiotic Skincare Morning Routine For Acne
I swear by this morning routine to help my skin feel glowy, healthy, and ready for the day ahead. Incorporating these probiotic focused products have made all the difference!
First up, I use either the Mother Dirt Foaming Face Cleanser, or the Korres Greek Yoghurt Cleanser.

By the way, if you aren't washing your face in the morning you definitely need to be! Even if you think your face is clean you need to be washing off the sweat from the night before, as well as the left over products/serums you wore while sleeping. This makes your morning routine penetrate the skin better and work more effectively.
Let the cleanser sit for a few seconds before washing it off.
The next step is the Marie Veronique Probiotic Mist. This stuff is life changing! The probiotics go to work on your skin to restore the pH balance and microbiome. Spray a few pumps onto your face and let it dry.

Next, I hydrate with my CeraVe Face Lotion and then rose hip oil.

I usually keep it simple and stick to just these probiotics in my morning routine for a few days out of the week. When my skin feels balanced then I go and add a Vitamin C serum after using the probiotic mist.
Don't forget to finish your routine with sunscreen!
If you want to learn how to make your own probiotic spray at home, I recently posted a blog post detailing how!
Read More: DIY Probiotic Spray: How To Make Probiotic Spray
Best Probiotics For Acne 2023
As part of an acne clearing routine, you can't forget to take probiotics internally as well to fight acne. Here's why:
Can Probiotics Clear Skin?
I 100% believe this! Along with eating well and avoiding sugar, adding probiotics topically and internally cleared my skin. Below is the reasoning behind it.
Probiotic Supplements for Acne Helps Too
Have you wondered, is acne related to gut health?
According to NCBI, "Oral ingestion of certain probiotic strains has been shown to improve the skin barrier and affect skin hydration and transepidermal water loss." 3
Which Probiotics Are Best For Acne?
If you would like an easy to take supplement, here are some beauty focused options to give you clear, glowing skin.

Alternatively, don't forget that eating sauerkraut and other fermented foods are other ways to get your probiotics in!
Best of luck on your clear skin journey!
Mia
Citations:
1.https://en.wikipedia.org/wiki/Acid_mantle#:~:text=The%20acid%20mantle%20is%20a,that%20might%20penetrate%20the%20skin.
2.Lambers, H et al. "Natural skin surface pH is on average below 5, which is beneficial for its resident flora." International journal of cosmetic science vol. 28,5 (2006): 359-70. doi:10.1111/j.1467-2494.2006.00344.x
3.Kober, Mary-Margaret, and Whitney P Bowe. "The effect of probiotics on immune regulation, acne, and photoaging." International journal of women's dermatology vol. 1,2 85-89. 6 Apr. 2015, doi:10.1016/j.ijwd.2015.02.001
This content is for informational purposes only, and what has worked for me personally based on my own opinions. I am not a professional/medical doctor, and you should always consult your doctor or dermatologist on what will work best for you. The information presented here is not legitimate, official advice from a professional. If you choose to rely on any information from this blog, you do so at your own risk. Please refer to the "Blog Disclaimer" tab in the menu bar to read more information and the official disclaimer statement.