Are you curious how ZitSticka works? This blog post covers all about these handy pimple patches! Keep reading for ZitSticka KILLA + Hyperfade reviews that will show you what you'll receive in each kit and how to use it.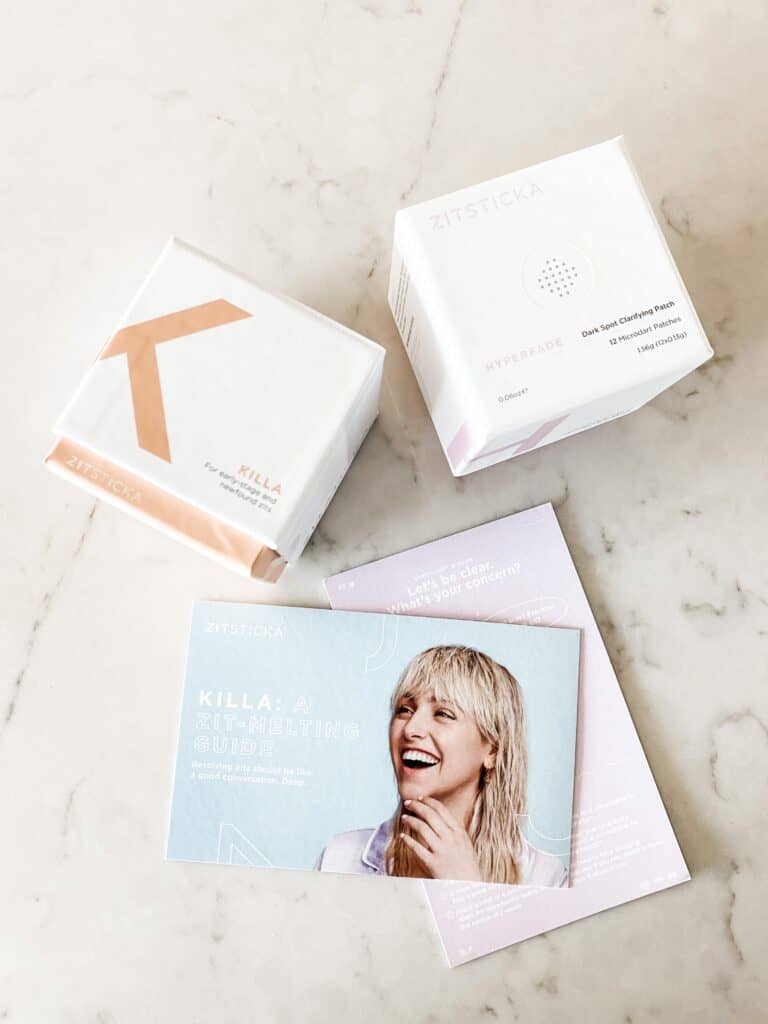 ZitStick KILLA Kit Reviews
Here are the ingredients in the ZitSticka KILLA Kit, how it works, and the results you'll see!
ZitSticka KILLA Pimple Patch Ingredients
These KILLA patches "kill" zits before it turns into a full blown, late stage breakout.
The KILLA Kit comes with an 8 count of KILLA Spot Clarifying Microdart patches and then 8 CLEANA Cleansing Swabs.
The KILLA microdart patches are filled with Sodium Hyaluronate, Oligopeptide-76, Niacinamide, Sodium Hydroxide, Salicylic Acid.
The CLEANA cleansing swabs have Alcohol, Water, Melaleuca Alternifolia (Tea Tree) Leaf Oil, Tocopheryl Acetate, Salicylic Acid.
Prime with the CLEANA swabs which exfoliate and calm an angry pimple to give the skin the perfect foundation for the patch to work.
Then apply the KILLA microdart patch. It self dissolves to help fight the early stage zit with powerful ingredients that help clear the pimple before it turns into a huge, painful breakout. These patches take 2 hours to dissolve and work on the skin.

Can you leave ZitSticka on overnight? Yes, you can leave it on overnight if you choose!
My Experience With KILLA Kit
These patches are 100% necessary to have on hand!
As someone who deals with breakouts, I really appreciate how these deliver a power punch to budding zits. While it doesn't completely get rid of a bump overnight, you can definitely tell that it calms it. After I apply the micro dart patch and wear it overnight, my bump gets smaller and responds better to my regular skincare.
Crisis averted!
The only problem is that they are a bit expensive to use as frequently as I would need for my acne-prone skin.
So, are you someone who doesn't experience frequent breakouts? Or, do you want to make sure your skin is ready to go for special occasions? Then, the KILLA Kit is for you. Since they are a bit pricy for 8 patches, keeping them in your bathroom cabinet for the times you need it is ideal.
Rather than use the KILLA Kit for everyday, try the GOO GETTER Kit as mentioned above. This is for those who need help with full blown breakouts or big zits that occur frequently. It is also less expensive with more patches, 36 count.
ZitSticka HYPERFADE Review
Now that we have covered how to get rid of a pimple, here is what to do with the aftermath of a zit with the HYPERFADE Kit.
Many times after a breakout, you can be left with a red or dark spot. This is from the inflammation and trauma of a zit. By using the KILLA patch, you can prevent much worse damage though. If you stop a zit in the early stages you can prevent permanent atrophic scarring, especially if you tend to pop your zits.
This is where HYPERFADE comes in!
ZitSticka HYPERFADE Ingredients
In the HYPERFADE Kit, you get 24 self-dissolving microdart patches that contain Sodium Hyaluronate, Niacinamide, Ascorbic Acid, Macadamia Seed Oil, Arbutin, Water, Kojic Acid, Glycyrrhiza Glabra Root Extract, Tranexamic Acid, Citric Acid.
Apply it to the affected area. Then, in as little as 2 hours you'll see the brightening and regenerating effects of HYPERFADE to help get the tone and texture of your skin back to normal.

ZitSticka HYPERFADE Before And After
Here is a before and after of a red mark from a zit after using HYPERFADE.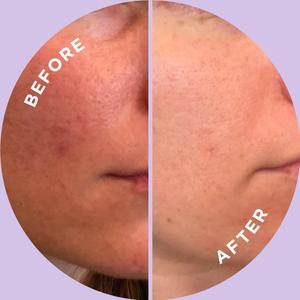 You will typically see results after using a 4 patch application during a 2 week period.
After each application, wait 3 days in between as the lightening and brightening effects of the patch work for 48-72 hours after using.
It is also crucial to remember to use sunscreen after to prevent the mark from getting dark again.
On top of using the HYPERFADE patches, there are other ways you can get rid of PIE marks (red spots after acne).
Read more: How To Get Rid Of Red Spots on Face (PIE Scars): [Affordable Solutions]
Does ZitSticka Work On Cystic Acne?
If you have many active breakouts, KILLA might not be what you are looking for. The KILLA Kit patches target pimples that are just emerging, or early stage. This prevents them from becoming anything more than that.
So if you are wondering, "do pimple patches work on cystic acne?", then try GOO GETTER. It works on late stage, superficial zits by absorbing the fluid inside the breakout, quickly flattening it. You get 36 patches in this kit.

Is ZitSticka Safe?
Ok, since it works such magic, is ZitSticka safe?
ZitSticka is full of many powerful ingredients, and it is safe! Of course, everyone has different skin so you might have to test a patch or check that the ingredients it contains are ones you know you don't react negatively to.
Some people think that the KILLA micro darts are a bit uncomfortable but nothing that hurts. It is more of a tingling sensation or tickle which means the concentrated ingredients are going to work on the budding zit.
If you are pregnant, it is best to talk to your doctor before using.
How Do You Flatten A Pimple Overnight?
Pimple patches are something that I wish I knew about a lot sooner! ZitSticka Killa especially.
If you are needing to flatten and get rid of an emerging zit overnight, then ZitSticka patches will come in handy. The concentrated patches make sure that it helps calm a breakout in the quickest way possible.
How Do Pimple Patches Work?
Pimple patches work like magic by delivering concentrated ingredients to a zit. Things like salicylic acid and tea tree oil will get to work to calm and dissolve the breakout, and the patch itself provides the perfect healing environment. Together, this creates the extra special TLC a zit needs to get back to normal – and fast! Wear pimple patches overnight and you should wake up with clearer, calmer skin! All the best, Mia
Thanks for reading these ZitSticka Reviews! If you have acne and need more help getting clear skin, check out my Acne archives.
Best, Mia
This content is for informational purposes only, and what has worked for me personally based on my own opinions. I am not a professional/medical doctor, and you should always consult your doctor or dermatologist on what will work best for you. The information presented here is not legitimate, official advice from a professional. If you choose to rely on any information from this blog, you do so at your own risk. Please refer to the "Blog Disclaimer" tab in the menu bar to read more information and the official disclaimer statement.