A new TikTok Queen has arrived! Alix Earle has quickly risen to be one of the most influential people on the platform. (White eyeliner, anyone?) She seems to have popularized the trend of short "GRWM" TikTok videos that every creator is copying. Viewers feel like they are FaceTiming with a friend when she gets ready for a night out or when she takes them along for a DITL as a college student!
Here are all the products that she loves to use, based on some digging I did with this specific GRWM video.
Disclosure: This blog post contains affiliate links, which means I make a small commission on a purchase without an additional cost to you if you buy something through the link.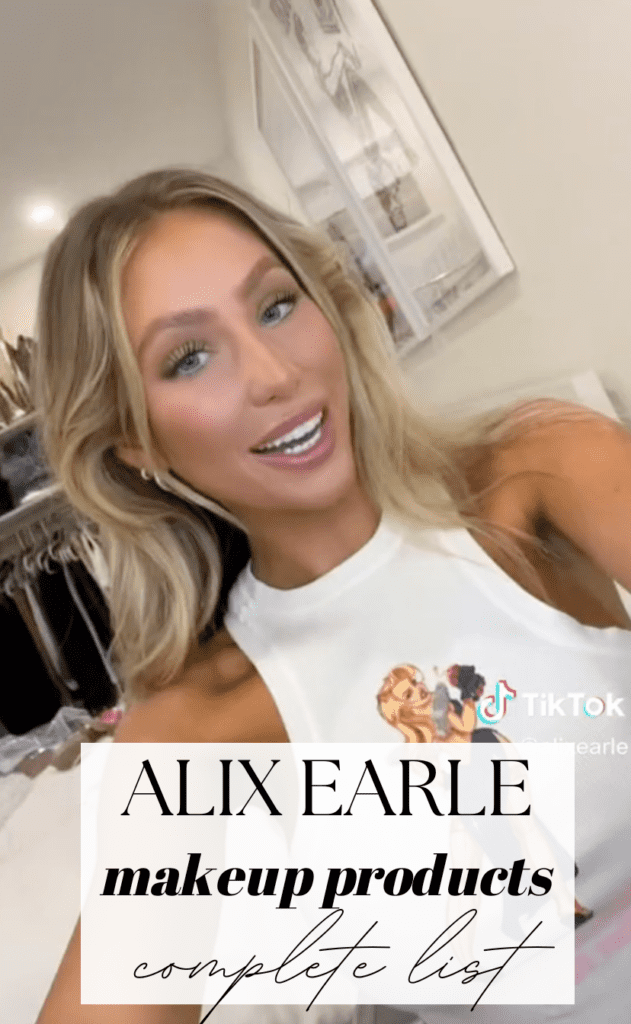 Alix Earle Makeup Products List
This is everything she used to get this beautiful look for guest hosting an event!
Bag Balm For Lips

Drunk Elephant Bronzing Drops

Born This Way Matte Foundation

Maybelline Fit Me Concealer Cocoa

Tarte Sculpt Tape Contour

Tarte Shape Tape Highlight Contour

Too Faced Shadow Insurance Eyeshadow Primer

Refy Brow Sculpt

Tarte Shape Tape Glow Bronzer

Huda Beauty Easy Bake Loose Setting Powder

Want more lists of famous TikToker beauty products? Check out these blog posts:
Tarte Fake Awake Eyeliner

Benefit Cosmetics Powder Highlighter Tickle

Makeup by Mario Master Mattes Eyeshadow Palette

Refy Lip Sculpt Liner Fawn

Fenty Beauty Gloss Bomb $weetmouth

Rare Beauty Soft Pinch Liquid Blush Hope

Charlotte Tilbury Setting Spray

Dior Backstage Pressed Powder

Freck Faux Freckles

Tarte Tartlette In Bloom Palette For Shadow Eyeliner

Better Than Sex Waterproof Mascara

Benefit Roller Lash Mascara

Here are some of Alix Earle makeup products she used for a night out. Check out this blog post for more of her everyday makeup staples!
Best, Mia