There is no doubt that popular TikTok star Taylor Frankie Paul is gorgeous! If you are a fan and are curious about her makeup routine, I did some digging! Here is everything that she uses in her makeup routine based on a few recent GRWM videos.
Disclosure: This blog post contains affiliate links, which means I make a small commission on a purchase without an additional cost to you if you buy something through the link.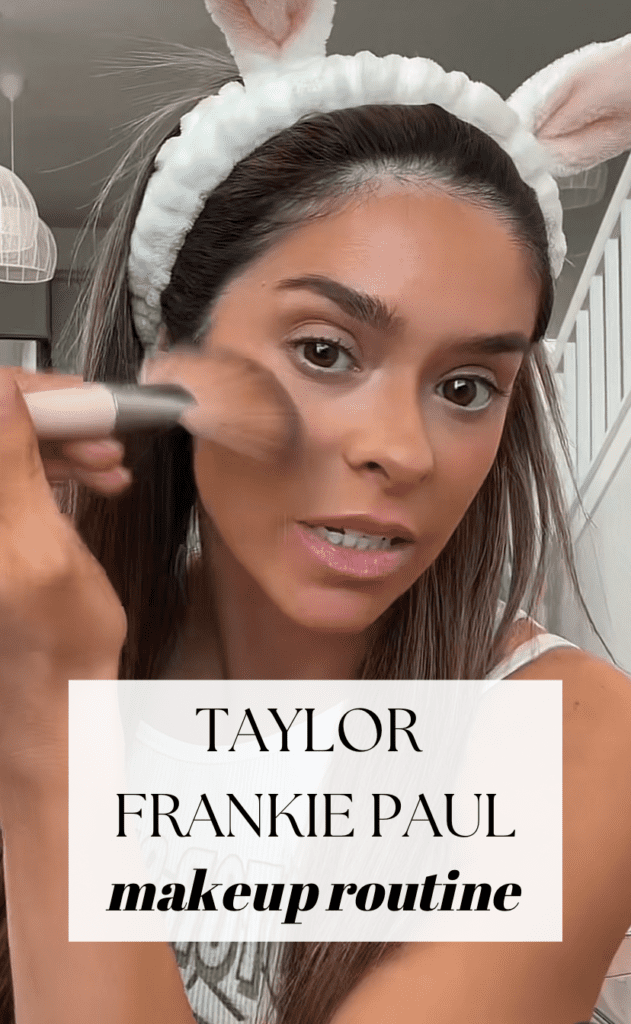 Taylor Frankie Paul Makeup Routine
Taylor has a pretty natural makeup routine and if you are more into light coverage, this should work well for you! Otherwise, you can add some elements to your own routine, like the specific blush or lip gloss she uses. Let's start from the beginning, and in the order she applies everything.
Laneige Lip Mask

The Laneige Lip Sleeping Mask Intense Hydration with Vitamin C is what she uses to prep her lips before applying makeup. She uses the purple color, which is the fun Gummy Bear scent!
Supergoop! Glowscreen Sunscreen

For a very natural base, she uses tinted sunscreen. This goes on very sheer and is great for also protecting the skin. She mixes it with the Drunk Elephant Bronzing Drops, listed next!
Drunk Elephant D-Bronzi Anti-Pollution Sunshine Drops

Taylor goes for a super glowy and bronzed foundation by adding in the DE Bronzing Drops! This product is great for adding a sun-kissed look to every complexion. Unfortunately, it is often sold out due to the popularity! Keep a close eye on this product for the next restock.
Want more Celebrity Makeup & Style? Check out these blog posts:
ELF Hydrating Camo Concealer Satin Finish

Next, we see Taylor lightly conceal with the ELF Satin Camo Concealer (the white cap/lid). She uses a Beauty Blender to blend it in. This lightweight concealer is an affordable option to cover imperfections. The "Satin" version gives full coverage while still being hydrating. It's great for those with dry skin!
Benefit Cosmetics Precisely, My Brow Pencil Waterproof Eyebrow Definer

Taylor brushes up the brows and fills them in just a bit with this eyebrow pencil.
Benefit Cosmetics 24-HR Brow Setter Clear Eyebrow Gel with Lamination Effect

Next, she sets them with this clear brow gel.
Benefit Cosmetics WANDERful World Silky-Soft Powder Blush Willa

She doubles up on blush by first adding this neutral rose blush in Willa from Benefit with a fluffy blush brush.
Glossier Cloud Paint – Storm

Then, Taylor deepens the color with a few dots of this liquid blush and applies it with the fingertips for a effortlessly flushed look.
Laura Mercier Translucent Loose Setting Powder

She sets her face with this powder and sharpens up the line below her cheekbones for a very sharp-looking cheek contour.
Essence Pure Nude Highlighter

After the blush is on, Taylor will take a very big fan brush and add some highlighter to the tops of the cheekbones for a pretty glow.
L.A. Girl Artic White Eyeliner

She takes a page out of Alix Earle's makeup book and uses white eyeliner in the waterline and curls the lashes right at the root.
Buxom Lash Volumizing Mascara

Revlon ColorStay Lip Liner

Taylor Frankie Paul definitely lines her lip with a nude-y pink color before applying lip gloss.
Milani Keep It Full Nourishing Lip Plumper

She has responded to a comment asking about what lip color she was using in a GRWM video, and said it is the Milani Rose color.
What is Taylor Frankie Paul Age?
She is 28 years old.
What is Taylor Frankie Paul's TikTok?
This is where you will find her TikTok dances, GRWM videos, outfit inspiration, and cleaning/DITL videos.
Taylor Frankie Paul currently has around 4 million followers on TikTok!
Her Instagram is @taylorfrankiepaul as well.
Taylor Frankie Paul Drama
Taylor made headlines when it was noted her divorce from her husband was due to a "soft-swinging" incident that was reportedly within her Mormon & MomTok community. She recently went through battling depression, an ectopic pregnancy, and breakup with new boyfriend, Dakota Mortensen.
Best, Mia