If you are wanting more of a classic wardrobe that will really stand the test of time, look no further than that of the French woman! When it comes to handbags, here are the 7 French Girl Handbag styles that you should have in your wardrobe. These styles look great with all outfits, are understated yet beautiful, and most importantly are functional!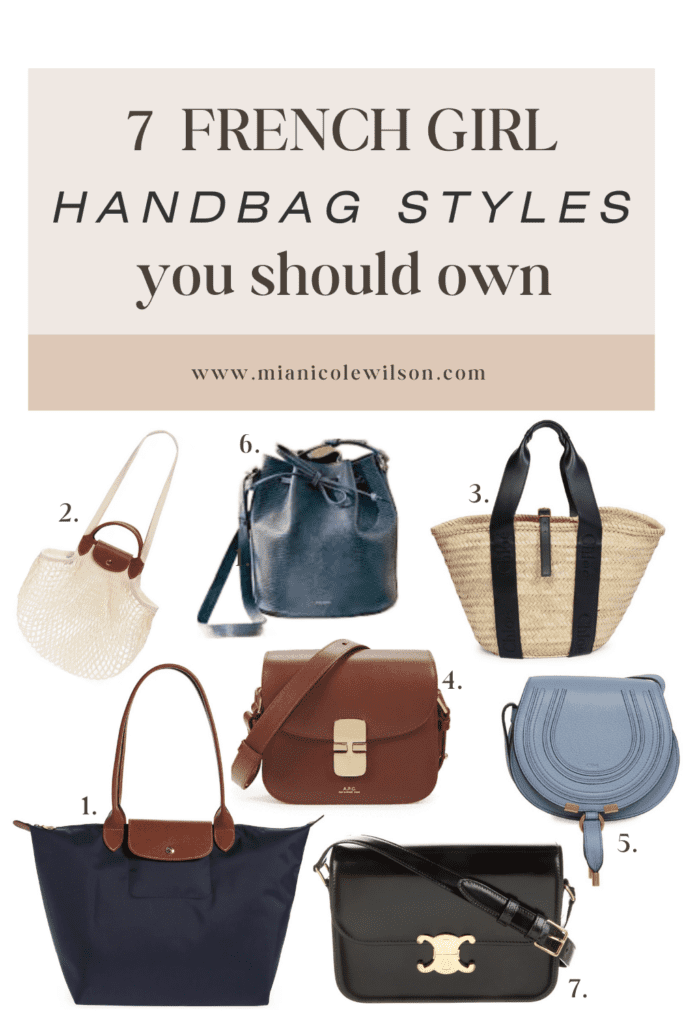 Disclosure: This blog post contains affiliate links.
The Best French Girl Handbag Styles
What makes the style so timeless is that French women prefer neutral colors and silhouettes – nothing too flashy or bright. We all know that they appear so effortlessly lovely and like they aren't trying hard at all. The bags have to echo that statement as well! Let's jump into the first style.
Tote Bag

When going to work, school, or running errands a roomy tote that can stand being banged up will be a French girl's choice. Longchamp's Le Pliage tote is a classic French staple in a canvas fabric that is durable and easy to clean. As a mom, this is my go-to bag to carry my things in. It's great for everyday! This lightweight, foldable bag is also pretty affordable – it's a must have!
Market Bag

France has banned the use of single-use plastic bags for certain items. So, you must have a chic canvas/fish net reusable bag on hand for running out for groceries! This style is also ideal for heading to the sea – it should be roomy enough for all your beach essentials.
Wicker/Raffia Woven Bag

How iconic are these straw bags? If you are wanting something a little more stylish than the canvas bag for a trip to the market or beach, look no further. This style just screams French Riviera when paired with a straw hat!
Crossbody Bag

Every woman should have a crossbody bag that's just big enough for the essentials when you don't need to carry much. The crossbody style is so useful, and if you get a bag in quality leather it will always be in style.
Saddle Bag

The saddle bag will give any outfit a perfect touch of equestrian chic style. There are different takes on the silhouette, and all look darling. Try them in neutrals or go for a pop of dusty blue.
Bucket Bag

Evening Bag

Here is something a little more sleek and flirty for a night out!
Which French girl style handbag are you choosing?
If you want more French girl style content, check out these blog posts:
Best, Mia