I love the French girl style aesthetic, and all the gorgeous French labels that come to mind. Chanel, Dior, Chloé, and Hermès are just some of the luxury brands that I am familiar with as an American. But does everyone in France have a Chanel bag in their closet? What do French ladies really carry day to day? I did some digging and found the handbag brands French women actually wear – and they are more understated than you might think.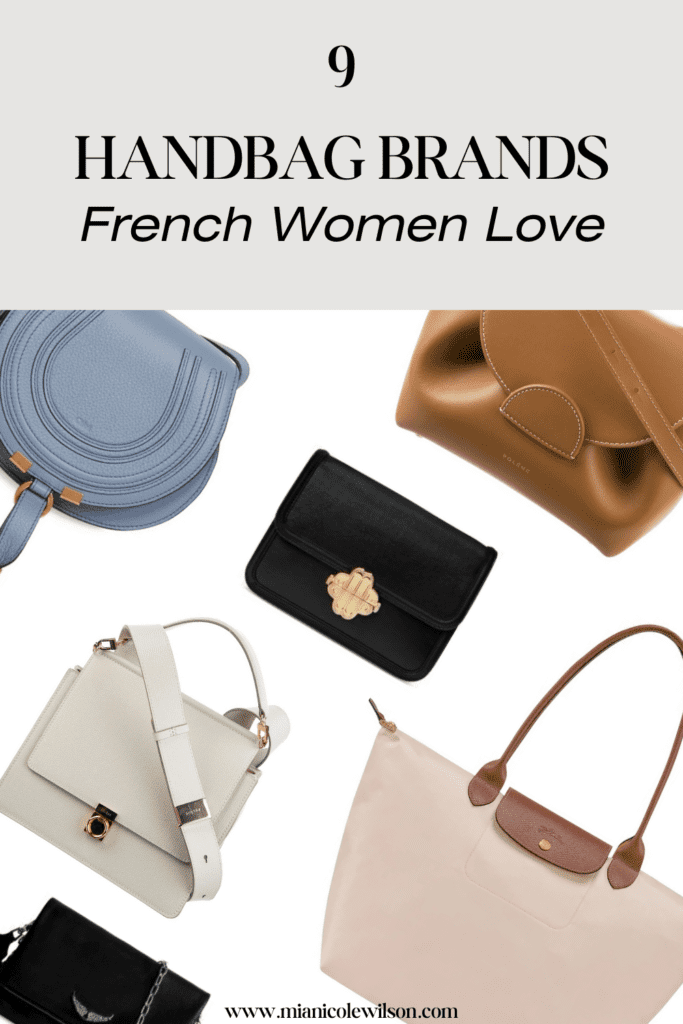 Disclosure: This blog post contains affiliate links.
9 Handbag Brands French Women Love
It has been said that French women prefer less flashy, less logo-covered bags. They opt for pieces in neutral colors and quality leather that will stand the test of time. You will no doubt see lots of canvas reusable totes as well in the streets or at markets since France has banned the use of single-use plastic bags for certain items.
It's also important to note that the average household disposable income in France is less than in the US. So, they may be looking for more budget-friendly but still high-quality purses.
Let's jump into 7 lesser known French handbag brands you'll commonly see in France.

Polène is a relatively new brand that started in 2016 and has quickly risen in popularity in France. This brand is known for very sculptural bags with top-quality leather in neutral color palettes and sleek hardware.
Longchamp

This classic French brand dates back to 1948 and their Le Pliage Tote is a staple for many! This standout bag is lightweight and foldable, making it a go-to for students, moms, or anyone who has a lot to carry. With its durability and good looks you will want to take it along with you everywhere. I have a Longchamp tote and absolutely love the durability of the canvas. It is wonderful having an easy-to-take-of-care mom bag that holds a ton and that can be thrown around in my car without me having to worry about it.
Maje

Here we see more fun colors and experimental styles. This TikTok notes how this bag is all over the streets of Paris. The "Clover" clutch looks similar to Celine's signature "Triomphe" bag but for waaaay less.
Sézane

Sézane is a lovely brand that carries all the basics you need to nail the effortless French girl look. Reach for these affordable bags in fun wicker styles, like the Mini Farrow Bag. The Romeo Messenger Bag is another option that will coordinate with everything you have in your closet.
A.P.C.

Similar to Polène, these beautiful A.P.C. bags come in classic silhouettes and neutral colors, but with a few pops of pastel hues here and there. Americans, you can find these bags in Bloomingdales!
Soeur

Soeur bags are lovely, timeless bags in classic silhouettes. You won't find crazy colors or styles – the chestnut, black, and olive hues help you narrow down what to choose from. The price points are also affordable especially for the quality of bags you get!
Zadig & Voltaire

This brand is said to be seen everywhere in Paris!
Chloé

Going into more high-priced brands, we can't forget about Chloe. Opt for the less logo-covered totes and go for the feminine classics like the woven raffia totes and Marcie saddle bag styles. I personally love that they have blue hues like Shady Cobalt and Shady Blue.
Céline

For a chic dinner out, don't forget your Triomphe crossbody!
Which French girl-approved handbag are you choosing?
If you want more French girl style content, be sure to check out these blog posts:
Best, Mia