French ladies are well known for their natural and effortlessly beautiful look. Fresh skin and a simple pop of color on the lip are what quickly comes to mind. But in order to it pull off, you have to start with a flawless canvas. Here are the most popular French skincare brands to try that will bring out your inner French girl!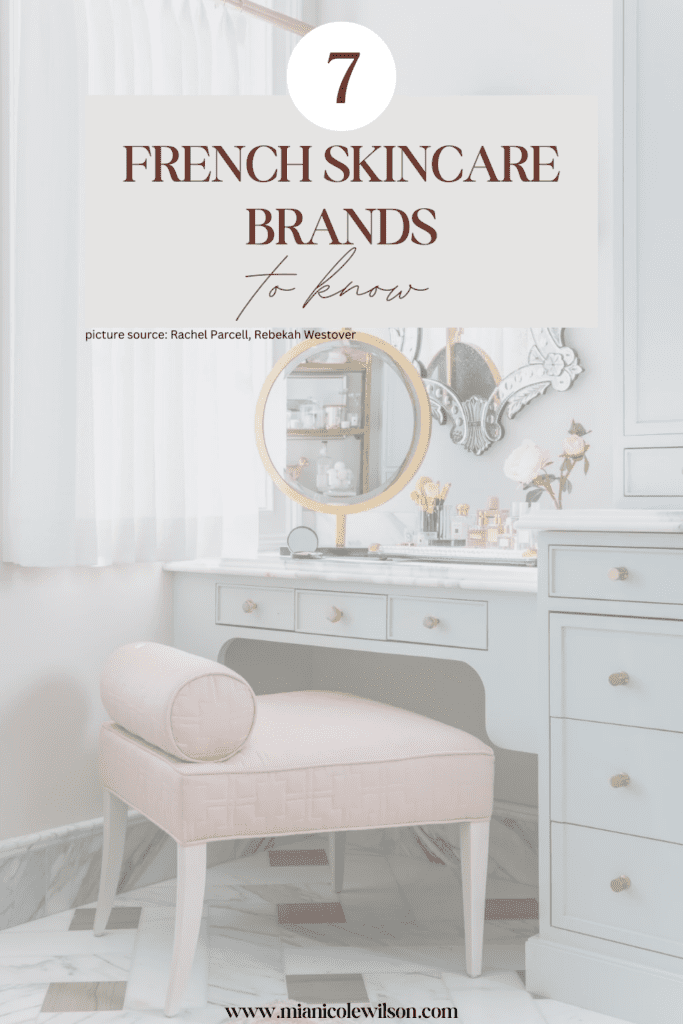 Disclosure: This blog post contains affiliate links.
The Best French Skincare Brands
Here are top notch French skincare brands whose products you need to add to your skincare routine ASAP! If you are planning a trip to Paris soon, don't forget to stock up on these brands at Citypharma. They are much cheaper there than in the United States!

I am starting this list off with LRP! This dermatologist-backed skincare brand smartly tackles all your skin concerns. From acne to aging, their products are so effective, while being affordable! One of my favorite products from them is the Tinted Mineral Sunscreen. The Cicaplast Baume 50 is also something I have to have on hand in my nightstand or in the car for my dry skin. It moisturizes so well and and feels like no other lotion on the skin. You can use it on everyone too – even to help diaper rash in babies!

Not only do Avène products work so well, but they also look sleek and beautiful on your bathroom counter! You've got to try the Thermal Spring Water which is a key part of the Avène routine. This is shown to calm and soothe the skin. Americans can find it at Ulta now!

Vinoperfect Serum is pricey but really gets rid of dark spots to brighten up the complexion. The clean ingredients are worth the higher price.

This oil is a must for use all over the body. It is pretty affordable for the amount you get and has multipurpose use. It smells great, and can even be used to calm a stressful day just by breathing in the scent. This made-in-France formula is more of a dry oil, which means it is absorbed into the skin and hair without feeling greasy afterward.

While a little bit more expensive, this is another brand that is worth it just by looks alone! Try the Velvet Cleansing Milk to remove makeup without tugging and pulling on the skin.

Embryolisse's Lait Crème Concentré has been around since the 1950s, and has been a bestseller for just as long!

The Micellar Water is so good!
Miscellaneous Skincare
Homeoplasmine

This product has a funny name, but is a serious multitasker! Keep a tube of Homeoplasmine on hand for chapped lips and noses in the winter, to moisturize and tame eyebrows while adding sheen, heal acne, and to use as a primer before makeup!
Biafine

Biafine is a serious moisturizer and helps create the perfect environment to facilitate healing.
Want more French Girl content? Check out these blog posts:
Best, Mia