Queen Letizia of Spain has impressed the world many times over the years with her beauty and fashion sense! The Barbie-core pink suit she wore to King Charles III's coronation recently caught my eye and got me digging deeper into the Spanish Queen's best outfit moments. If you are obsessed with Kate Middleton's wardrobe, here is another royal to be absolutely captivated by!
Let's jump into some of the most gorgeous casual and formal looks the Queen has worn. After you gather inspiration from these outfits, learn how to dress in Queen Letizia's style in this blog post!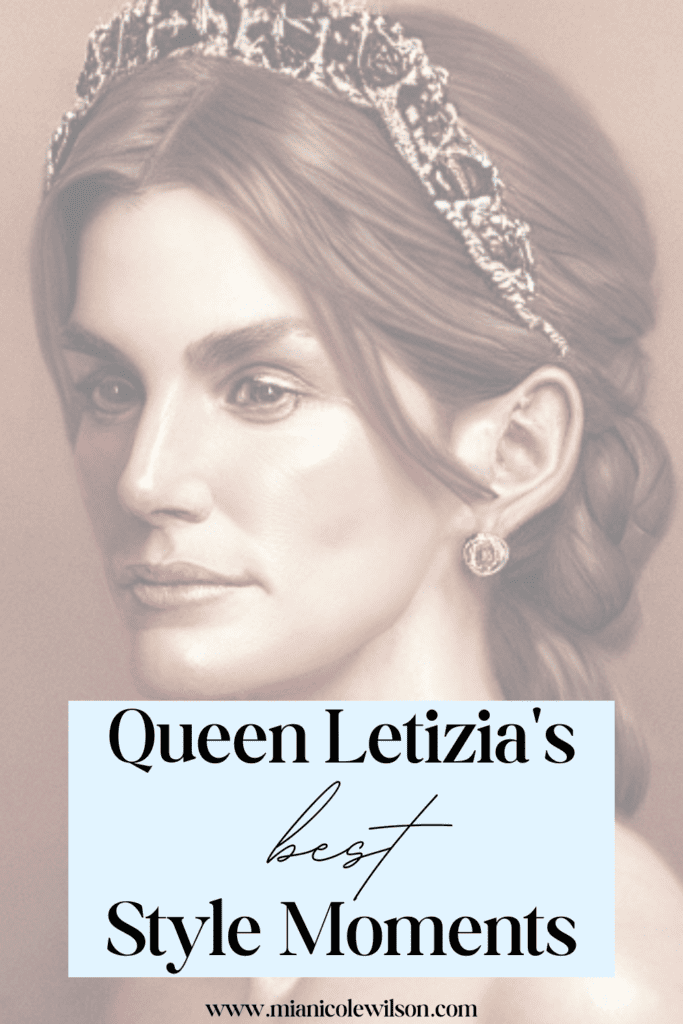 All The Times Queen Letizia Stunned Us With Her Fashion Sense
Embed from Getty Images
We will start off with the espadrille style of shoe that we see Queen wear constantly when it comes to casual outfits! It's a no-brainer that she chooses this style, as the espadrille style originated in Spain. The shoes are a definite complement for the beachy and feminine dresses she often wears on laid back days.
Embed from Getty Images
Did you know that her wedding dress cost around 8 million dollars?! She has gone down in history as having the most expensive wedding dress of all time. It is said that the gold embroidery was one of the reasons that made it so pricey. Talk about iconic! The long train, high collar, and relatively simple design makes this dress by royal couturier Manuel Pertegaz look like it could fit in any time period. Truly timeless.
Embed from Getty Images
The pink espadrilles with this look blew me away!
Embed from Getty Images
She looks ever the princess in this look from back in 2004. The Old Hollywood hair and sultry makeup makes this outfit an instant classic. How stunning does her figure look here? The bolero style cover up beautifully highlights her shoulders and collarbones. Maybe this picture was the inspiration for the cropped shrug/coverup trend we are seeing now?
Embed from Getty Images
As mentioned earlier, I saw Queen Letizia rock this look at King Charles' recent coronation and thought she looked amazing! The head-to-toe Barbie pink Carolina Herrera suit dress and Scala clutch really made her stand out at the event, and in my opinion really showcased her keen fashion sense. She gives off all the classic 50's glam vibes when she dresses up.
Embed from Getty Images
No caption needed!
Embed from Getty Images
Go grab a pair of espadrille flats and a straw bag for summer if you don't already have these classic staples! Queen Letizia demonstrates how these must-have items complete a casual look.
Embed from Getty Images
She rocks sling backs so well! I'm in love with this chic all-black look and full skirt that looks so feminine.
Embed from Getty Images
Are Queens even allowed to wear spaghetti straps?! I can't get over all the rocks (and muscles!) on display here… even with a mask on, I'm blown away by how chic she looks!
Embed from Getty Images
The embroidery detail on this dress is stunning! Her natural but still dramatic makeup look is always on point too. Timeless beauty!
Embed from Getty Images
I feel like this dress has a bit of a flamenco vibe to it in silhouette and pattern.
Embed from Getty Images
While not a outfit, I had to point out this absolutely beautiful Disney Princess hair she is rocking!
Embed from Getty Images
Again, we have a power outfit in all coordinating colors. I love how confident she is in whatever she wears.
Embed from Getty Images
This fun prairie collar top she wore was reported on by British tabloids who claim she uses Princess Diana as fashion inspiration. Whether that is true or not, I love how the collar adds a pop to an otherwise all black and inconspicuous look.
Embed from Getty Images
Here we see Queen Letizia rocking her much-loved espadrilles with a suit! This is such a go-to summer look for anyone needing office outfit inspiration. The linen fabrication pairs well with the espadrilles for something out of the box.
Embed from Getty Images
This pastel pink 60s-inspired coat dress is totally unexpected as she doesn't usually wear florals! Nevertheless, she looks absolutely radiant in this look.
Embed from Getty Images
I'm kinda loving the matching going on here, even down to the shoes! She signals a new era for Queens and all women – they aren't just sitting back in a pretty dress! She's here to work!
Want more of Queen Letizia's style and content? Check out these blog posts:
Best, Mia