Recently, another trend popularized by TikTok has sprung up: the Vanilla Girl Aesthetic. Are you interested in learning more about this aesthetic, and how to apply it to your own life? Then let's jump into this Vanilla Girl Guide!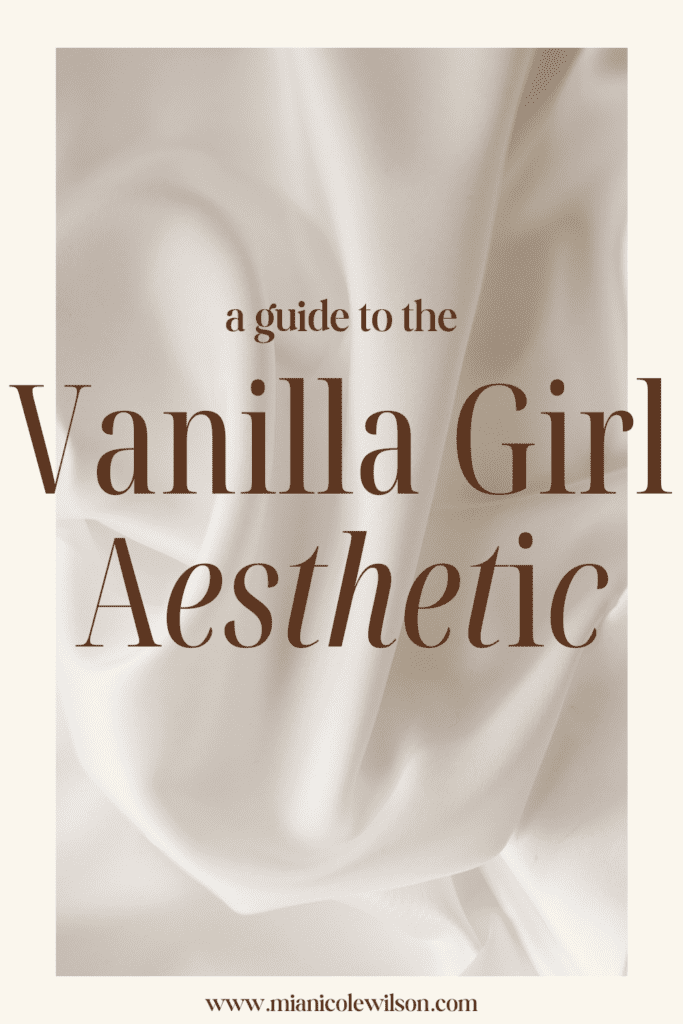 Disclosure: This blog post contains affiliate links, which means I make a small commission on a purchase without an additional cost to you if you buy something through the link.
What Is The Vanilla Girl Aesthetic?
The vanilla girl aesthetic, or style, is characterized by a minimalist and feminine approach to fashion, beauty, and lifestyle choices. The term "vanilla" is used to describe this aesthetic because it evokes a sense of simplicity, purity, and sweetness.
Vanilla Girl Fashion
Vanilla girl fashion refers to a style of dressing that is often characterized by its simplicity and femininity. It typically involves a soft color palette, delicate fabrics, and understated silhouettes. Think of flowy sundresses, pastel tops, and light-wash jeans. Accessories are typically kept minimal, with dainty jewelry and neutral-toned handbags being popular choices. This fashion trend is often associated with a sweet and innocent aesthetic, emphasizing a natural and effortless beauty. Whether it's a casual day out or a special occasion, vanilla girl fashion is all about embracing a soft and romantic look that is both timeless and elegant.

Vanilla Girl Aesthetic Beauty
This aesthetic embraces a natural and effortless beauty look, with a focus on glowing skin, soft makeup, and subtle hairstyles. When it comes to achieving the perfect vanilla girl aesthetic makeup look, there are several brands that are known for their high-quality products. Some popular options include Glossier, Milk Makeup, ILIA, Summer Fridays, gisou, OUAI, Chanel, Charlotte Tilbury & philosophy – just to name a few. Glossier is beloved for its minimalistic approach to makeup, offering sheer and dewy products that enhance your natural beauty. Milk Makeup is known for its innovative formulas and edgy packaging, perfect for those looking to add a bit of attitude to their aesthetic. These brands are all worth considering when curating your makeup collection to achieve that dreamy, soft, and feminine look.

Vanilla Girl Lifestyle
What exactly should a Vanilla Girl's life be like? The vanilla girl lifestyle is often associated with embracing the simple pleasures of life, such as enjoying a cozy cup of tea, reading a good book, or taking peaceful walks in nature. It also emphasizes the importance of self-care, mindfulness, and cultivating a positive and uplifting environment. The vanilla girl aesthetic has gained popularity due to its timeless and elegant appeal, as well as its ability to capture a sense of tranquility.

So, now that you have the basic rundown of what exactly it takes to be a Vanilla Girl, here are some popular creators to follow and use as inspiration to perfect the Vanilla fashion, beauty, and lifestyle!
Looking for more aesthetic guides and inspiration? Check out these blog posts:
Best, Mia