Are you ready to take the plunge and break ground on your dream pool? If so, these stunning pool house plans are a must ot check out to complete your perfect outdoor space. These jaw dropping designs have all you need to spend a summer's day by the pool in comfort. Even if you aren't building, these plans are so fun to look at and imagine having it in your backyard.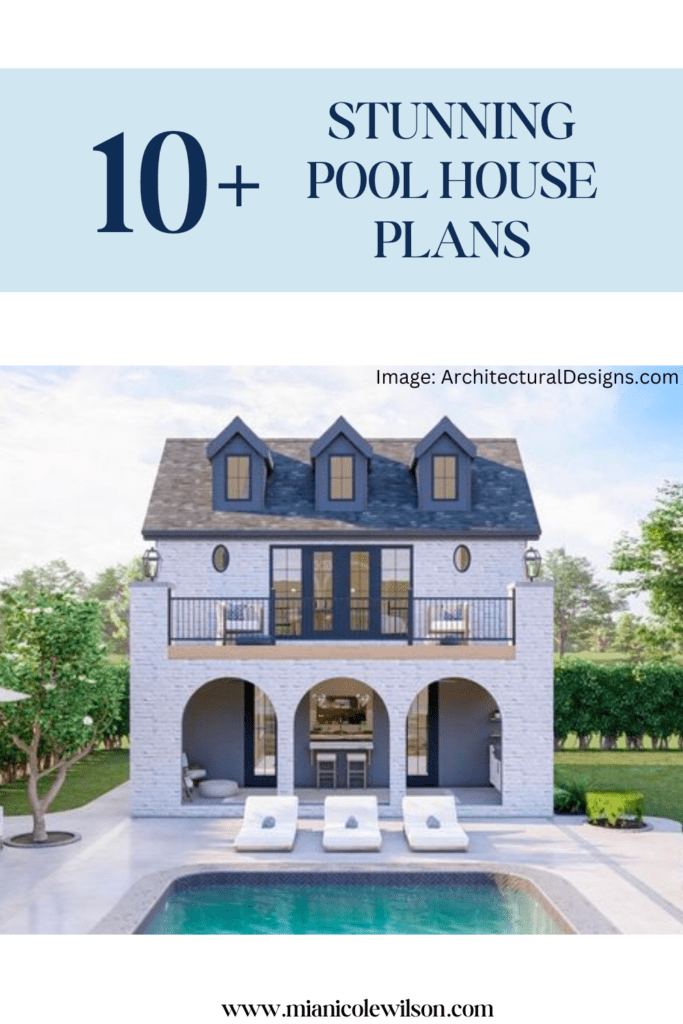 The Best Pool House Plans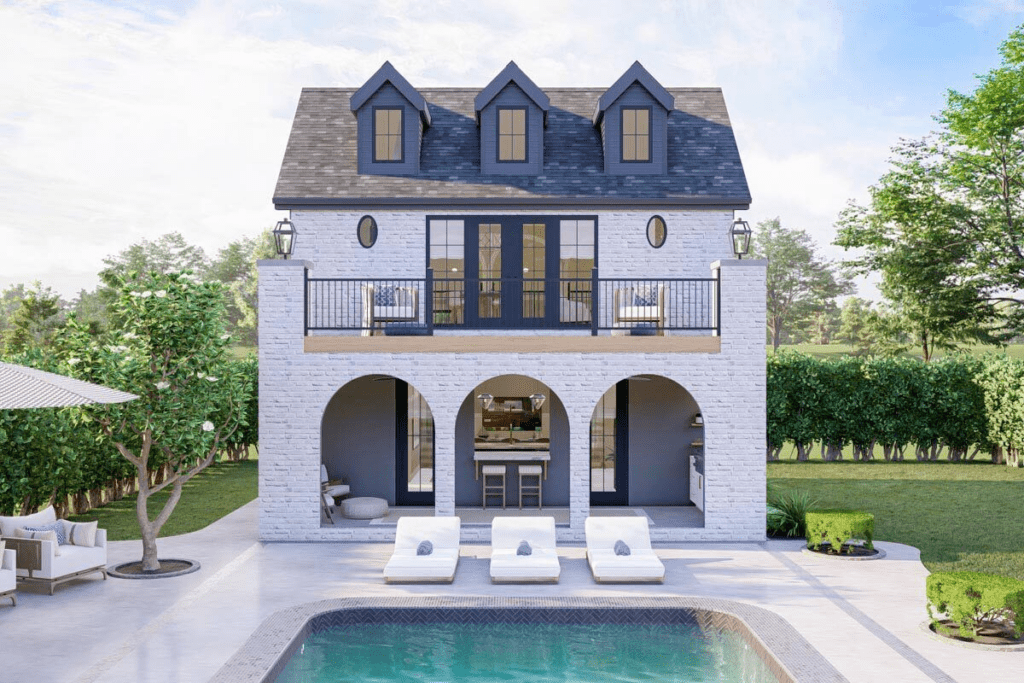 Honestly, I wouldn't mind living full time in this luxurious 803 square feet house plan! Invite all your friends and family for a day by the pool, and then relax with a movie at night in the spacious living area – complete with tall ceilings so you'll never feel cramped. The kitchen area boasts a walk-in pantry, bar top, and outdoor grill. Then, at night, wind down in the rec room with some cards and catch some z's in the built in bunk beds! There are two bathrooms in this plan, one downstairs and one up. Overall, this pool house plan is a 10/10. Not only is it amazing on the inside, the contemporary European cottage exterior is eye catching and so dreamy!
Farmhouse house plans are very popular right now, with a search volume of almost 1million queries per month on Pinterest! Snag this 542 square feet beautiful modern farmhouse pool house plan to go along with your new build farmhouse. It has just the right amount of space for hosting BBQs and cookouts over the summer, due to the large cathedral ceiling kitchen. It also boasts of a sliding window that opens up to be the snack bar. If people just don't want to leave, the murphy bed easily converts the space into a guest room. There is an awesome separate entrance into the shower area so no one gets the living area wet.
If you are into more of a modern look, you'll love this 319 square foot pool house plan! While smaller in size than the last two plans, it still has all the necessities and boasts and awesome outdoor fireplace set up.You have storage and changing rooms on one side of the fireplace, then the wet bar and bathrooms on the other. The garage door type window really helps everyone still feel connected!
This small but mighty pool house is jaw-dropping with its sleek modern farmhouse siding and pergola. The simple design works for the budget conscious. It houses the bathroom, and then features an outdoor shower on the side. There is still lots of room to lounge with friends under the pergola, and it is connected to the grilling area too!
Here is another stunner with a beautiful fireplace as the centerpiece! Make the space shine with a gorgeous chandelier hanging over the open lounge area. The symmetry and use of space in this pool house plan is phenomenal. A grilling area and sink are built into the left of the lounge but tucked away so it isn't noticeable from the front. Then, the right room is a spacious bathroom to change in. This pool house plan is technically a square foot smaller than the last one, but you'd never guess!
If you're into more of a modern contemporary design, you'll enjoy the exterior of this pool plan. The open-concept kitchen + living area is another plus of choosing this option!
Don't need a kitchen in your pool house? This plan is for you then! It boasts just an open and airy indoor living area, with a full bath as well. The attached pergola design makes it possible to lounge under for a bit of shade on hot days, and you can attach a fun porch swing for an even cooler outdoor space! Attach string lights as pictured, or grow a climbing plant on it for eye appeal.
If you want to keep things simple and sweet, this pool floor plan gives you the necessities with a fun-sized kitchen and half bath. The outdoor shower keeps wet swimsuits and the like outside.
This coastal-themed pool house really stands out! Keep things even more bright and sunny inside with the skylight window on the roof that is open below. Make the inside feel like outside with the glass sliding barn doors, and enjoy your snacks at the wet bar. A great feature of this pool house plan is the side entry door at the back that takes you directly to the bathroom.
This floor plan is beyond cool! Keep the grilling outside, then head to the covered living area at night to retire and watch a movie.
Want more house plan inspiration? Check out these blog posts:
Best, Mia