If you are looking for some Easter Basket Ideas for Toddlers that aren't just all candy, look no further! Here are some creative ideas to gift to your little ones this spring season. I've broken it down by categories for girls, boys, and baby.
Disclosure: This blog post contains affiliate links, which means I make a small commission on a purchase without an additional cost to you if you buy something through the link.
Easter Basket Ideas for Toddler Girls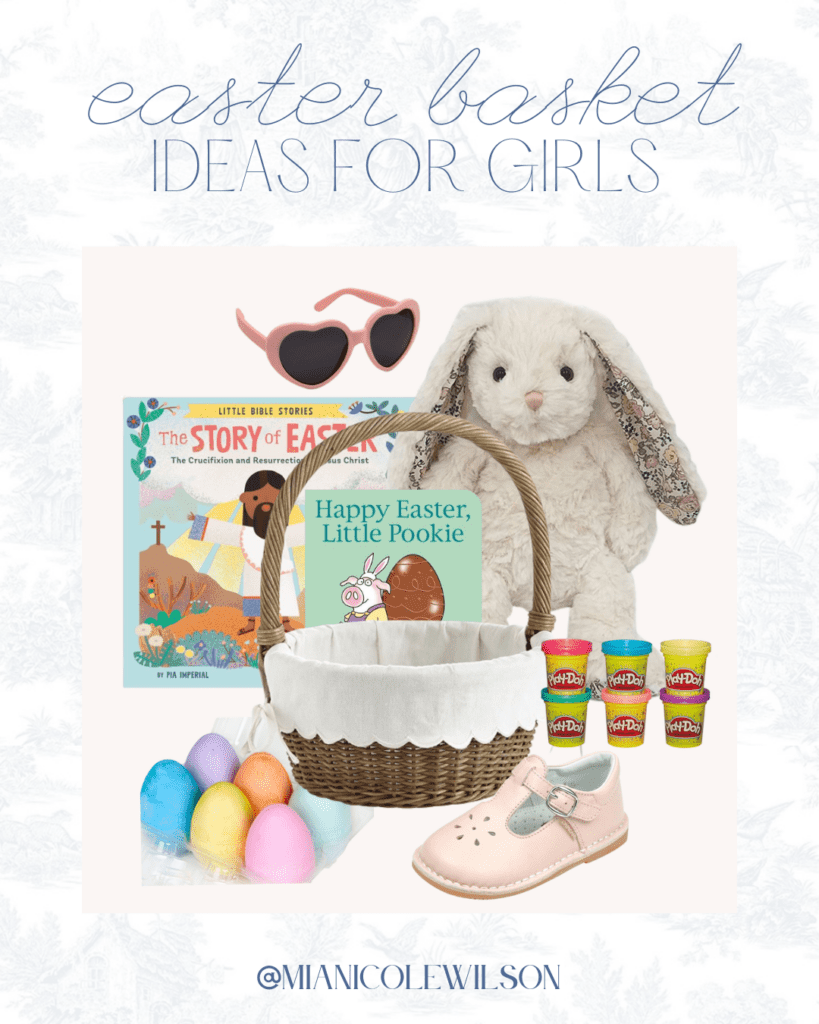 Easter baskets are so fun to put together, and you don't have to go over the top with gifts! Sometimes, smaller trinkets are more exciting for kids. Here are some toddler girls gift ideas for Easter.
Easter Board Books
Here are religious books to read to your children about the story of Easter, as well as classic characters celebrating the holiday.

Easter Themed Chalk
How fun are these chalk options? A simple toy is made so much better in different shapes.

Stuffed Animals
What little girl wouldn't want a cuddly stuffed animal in their Easter basket? Here are some adorable options to gift.

Easter Shoes & Accessories
All the shoe options listed are in perfect colors for springtime and into summer. A big bow and fun earrings will delight your toddler girl!

Easter Themed Crafts
Craft-themed gifts are so great as they delight kids and also keep them busy! Here are a few things for them to decorate in celebration of Easter.

Easter Basket Ideas for Boys
Moving on to toddler boys! Here are some ideas to add to their baskets.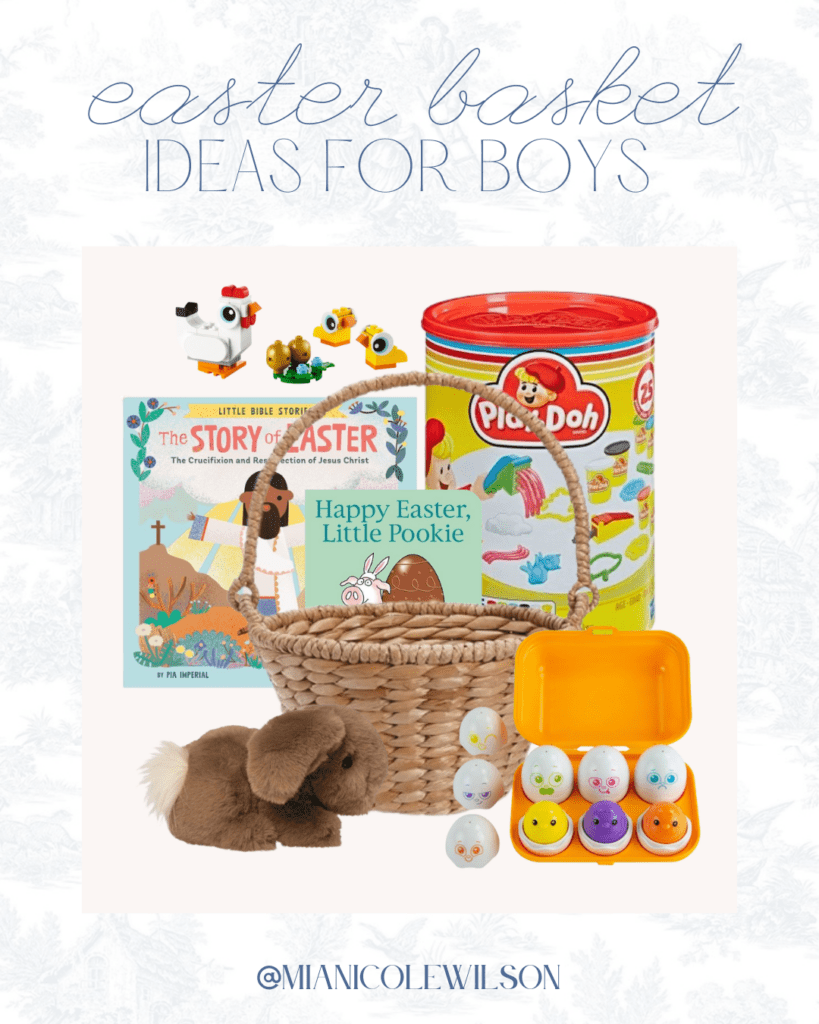 Easter Books

Easter Chalk

Easter Crafts

Easter Stuffed Animals

Easter Basket Ideas for Baby
Don't forget an Easter Basket for the littlest one in the family! Here are some cute Easter basket ideas for a baby, with unisex options.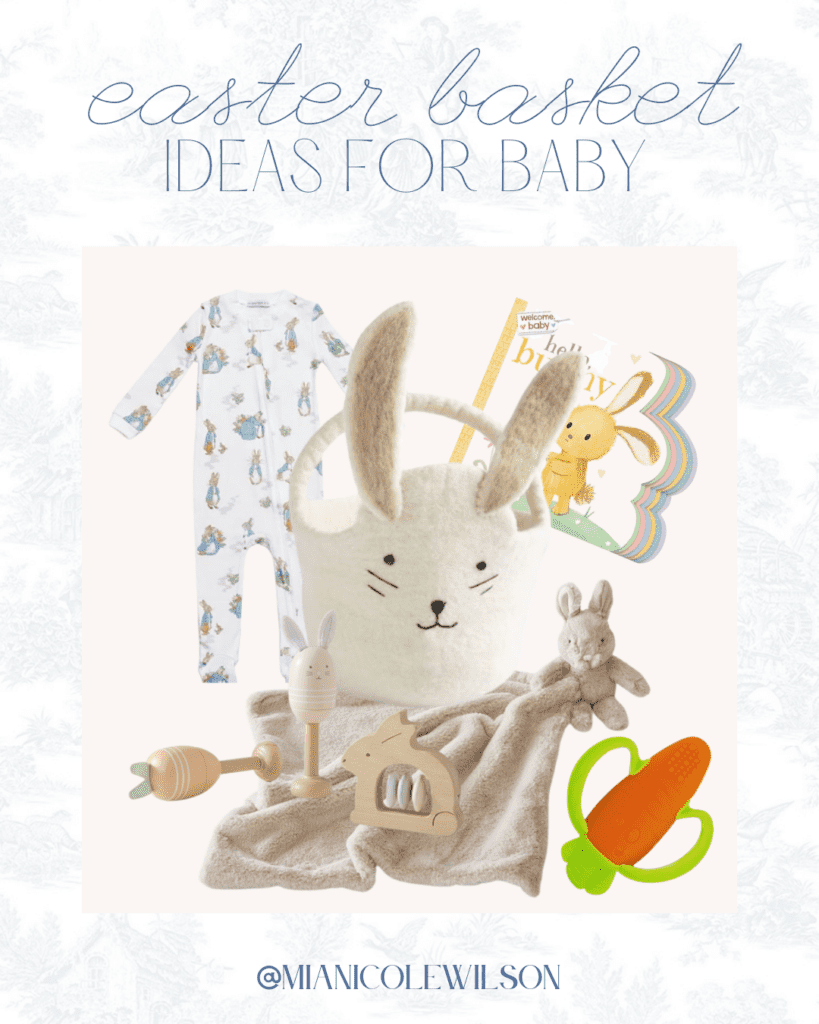 Easter Themed Clothes

Easter Board Books

Easter Baby Toys

The Best Pottery Barn Easter Baskets
Pottery Barn sells a lot of high-quality Easter Baskets that will last all throughout the childhood years! These are heirloom worthy and can be personalized by embroidering a name on the front. They also sell the liners if you are just wanting that!

How To Make An Easter Basket
Grab the items you chose from above and put down a layer of Easter grass high enough so it is visible from the outside of the basket.
Start with the bigger taller things, like board books and have them be the "background" of the basket. Then set the little things in from of it, layered so everything is visible! It is also really fun to sprinkle some grass around the basket, or have the basket sitting on the grass too.
Of course, you can't finish an Easter basket assortment without a few pieces of chocolate! Lindt makes really cute mini chocolate bunnies that are just perfect for little ones. Or, Cadbury eggs look darling sprinkled around the basket as well!
Best, Mia