If you are into skincare at all, it's been hammered into your brain that you need to be wearing sunscreen. There are a lot of different face sunscreen options, but it is La Roche Posay Tinted Sunscreen that has stood out to me the most over the years!
Specifically, I adore the Anthelios MINERAL TINTED SUNSCREEN FOR FACE SPF 50. It is an everyday staple and sunscreen holy grail product I need in my skincare routine.
Anthelios Tinted Sunscreen:
What Is Anthelios? It is La Roche Posay's name for their advanced broad spectrum sunscreens. According to their site:
La Roche-Posay offers a unique line of sunscreens suitable for sensitive skin. Anthelios sunscreen contains the exclusive Cell-Ox Shield® technology: broad spectrum UVA/UVB protection plus antioxidants to protect skin from free radicals. Explore face sunscreen, body sunscreen, mineral sunscreen, sunscreen primer, and more. Experience allergy-tested, non-comedogenic, comfortable sun protection.

-La Roche Posay
Using a tinted sunscreen is such a staple in my skincare routine. In the La Roche Posay sunscreen, the color is perfect for my olive skin tone. I usually can't tolerate any kind of pink/warm hued foundation.
The color coverage is very sheer but enough to help me look tan and healthy. It can cover up my PIE scars a bit better too. Overall, it helps me look way more put together on days that I don't want a lot of makeup, but still need to protect my skin.
La Roche-Posay Sunscreen
Here is what it looks like:

The bottle is sleek and I like the cap packaging, which just twists off. The narrow, rectangular design of the sunscreen makes it super easy to hold when shaking up the sunscreen.
I like the tinted version of this sunscreen vs. the non-tinted, but as I said it definitely needs to be shaken first to make sure the pigment is evenly distributed through the sunscreen.
It is so easy to apply every day. There is nothing better than just applying this one sunscreen vs. applying a white cast sunscreen and then applying foundation as well to even things out.
The sunscreen pours out easily and it is very fluid. It's almost like a thin consistency foundation, and a little goes a long way.
I use about this much every morning.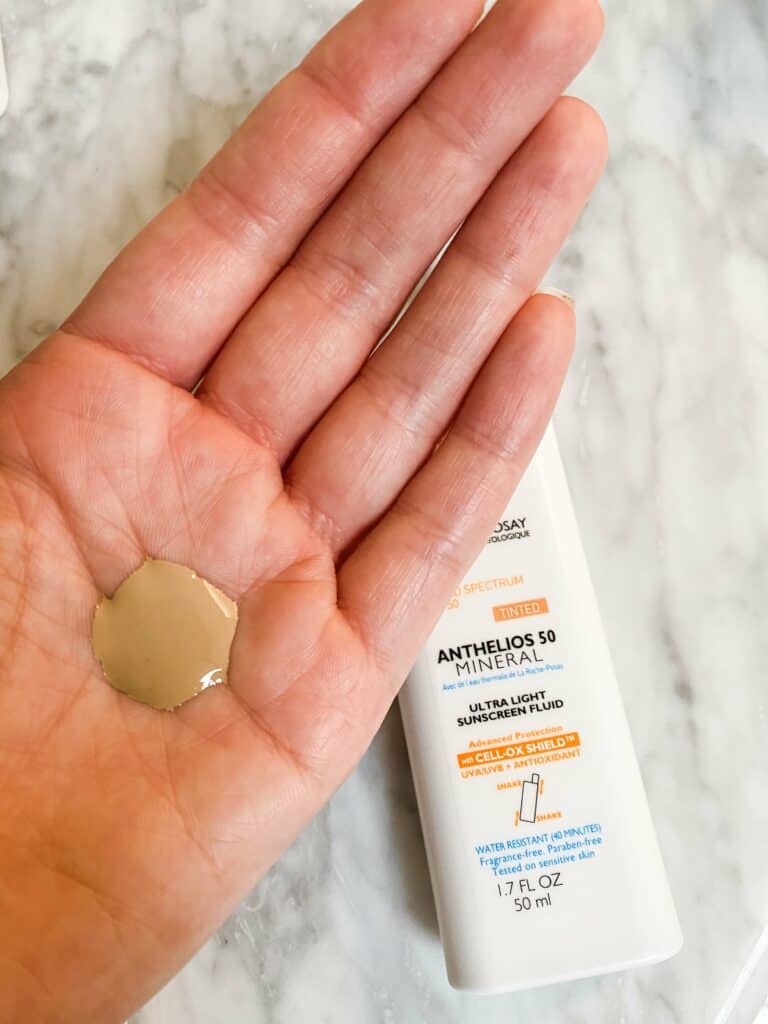 I find that the La Roche Posay Mineral Sunscreen is easy to rub in and dries to feel less oily. But, if I do apply too much my face can start to look shiny.
This is no bother to me because I usually apply actual foundation or powder over it to help.
Still, if you are just wearing the sunscreen it absorbs in nicely.
This sunscreen has an SPF of 50.
La Roche Posay Ingredients
I love that the Anthelios MINERAL TINTED SUNSCREEN uses mineral (physical) sunscreens. In my personal preference, I feel it is better than chemical sunscreens. I will explain why I believe that further on.
The major mineral sunscreen (active ingredient) in this La Roche Posay sunscreen option is Titanium Dioxide (11%). Typically in the past, mineral sunscreens were given a bad rap for the fact that it leaves a white cast on the face.
Nowadays, many mineral sunscreens have been formulated to blend in easier, or like this sunscreen, are tinted.
I like mineral sunscreens for two reasons: once put on, they go to work right away. With chemical sunscreens, you need to wait at least 15 minutes for them to be absorbed and to work.
The second reason is that the mineral sunscreens are not shown to be toxic to our bodies. Here are some examples of chemical sunscreens, and why the EWG finds them troublesome.
oxybenzone, homosalate and octocrylene. (Click)
This La Roche-Posay has a lot of mineral sunscreen options, and chemical as well which I haven't used.
La Roche Posay Mineral Suncreen Cost
As for the cost, the La Roche Posay Mineral Sunscreen is a drugstore option that feels very high end. This French skincare brand is affordable, with middle of the line prices on most items, and some less.
This sunscreen typically retails for around $33-$36.
I've found it cheapest at Target.
Where To Buy La Roche-Posay Sunscreen
Stores that carry La Roche Posay tinted sunscreen are:
Ulta, Target, Walmart (online), Walgreens.
Best La Roche Posay Sunscreens
La Roche Posay has lots of mineral sunscreens to try, shown here:

Why Sunscreen Is Important
You should be wearing sunscreen, even on cloudy days! Click for this article explaining why it is so necessary:
To sum it up below:
1.It Protects Your Skin from UV Rays

2.It Lowers Your Skin Cancer Risk

3.It Prevents Premature Aging of the Skin

4.It Helps Maintain an Even Skin Tone

5. If you have red hair, Your Chances of Skin Cancer are Higher

–EHE Health
As I've said above, if you are into skincare you should know how important it is to wear sunscreen. You expose new skin when using skincare actives and they become more susceptible to the sun. Unless you protect your skin when doing skincare, you can actually be causing yourself to age faster!
How To Apply Sunscreen
Check out this article from Verywell Health for a step-by-step guide to effectively apply sunscreen. Remember, you will need at least a shot glass or more of sunscreen to cover your body.
https://www.verywellhealth.com/apply-sunscreen-1069526
How Often to Apply Sunscreen
To thoroughly protect your skin, make sure you reapply sunscreen every two hours. Often, the natural oils of the skin can make sunscreen slide around. In the summer, sweating can also take away the effectiveness of sunscreen.
Anytime you will be outside or swimming, make sure you reapply sunscreen. You can even be sitting by windows inside and still need to wear sunscreen!
Also protect your skin with wide brimmed hats, protective clothing, and staying in the shade.
I hope that this helps you! I believe that if you try out La Roche Posay tinted sunscreen you will not be disappointed! Add it into your skincare routine today.
Best, Mia
This content is for informational purposes only, and what has worked for me personally based on my own opinions. I am not a professional/medical doctor, and you should always consult your doctor or dermatologist on what will work best for you. The information presented here is not legitimate, official advice from a professional. If you choose to rely on any information from this blog, you do so at your own risk. Please refer to the "Blog Disclaimer" tab in the menu bar to read more information and the official disclaimer statement.