Space Cowboy is the secret weapon you need in your beauty routine! This eyeshadow from Urban Decay is in a light champagne gold hue with a silver sparkle that looks absolutely stunning. TikTok has brought this shade back into the spotlight and everyone wants it! Just like Clinique Black Honey, this shade is often sold out. It also costs $22, which in my opinion, is a lot for a single eyeshadow! Thankfully, here are 7 of the best Urban Decay Space Cowboy dupes that look just as pretty and are affordable too.
Wet-look eyeshadows are all the rage right now – which is why this Urban Decay glossy shadow has gone viral on TikTok!
The original eyeshadow is a light champagne gold with silver sparkles and will cost you $22 for the single pan eyeshadow. Here are all the dupes that will get you the same look for less.

Disclosure: This blog post contains affiliate links, which means I make a small commission on a purchase without an additional cost to you if you buy something through the link.
I am putting this Urban Decay Space Cowboy dupe #1 on my list due to its similarity and affordability! ColourPop has a line with Target currently, and the Super Shock Shadow in Ritz is a nearly identical dupe! While the color in the pan looks to be a bit darker gold, it layers on nicely with a glittery finish that gives a wet look just like UD. This is only because it has a super pigmented formulation, which is a good thing! Combine that with the blendable, lightweight texture that ColourPop is know for and the fact that there is no fallout – it's a winner!

Last, this Ritz single eyeshadow pan is 0.074 of an oz vs. the 0.06 oz of Space Cowboy so you get more product for less! Much less in fact – this Ritz Space Cowboy dupe is only $6 vs the original $22.
This creamy white shimmer is a close second and has the coolest "bouncy" or spongey texture to it. The silky feel blends out wonderfully. Ulta's Buttercream color is in a similar champagne/beige hue to UD's shadow, and with glitter. Buttercream has buildable coverage so you can layer it on as much as you like.

The 0.06 of an oz is the same amount you get with Space Cowboy, but the cost comes in at only $9.
This eyeshadow has a metallic finish – so think more of a "chunky sequin glitter" effect vs a more uniform shimmer. The color is similar to the gold of Space Cowboy. Sephora's Twinkle Twinkle is also known to be an UD Space Cowboy shadow dupe in a glitter finish that still gives the wet look that you are trying to recreate.

The only downside is that you get way less of the shadow – 0.042 oz for $9. So, less product than ColourPop for a few dollars more. Reviews of this eyeshadow also mention that it frequently arrives broken when shipped, so try to get it in the store!
If you are able to find this shadow in your local Ulta, grab it! It is another similar dupe to Space Cowboy, but this time in ColourPop's own line. The multidimensional silver glitter will look perfect layered over shadow or on its own. Instead of a golden undertone, this shadow has a more ivory hue. This shadow is $7 at Ulta, and you get more product (0.074 oz) for your money.

This Sephora Eyeshadow in the Shimmer Finish Glazed Donut hue gives you a similar look to Space Cowboy! This hue is a bit more peachy pink though, and the finish particles are more of a shimmer vs. a glitter look. Still, it gives the "wet look" that Space Cowboy is known for, just with a slightly different shade if you prefer that. At the $9 price tag, you can try out this shade without worrying about the price!

I was shocked to see this fun highlighter is available at Walmart for only $10! While not exactly an eyeshadow packaging looks similar to Space Cowboy's. You will want the "Silver" shade which mimics the silver flecks of glitter in the Urban Decay shadow.

Kiki Milano Metallic Obsession Eyeshadow – Gold In The Air
The texture of this Kiko Milano eyeshadow is silky and light with shimmering golden flecks. Also, the feel of the eyeshadow is a sensory experience! This shadow is a bit harder to find being more of a European brand. Some products are available at Ulta, but I didn't see the single-pan eyeshadows available! Concerning price per the pan, it comes in around $13 for 0.05 oz amount of product.

Space Cowboy gives a wet look eyeshadow look. These Urban Decay Space Cowboy dupes are all wet look powder eyeshadow options to get the vibe without sticky, messy lids. People used to do this trick by using Vaseline on their powder eyeshadow. This is how to make your eyeshadow look wet! It's easy to do this Gen Z eyeshadow trend with these affordable drug store wet look eyeshadows. Thanks for reading!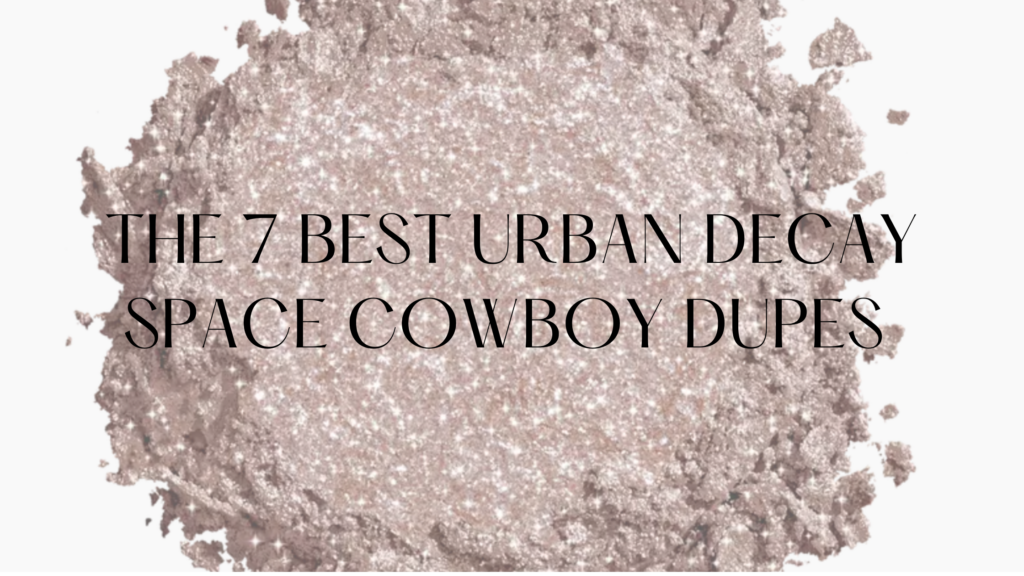 Best, Mia