How do you know if you have PIH (dark spots) on your face? If you do determine you have them, how do you get rid of PIH? In this guide, find out the best and most affordable PIH skincare solutions to get you flawless skin.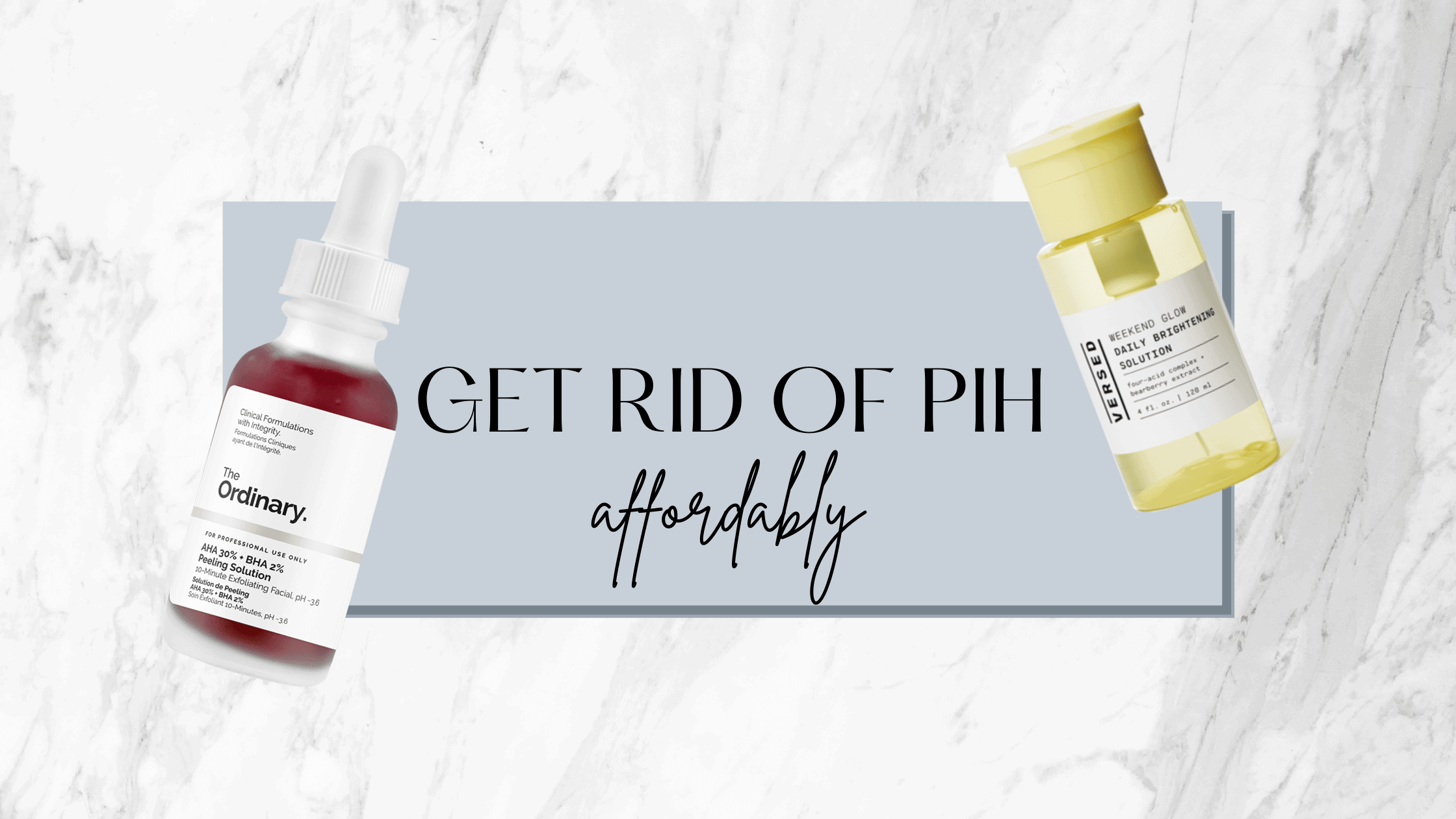 Disclosure: This blog post contains affiliate links, which means I make a small commission on a purchase without an additional cost to you if you buy something through the link.
What Does PIH Stand For Skin?
Here is what PIH stands for in terms of skincare:
Post Inflammatory Hyperpigmentation
PIH (Post Inflammatory Hyperpigmentation) are dark spots that you may notice on your skin. They typically occur after acne in people with darker skintones.
If you have a lighter skin tone and notice red marks after acne, you might be dealing with PIE (Post Inflammatory Erythema) instead. I have affordable options to get rid of PIE here:
Read More: How To Get Rid Of PIE Scars: [Affordable Solutions]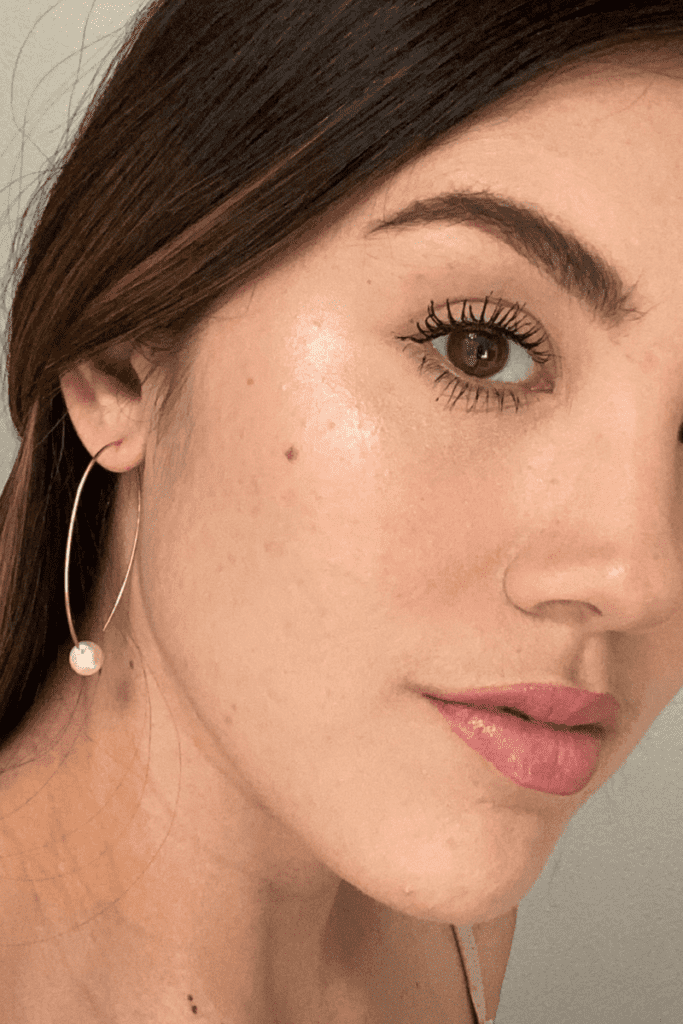 Acne Scars
According to NCBI, "Postinflammatory hyperpigmentation (PIH) is an acquired hypermelanosis occurring after cutaneous inflammation or injury…". 1 Hypermelanosis: disorder of melanin pigmentation resulting in increased melanin in the epidermis (melanoderma), in which case the coloration is brown.
Examples of PIH causing inflammation are acne vulgaris, atopic dermatitis, and impetigo. So, why do these skin concerns cause dark spots? This happens because mediators released cause overproduction of melanin or an irregular dispersion of pigment after cutaneous inflammation.
How To Get Rid Of PIH
When combatting PIH, the best types of products to choose typically consist of topical depigmenting agents. (Which makes sense right?) You'll need skincare that works to remove the excess melanin or pigment of PIH dark spots. A very important point to remember as well – SUNSCREEN!
Obviously, the melanin in skin helps guard against the sun's UV rays. If you are trying to get rid of excess melanin, let sunscreen work to protect your skin instead. This will prevent the dark spots from getting worse. If you use any skincare, sunscreen is vital to prevent further damage to your skin no matter what skin concern you have.
Here are the names of skincare ingredients that work to get rid of PIH:
hydroquinone
azelaic acid
kojic acid
arbutin
certain licorice extracts
retinoids
ascorbic acid (vitamin c)
niacinamide
Best Products For PIH
If you want to fade PIH fast, consider these tried and true options. They are also affordable, and accessible for everyone. Learn here how to treat PIH on the face.
PIH Skincare

If you have read any other articles I've written about acne scars, PIE scars, or how to get a glowy complexion – you'll know that I always recommend The Ordinary Peeling Solution. It is such a versatile product that packs a big punch. It is affordable and over time can reveal the smooth, blemish-free baby skin you desire. Dark spots can definitely be brightened by using this product twice a week.
Please heed the instructions and use this product no more than 2x a week. If you have sensitive skin, you might need to ease into it as well.
As with any of the products mentioned today, don't forget to wear sunscreen daily to protect the skin. I recommend favorites below!

As mentioned above, azelaic acid and kojic acid are power players in getting rid of hyperpigmentation. This Versed Weekend Glow Daily Brightening Solution combines these two ingredients! It also has lactic and glycolic acid included which all together brighten up the skin tone and any spots.
While this sounds like a lot of acids, the formulation doesn't have an uncomfortable tingling sensation to it. It can be used on many skintypes such as dull, aging, and problematic.
Use this after cleansing morning and night to work on whittling down those dark spots.

To be honest, when I first used this product I didn't see what the hype was for niacinamide. But how wrong I was … I only gave it a few weeks before counting it out. In reality, when you stick with this product you can totally tell a difference.
I had to eat my words when I noticed how smooth, clear, and less oily my skin looked after consistent use over a month or two. What is the biggest bonus though, is that niacinamide works to get rid of PIH by inhibiting the pigment-producing enzymes in the skin. This multi-tasker is a home run!
The Ordinary Niacinamide 10% + Zinc 1% is a great option to affordably get rid of dark spots.

Incorporating Vitamin C into your routine is smart if you have dark spots. Not only does it work to help regenerate the skin and brighten any hyperpigmentation you have, it also prevents further sun damage too with its protective antioxidants. This Mad Hippie Vitamin C Serum is currently in my skincare routine.
This is a great option if you are pregnant and have dark spots! Vitamin C on its own is safe option to use if you are pregnant or nursing.

If you are wanting another multitasking serum to combat dark spots, try the Urban Skin Rx Even Tone Super Glow Serum. It combines Vitamin C and Kojic Acid to take the glow a step further than just the Vitamin C serum mentioned above.
Sunscreen For PIH Skincare Routine
So, if you are dealing with dark spots, the items mentioned above can definitely help. But don't make the mistake of not protecting your skin too! Sunscreen is crucial to protect the fresh skin revealed after using these serums.
Even if you don't use any type of active, sunscreen on its own is essential. It will help guard your skin against any more sun damage or hyperpigmentation.
Here are some options to use everyday, and are a must in your PIH skincare routine:

Professional Options To Get Rid Of PIH
Although this article focuses on affordable solutions to get rid of PIH, I have to mention professional options too. While they are more expensive, they will typically work faster to get you clear skin.
Chemical Peels
According to this website, using a Salicylic Acid peel is shown to be very effective in getting rid of PIH, especially on darker skin tones. If done wrong, many types of chemical peels can cause PIH, so this is why it is important to consult your dermatologist on what will work best for you. This is also why I don't recommend at-home chemical peel kits that you can get on Amazon. It is best to let a professional handle this!
Laser Therapy
Typically, laser therapy is recommended in those who have not found success with topical products or chemical peels.
Pulsed dye lasers, fractional lasers, and IPL lasers are some of the options that might be suggested to help. Again, it is always important to see a dermatologist as different skin tones and skin types will react differently to each. A professional will help you find the perfect fit.
Once you have decided on which will work for you, the success rate of lasers is very high and many are pleased with the results.
I hope you enjoyed this guide!
Best, Mia
Citations:
Davis, Erica C, and Valerie D Callender. "Postinflammatory hyperpigmentation: a review of the epidemiology, clinical features, and treatment options in skin of color." The Journal of clinical and aesthetic dermatology vol. 3,7 (2010): 20-31.
This content is for informational purposes only, and what has worked for me personally based on my own opinions. I am not a professional/medical doctor, and you should always consult your doctor or dermatologist on what will work best for you. The information presented here is not legitimate, official advice from a professional. If you choose to rely on any information from this blog, you do so at your own risk. Please refer to the "Blog Disclaimer" tab in the menu bar to read more information and the official disclaimer statement.