Are you curious about the benefits of adding rosehip oil to your skincare routine? This post will show you why it's so worth the hype and how it transforms your skin. You do not want to miss out on using rosehip oil for face! I also share the best rosehip oils to use at every price point.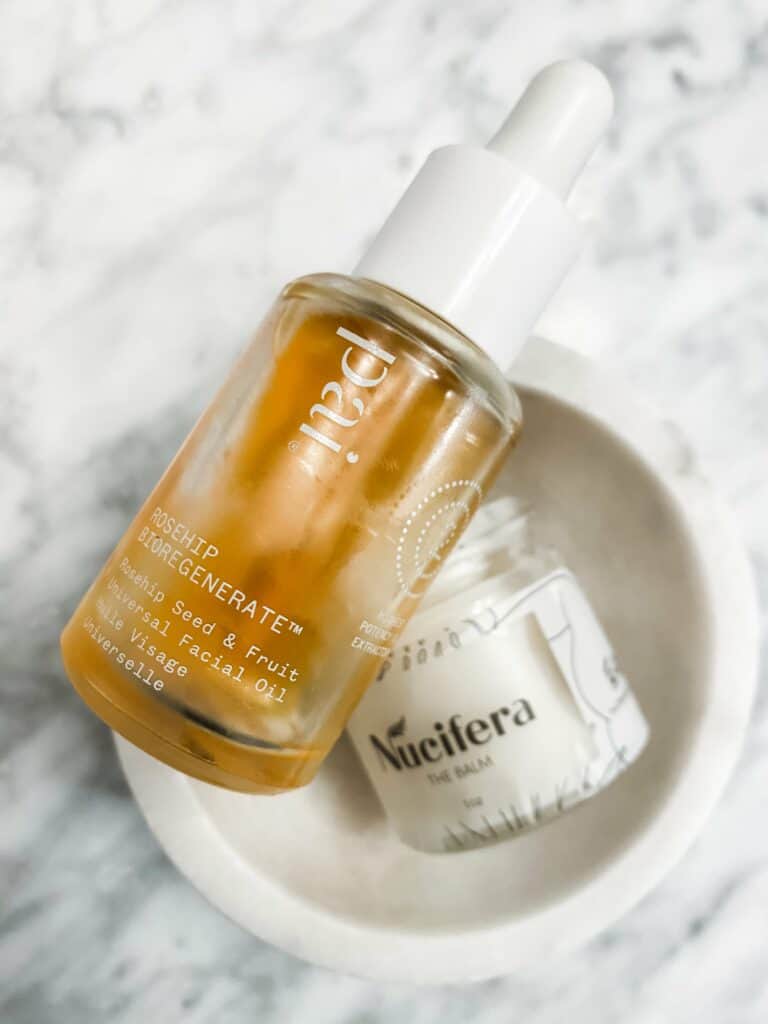 Disclosure: This blog post contains affiliate links, which means I make a small commission on a purchase without an additional cost to you if you buy something through the link.
Rosehip Oil For Skin
If you are like me you're probably thinking, not another item to add to the rotation! I didn't think that using rosehip oil for the face would do anything major. Yet from my experience, adding rosehip oil has been a game changer! Many products have promised to add a glow to my skin, but none have done it on the level rose hip oil has. Not to mention – my skin is so soft and clear when I use this product.
What really blew me away was that rosehip oil shrunk my pores and diminished blackheads on my nose. It worked better for me than glycolic acid/other chemical exfoliants!
So, let's dive into why rosehip oil is so good to include in a healthy skin routine.
Best Rosehip Oil For Face Benefits
What does rosehip oil do to your face? There are multiple reasons why rosehip oil is so beneficial to the skin:
1. It contains vitamins A and C. This helps the skin regenerate and turn over skin old cells. This helps give skin that lovely glow and gently works on imperfections to make the skin look flawless.
2. Rosehip oil "… has relatively high protection against inflammation and oxidative stress" due to its high concentration of antioxidants. This helps avoid future damage done by the sun to keep you skin looking young and fresh.
3. Linoleic oils make up the majority of essential fatty acids in rosehip oil. Linoleic oils are so important for the skin! They deeply moisturize, keeping the skin barrier strong. This hydrates the skin and brings relief to dry, itchy skin. Linoleic oil sinks in fast, and can help fight acne as well! (More on this below.)
Rosehip oil will definitely help you if you have any of these skin concerns (or a combination of these):
Rosehip Oil For Oily Skin
While it might seem counterintuitive, using rosehip oil for oily skin can actually help reduce oiliness. Due to the wrong skincare routine, environment, etc., oily skin is often actually very dry! When the skin is dry, it will try to correct it by overcompensating with increased oil production. Adding a quality moisturizer will help your skin find balance. As mentioned above, linoleic oils hydrate the skin and can help your skin straighten up. Applying rosehip oil to your damp face can really help lock in moisture. Don't fret – rosehip oil is a drier oil, so it sinks in and doesn't leave a greasy film.
Rosehip Oil For Acne
Does rosehip oil clog pores? If you suffer from zits, you may be wondering this. In reality, rosehip oil is a surprising solution to combat acne! Acne sufferers tend to lack linoleic oils on their skin. Having a deficit of linoleic oil in skin causes the sebum secreted to be extra sticky. This is one of the causes of acne! By specifically adding linoleic oils back in with rosehip oil, you'll help sebum be "slinky" and less likely to plug pores and turn into breakouts.
Rosehip Oil During Pregnancy
If you are pregnant and are needing to avoid harsh chemicals, using rosehip oil is a great option. Rosehip oil can fight acne, as mentioned above. You can add it to your routine to help you fake a pregnancy glow haha! Studies show it is safe to use during pregnancy.
In my experience, trying out the Pai Rosehip BioRegenerate Oil in my pregnancy skincare routine gave me the best skin ever! Instead of worrying about breakouts from pregnancy, the face oil helped clear my skin, kept it soft and glowy, and helped diminish old PIE scars. I was blown away!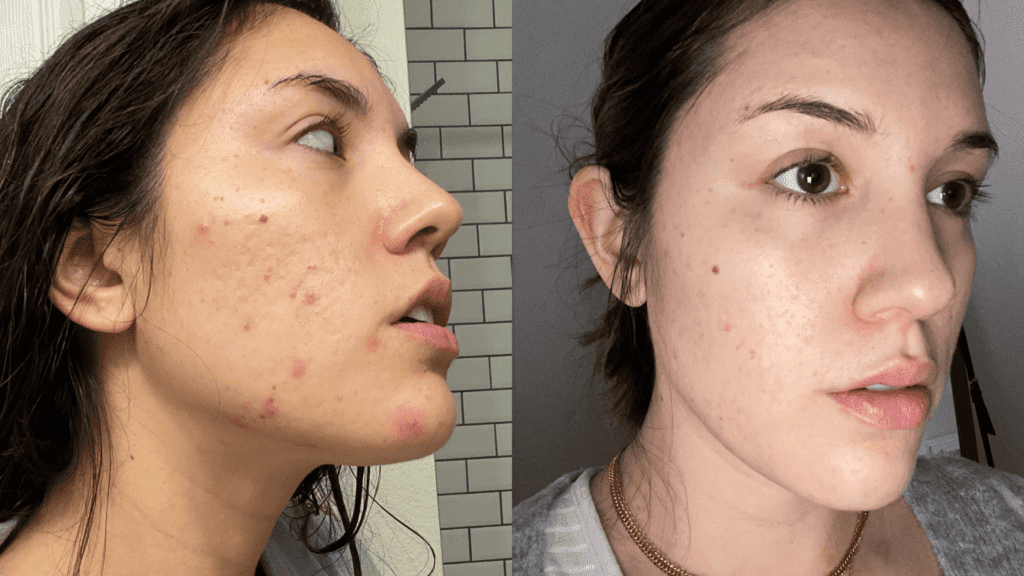 I also share my pregnancy skincare routine here if you are needing that!
(Don't forget – I'm not a professional and it's always best to check with your doctor before using skincare products when pregnant.)
Read More: How To Affordably Treat Pregnancy Acne: [3 Pregnancy and Acne Safe Solutions]
Best Rosehip Oil For Face
Here are some awesome rosehip oil options to choose from, at all different price points! You won't regret adding rosehip oil to your skincare routine.






How Do I Use Rosehip Oil On My Face?
Rosehip oil is so easy to incorporate into your routine. Start by using it right after cleansing and moisturizing. Make sure your face stays damp though! Apply 3-4 drops of the oil to your clean face, gently patting it in. Let it sink in for a few minutes. Your skin will benefit from using the oil on damp skin, as this will really lock in moisture. I use rosehip oil after vitamin c/retinol that has sunk into my skin already.
Do I Need Moisturizer After Rosehip Oil?
This might depend on personal preference. I started applying my CeraVe moisturizer first, and then layered rosehip oil on top of it. Since it is a drier oil, if I use rosehip oil before moisturizer, I feel like I need to apply moisturizer again on top of it. Just use rosehip oil as your last step to lock in everything.
Let me know how rosehip oil has saved your skin in the comments below!
Best, Mia
This content is for informational purposes only, and what has worked for me personally based on my own opinions. I am not a professional/medical doctor, and you should always consult your doctor or dermatologist on what will work best for you. The information presented here is not legitimate, official advice from a professional. If you choose to rely on any information from this blog, you do so at your own risk. Please refer to the "Blog Disclaimer" tab in the menu bar to read more information and the official disclaimer statement.