Disclosure: This blog post contains affiliate links, which means I make a small commission on a purchase without an additional cost to you if you buy something through the link.
Are you needing a quick way to bring damaged hair back to life? Then the L'Oreal Wonder Water is a must-try! Recently, I picked up L'Oréal Elvive Wonder Water at Target to try out. It promises to give you sleek, smooth hair in 8 seconds and seems easy enough to do! Read on for my honest review and what to expect from this product.
L'Oreal Elvive 8 Second Wonder Water Review
Here is my overall impression of the L'oreal Paris Wonder Water after using it continuously for a month:
Packaging

This product comes in a sleek bottle with a twist cap that opens by turning it. That feature makes it easy to use in the shower! The back has simple instructions on how to use this for your best hair. It has measurements on the side too, which comes in handy for knowing how much to apply. It is also around $10 at the store, so super affordable especially if you compare L'Oreal Wonder Water vs. Olaplex. You get silky hair for less!
If you are also interested in the best affordable Olaplex Dupes, check out this blog post! I Found Affordable Olaplex Dupes and WOW: 10 Alternatives
How Does 8 Second Wonder Water Work?
So how exactly does this treatment work to make hair shinier and silkier?
The Wonder Water contains moisturizers and amino acids that go to work on damaged areas of hair. They combine together on those damaged strands to create "lamellars" that smooth their surface out. This is the "lamellar technology" that they say leaves the hair super soft and healthy-looking. In using this rinse out treatment, you can also instantly detangle your hair!
Is LOreal Wonder Water good for colored hair? Yes, L'Oreal Wonder Water is safe for color-treated hair and all hair types!
How Do You Use Wonder Water?
It couldn't be easier to use! After shampooing, open the bottle then squeeze the product onto the ends of your hair.
You can use up to 1-3 "doses" on your hair at a time. A dose is 20 ml. The bottle has 20 ml increments labeled on the side so you know how much you've used. Just squeeze it out until you notice you've emptied enough to fulfill how many doses you need. If you have longer hair you might need 3 doses.
Massage the Wonder Water into hair for 8 seconds. The directions say that you will feel a warming sensation, which I do when I use it. It's nothing alarming or hot though. Once it's massaged in for 8 seconds you can rinse it out. I follow up with my conditioner to further help moisturize and strengthen my hair. This makes the end results even softer, too.
If you have long hair, consider using the L'Oreal Paris Elvive Dream Lengths Wonder Water instead!

How Often Should You Use L'Oreal Wonder Water?
According to the package, you can use this product 2-3 times per week on your hair.
My Results Using L'Oreal Wonder Water
Does Wonder Water really work? Absolutely! After dyeing my hair a lot it was looking coarse and frizzy. The water is supposed to "rinse out" these imperfections after applying it in the shower,
After air-drying my hair overnight, I wake up to very shiny, soft hair. My favorite part is that there is more movement and silkiness to my hair. Usually, feels so stiff and coarse – this is due to the split ends. Split ends are what cause tangles due to the microscopic split-off pieces of hair getting caught on each other.
By forming the lamellars mentioned above, my hair is detangled and silky. The overall volume of my hair is less – not in a bad way. But in that the strands don't look dry and lifeless. I could definitely tell a difference in how it felt. Plus, the results last a few days!
Combine the L'Oreal Wonder Water with a Mason Pearson brush to be in hair heaven! Learn why you need one of these brushes below.
Read More: Why Investing In A Mason Pearson Brush Makes Sense
L'Oreal Wonder Water Before And After
Here are my pictures of before and after using the product: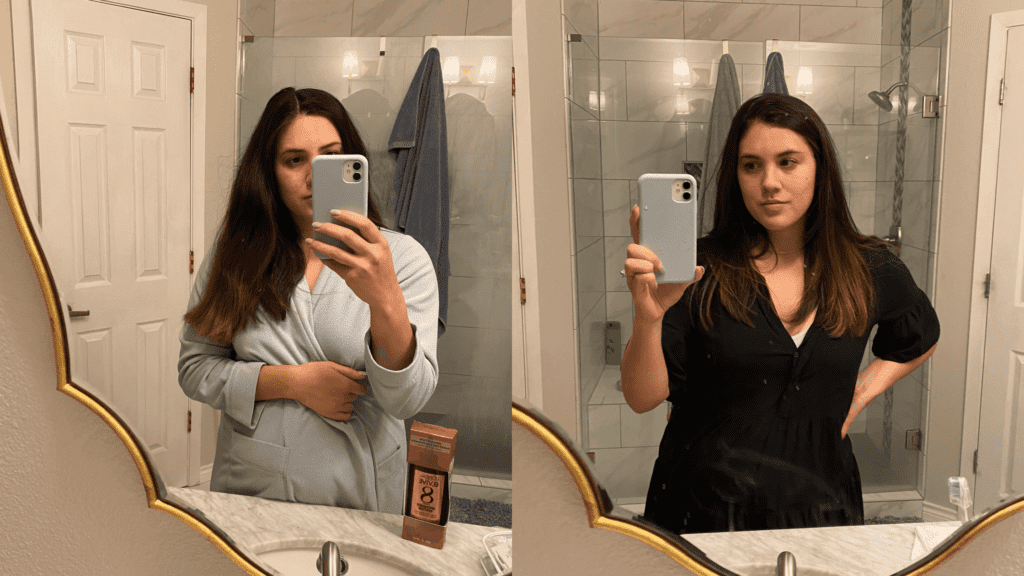 You won't regret trying this – and it is affordable at just $10. This Wonder Water is perfect to throw into your basket on your next shopping trip.
Best, Mia
This content is for informational purposes only, and what has worked for me personally based on my own opinions. I am not a professional/medical doctor, and you should always consult your doctor or dermatologist on what will work best for you. The information presented here is not legitimate, official advice from a professional. If you choose to rely on any information from this blog, you do so at your own risk. Please refer to the "Blog Disclaimer" tab in the menu bar to read more information and the official disclaimer statement.