When I was pregnant, using clean & organic skincare items was a big priority for me! When it comes to lip products, I was especially cautious since it goes on near the mouth. That is why clean Moroccan Magic lip balm is my everyday + pregnancy staple to have on hand for hydrated and smooth lips – without the scary ingredients.
Read on to learn about what sets Moroccan Magic apart from the rest of the lip balm crowd. Plus, I share my favorite Moroccan Magic lip balm routine that is great for pregnant ladies, busy moms, or anyone who loves clean beauty!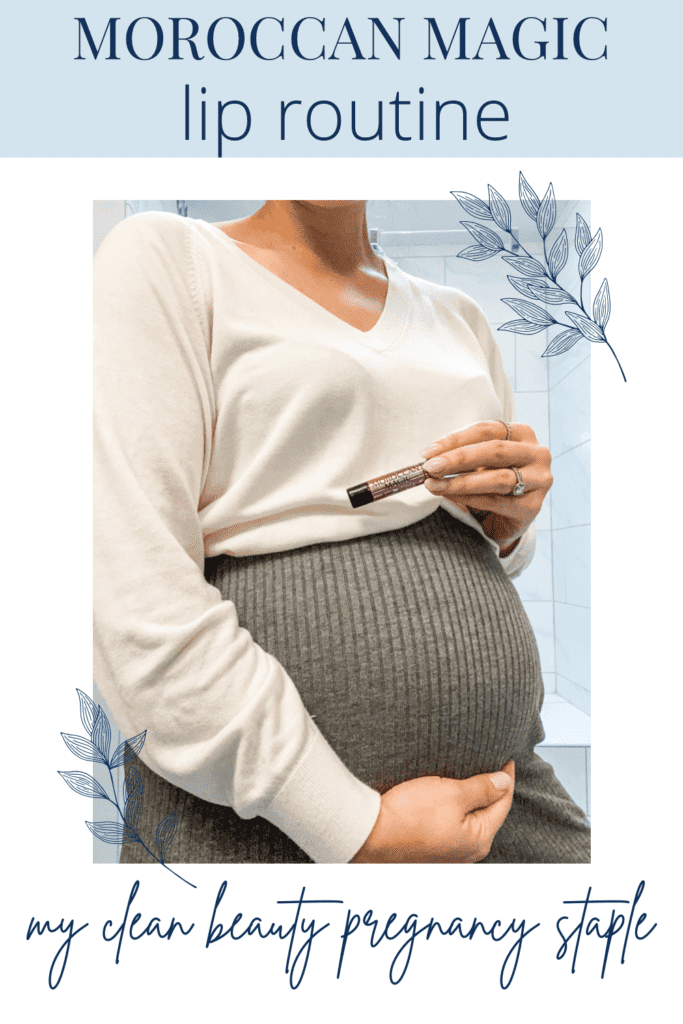 About Moroccan Magic
Moroccan Magic is an all around great company that creates products based on high standards. Here are some highlights about MM that stand out to me:
Certified USDA Organic Lip Care
Clean and Vegan Skincare
Cruelty-Free, Leaping Bunny Certified
American Made
Women Owned
They took over a year to develop their skincare line – I appreciate the dedication to making the best product they can for consumers!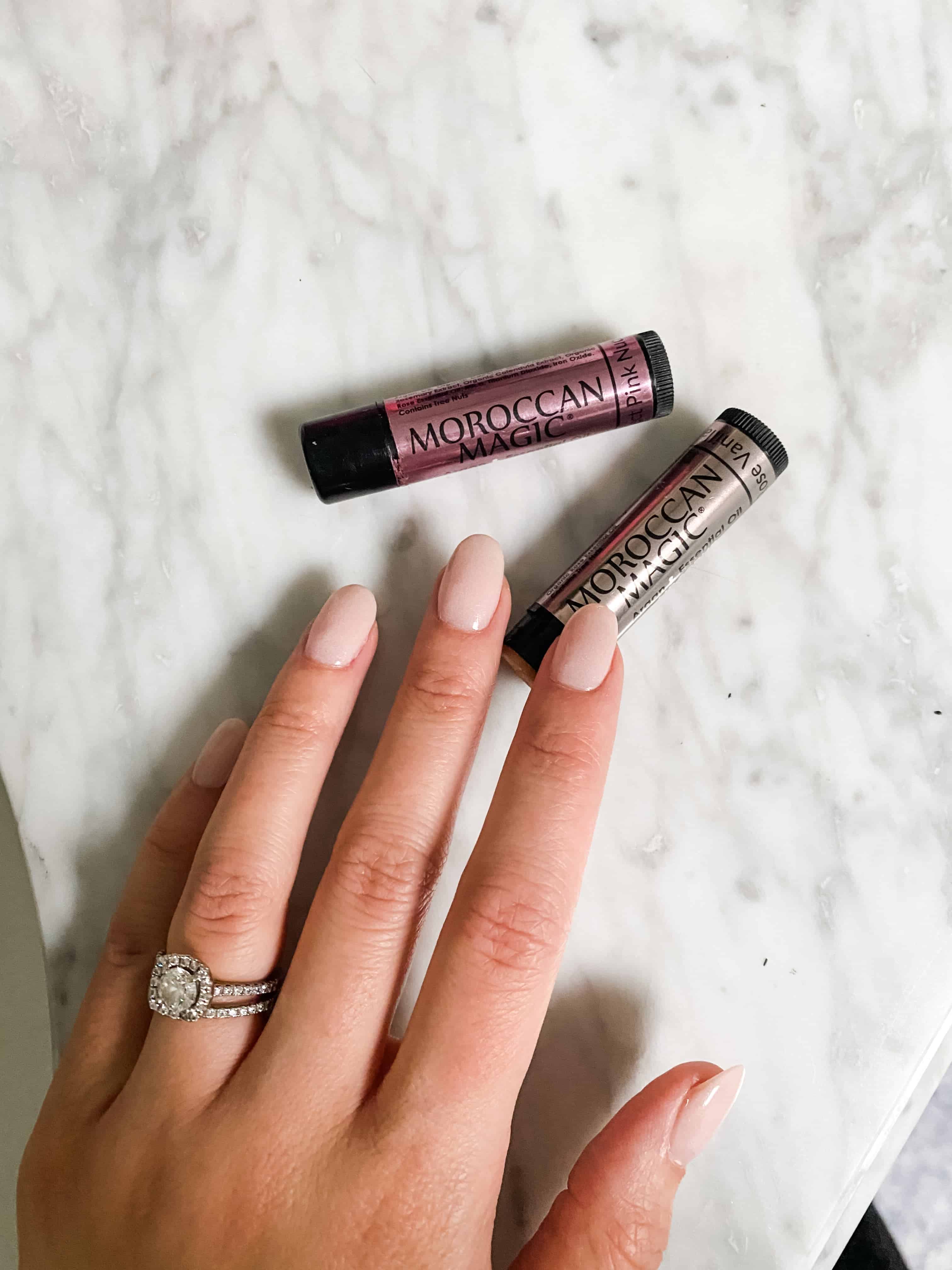 Moroccan Magic Lip Balm Ingredients
As mentioned above, making sure that I use products that are less toxic especially while pregnant is important to me! It's not only me though – many people are looking to make the switch to cleaner beauty products.
Moroccan Magic lip balm is an everyday staple for me because I feel better using their products with high-quality ingredients. It is actually estimated that we eat around 3.7 pounds of lip products in our lifetime! That is why I prefer Moroccan Magic's clean formulation – since I also have my baby's health to think of.
This are a sampling of the ingredients you'll find in Moroccan Magic Lip Balms:
Organic…
Argan Oil
Sunflower Oil
Coconut Oil
Essential Oils
All of these ingredients work together to give you buttery soft, smooth lips. They will stay hydrated for hours!
Moroccan Magic has also taken the steps to ban the same 1000+ harmful chemicals that the E.U. does.
Those chemicals are banned due to
" … their hazardous properties. These substances are classified as carcinogenic, mutagenic or toxic for reproduction."

-According to Moroccan Magic's Website
Where To Buy Moroccan Magic Lip Balm
You can find Moroccan Magic products in retail stores such as Walgreens, Bed Bath & Beyond, Wegmans, Stop & Shop, Walmart, Whole Foods Markets in NJ, NY & CT, Kinney Drugs, Newslink Airport stores, H.E.B., Ingles Markets, SuperValu, Harris Teeter OR Shop Small.
And of course, on https://www.moroccanmagicbeauty.com/ and Amazon!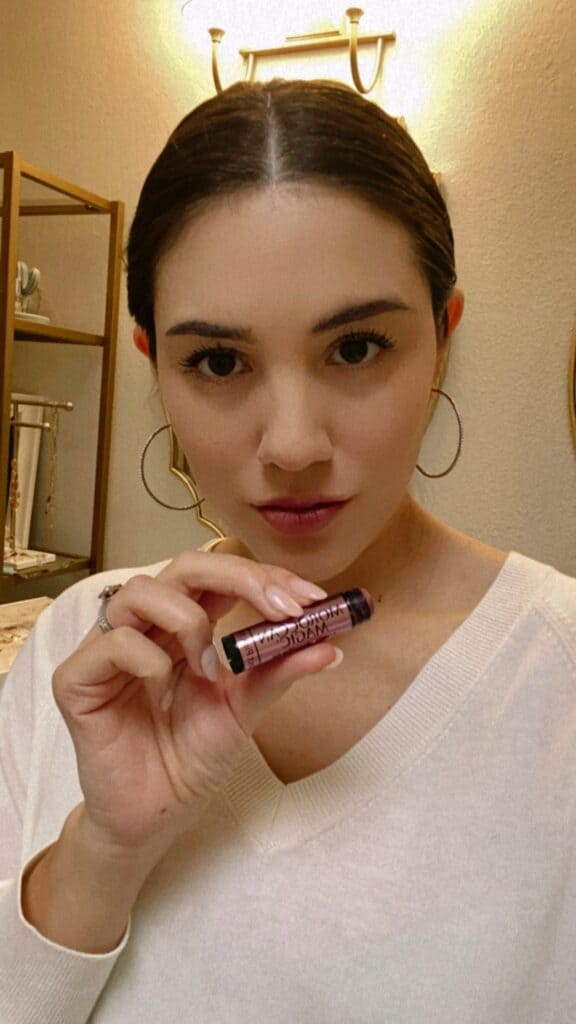 My Favorite Moroccan Magic Lip Routine
Now on to my favorite all time lip routine:

Rose Vanilla Lip Scrub
I love using the Rose Vanilla Lip Scrub on the days that my lips are a bit flaky. There is nothing like applying this after cleansing my face in the morning and brushing my teeth. I can start the day off with a clean and smooth canvas for other lip products to go on.
The rosehip seed powder provides the perfect gentle scrub to get lips smooth. Plus, the scrub in a tube form makes this great for traveling too!
Rose Lip Balm
Moroccan Magic's Rose Lip Balm is the second step in my lip routine, and I finish with the Perfect Pink Nude Tint I will mention below.
The formulation of this Moroccan Magic lip balm is super buttery and smooth. It feels like the nourishing oils just melt into your lips and create a lovely texture that is comfortable and hydrating. I always have this with me in my purse or pocket when I need to add another layer of moisture after eating or drinking.
Perfect Pink Nude Tint
Last is my holy grail lip item for every day. The Perfect Pink Nude Tint is my all time favorite item! For the days that I need to quickly run out the door to drop my son off at preschool, I just swipe this on after using the scrub and balm. Honestly, I can use the tint on its own as well as it is moisturizing. Usually, I have trouble with lip products really drying out my lips, but this doesn't at all!
Plus, sometimes it can be frustrating to go through the effort of putting on lip liner and lipstick for it to face away quickly (as it does for me). It is super easy to reapply this tint at any time of day and I don't have to worry about it bleeding, or being too precise with where it goes, unlike lip lipliner.
Perfect Pink Nude Tint adds a great blushy pink color to the lip that looks polished and elevated, but still so natural.
This quick and easy routine doesn't take much time at all. The best part is that all of these products are effective and clean so I can use them every day to look my best while being confident in using safe skincare.
I highly recommend you try this lovely lip tint!
If you are wanting to read more about the best skin and beauty products out there, check out my Product Review archives!
Best, Mia