Utah influencers are known for their very specific way of curling their hair – straight ends, anyone? People either hate it or love it. When it is done the right way, I don't see how anyone could think it doesn't look great! So what makes a Utah Girl hair curl special? Basically, it is a very beachy, loose curl but you have to make sure the bottom few inches are left completely straight. Don't bring the curling iron down to the ends!
I love the effortless look of it, so let's jump into the 3 different ways you can achieve the Utah Girl Hair vibe!
Disclosure: This blog post contains affiliate links, which means I make a small commission on a purchase without an additional cost to you if you buy something through the link.
How To Get The Utah Girl Hair Style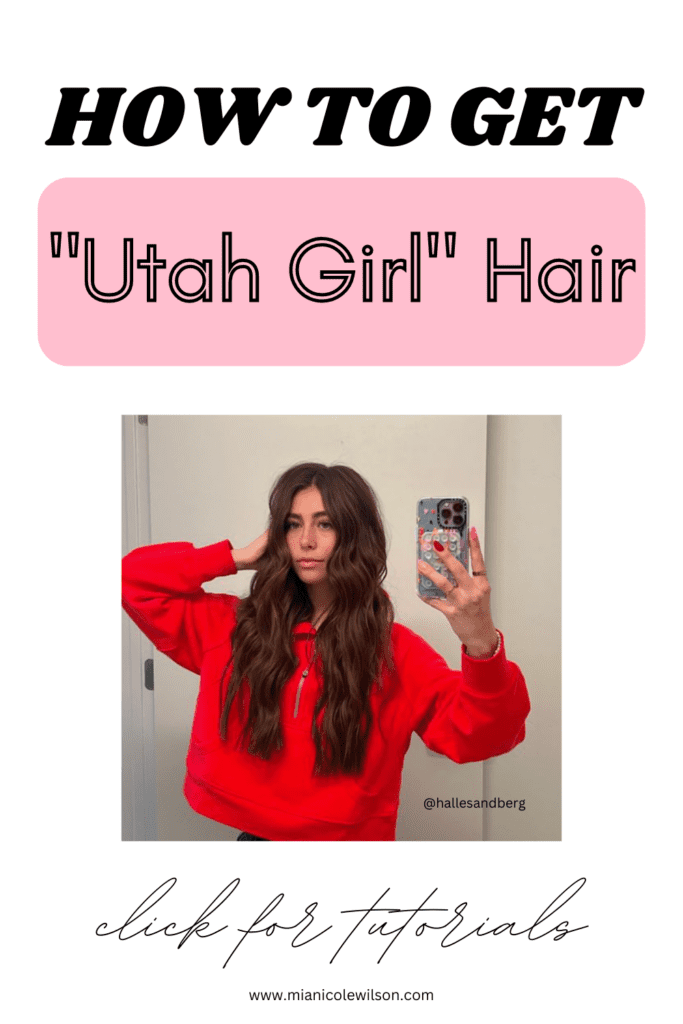 Curling Iron
Here is a very helpful tutorial I have found that works to get this style. The technique of unraveling the curl and pulling down on it gives more of a "loose zig-zag" type style vs. a Shirley Temple "bouncy corkscrew" curl. This is especially because you have to brush out the curl after. Hopefully, that makes sense!
If you have longer hair, this will probably be the easiest way to get the look. For girls with shorter hair, check out the next way to get Utah Curls.
Flat Iron
If you have short hair, this should be pretty easy to try using a flat iron. One bonus of doing the curl with a flat iron is that you can be sure the ends will end up straight. Emery Chipman is pretty much the creator of the Utah Girl hair style and style!
Want more TikTok creators' beauty and style routines? Check out these blog posts:
Beach Waver
The first two examples are what you would typically call "Utah Girl Hair". Recently, I am seeing a lot of Utah influencers move to these crimped waves, with less emphasis on the straight ends:
@hallesoswag is a great follow on TikTok! This creator shares daily GRWM routines, and little peeks into her life. It really feels like you are FaceTiming with a friend and sharing the day with her on her account! Recently, she has said that mermaid's hair is her new go-to. It is iconic on long hair – even Emery Chipman is doing this style more frequently since she has gotten extensions. I actually have the same beach waver as Halle that I got a few years ago. It is super affordable and works great. Here it is!

Do you love curled hair with straight ends? One of these tutorials will be sure to get you the style you want!
Now that you know how to get Utah Girl hair, check out my post on Utah Girl Makeup, and the products you need to recreate your favorite Utah influencer's makeup routine!
Best, Mia